Turning 50 is a major milestone in anyone's life, so when you're looking for 50th birthday gift ideas for mom, you want something special. When my mom turned 50, I was pretty broke so I thought my gift options were limited. However, there are many ways to get your mom a great 50th birthday gift without breaking the bank.
I wound up putting together a fun package of items all tied to the 50th milestone, and she loved it! Thankfully, my mom put together a handy wish list online that I used for inspiration when I created her gift.
Most moms are great to buy for because they don't care about the price tag. They just want something from the heart. You can also look at some of the traditional gifts that are given around the world to celebrate this major life event. With a little research, you'll soon see that there are so many 50th birthday gift ideas for mom that your biggest problem will be deciding between all the options!
Flipping Tradition in 50th Birthday Gifts for Mom
Cultures around the world have a lot of different customs for celebrating birthdays. You can use some of those ideas as you search for the perfect birthday gift and make party plans for mom as she celebrates the big 5-0.
Here are some ideas you can use for inspiration:
The Russian Party Pie: In Russia, it's common to give a birthday pie instead of a cake, which is a great option if your mom isn't much of a cake fan. The birthday greeting is usually carved into the crust. So, choose your mom's favorite pie, add a "Happy 50th," and dig in!
The Canadian Goose Greasing: In Canada, it's traditional to put goose grease on the birthday girl's nose to ward off bad luck, but that's a little messy and probably not great for mom's pores. Instead, get her some skin cream so she can ward off bad luck with a glowing complexion.
Offer an Indian Blessing: In India, touching someone's feet on their birthday is part of the traditional birthday blessing and is designed to show respect. You can make this tradition your own by offering your mom a pair of comfortable birthday slippers.

Give her gold without breaking the bank. | Image courtesy Etsy seller studioUBB.

Slurping Longevity Noodles: One birthday tradition in China is to eat a bowl of noodles to symbolize a long, unbroken life. As such, the goal is to slurp up the longest noodle in one continuous line. This is considered a sign of future prosperity and good health. Another way to symbolize this is by giving your mom an unbroken chain in place of a slippery noodle. Make it gold to celebrate the golden anniversary of her birth.
Celebrate With a Golden Jubilee: A golden jubilee is the 50th anniversary of any major event, with the traditional gift of the event being gold. That doesn't mean you have to take out a second mortgage though. Consider just using the color gold for wrapping paper or even giving a bag of delicious gold coins made of chocolate.
One thing a lot of cultures around the world have in common is that it's considered bad luck to wish someone "happy birthday" before their birthday or give them gifts ahead of that day. But even though you can't give a gift doesn't mean you can't ask mom for some gift ideas in advance.
Asking Mom to Create a Wish List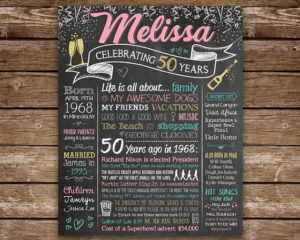 There are a lot of symbolic gifts you can get for mom's 50th birthday, but the best gift is something she genuinely wants. A great way to give her this is by using an online wish list that allows her to select the gifts she likes and share that list with friends and family. Helping her create a wish list is easy and you can do it all with a couple of simple online features.
Start with a Facebook group: Setting up a Facebook group for planning mom's 50th is the best way to get everything organized and in one place. Here, you can add people, keep them informed, and most importantly, share your mom's wish list.
Have mom create an online wish list: Your mom can sign up for a free Elfster account where she can create her wish list. It's simple to do and she can add gifts from anywhere online using links, text, or Elfster's own internal database of gift ideas. If she needs inspiration, tell her to check out the Elfster Happy Birthday gift guide.
Share the wish list link: There's an easy option to share your mom's wish list via the link. Just have her send the link and you can copy it into your Facebook group list. This way, you'll be able to keep track of who's giving what, as well as what gifts are still available.

Celebrate 50 years of love. | Image courtesy Unsplash user Annie Spratt.
If your mom's not tech savvy, that's okay. Elfster's wish list is a simple to use option. Or, you can even organize the wish list for her. After all, you know your mom better than anyone and are most likely to be able to pick the things she'll love.  Either way, an online wish list is a great way to keep track of the gifts she's getting so you can make sure every gift is as unique and special as she is.
Use some inspiration from cultures around the world to give your mom a meaningful gift for her 50th birthday. Reaching a new decade is a major milestone in anyone's life, so you want to pick the perfect present. When in doubt, it doesn't hurt to ask. Keep it organized with an online gift registry, and you're sure to give her some golden memories to celebrate the start of her golden years.
At Elfster, we work year-round to help you deliver the gifts that show your loved ones how much you appreciate them. If you're still looking for some 50th birthday gift ideas for mom, consider crowdsourcing solutions on Elfster's Facebook page, or check out our Instagram @Elfster or Twitter @Elfster for more great gift giving ideas.