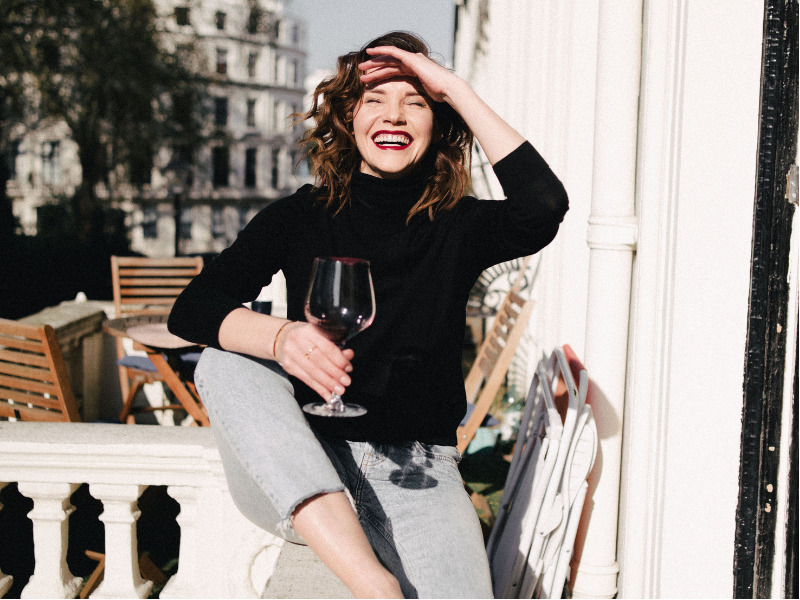 As I walked into the party and took in my surroundings, the first word that came to mind was "fabulous."
It was my friend Susan's 40th birthday and her husband had thrown her a party to celebrate. There were fancy mocktails and delicious hors d'oeuvres; everyone was dressed to the nines. In my twenties at the time, I had no idea that forty could be this fabulous!
What impressed me most about the evening wasn't the drinks or the food, but rather the creative gifts that Susan got from each of her friends. From a membership to a meditation class to a gorgeous gluten-free cake flecked with edible gold and a beautiful basket filled with her all-time favorite bath products, these gifts inspired me to get more creative with my own gift giving.
Of course, I also got lots of amazing ideas for surprise 40th birthday gift ideas for her that evening. So, if you are looking for the perfect gift to celebrate your wife, sister, or best friend for her big 4-0, here are my favorite ideas for gifts sure to surprise—at any age.
Creative 40th Birthday Gift Ideas for Her that Keep Giving all Year Long
While my friend Susan was thrilled to be turning forty, not every woman is super keen about entering the fourth decade of their life. If the birthday girl is feeling a little apprehensive, give her a gift that makes the coming year more exciting, something that will make her 40th year memorable, and that she can enjoy throughout the year—not just on her big day. Who knows, with gifts like these, forty could be her best year yet!
Here are some creative 40th birthday gift ideas for her that will keep giving well after the party is over:
A season pass to her favorite local hangout: Who wouldn't love a free pass to their favorite spot in town? Season tickets to the symphony for a classical music lover, an annual art gallery pass for a culture buff, or a pass to a botanical garden for flower lovers are a few great ideas that she'll be sure to love.
Lessons or classes for a new hobby: Forty is a great age to pick up a new hobby or learn something you've always wanted to but never had the chance to before. Find out what interests her and give her the gift of lifelong learning. Singing lessons, piano lessons, Spanish language lessons, creative writing classes, pastry classes, and dance lessons are just a fun few ideas.
A subscription box: Subscription boxes are all the rage right now and they aren't just for girls in their twenties! This is a great idea if you can't decide on one gift and would love to shower the birthday girl with presents on a regular basis. Cratejoy is a subscription box company with options specifically for women 40 and older. Each box is filled with useful and unique items meant to educate and empower women through the many changes of aging, with the goal of making it a positive experience.
An indoor herb garden: If the birthday gal loves to cook, an indoor herb garden full of fragrant kitchen herbs is a wonderful gift for her. Find a fancy tiered planter and fill it with herbs and soil. Or, if she loves to garden, just give her some seeds and let her do the rest!
While you can't really wrap these gifts, be sure to include a pretty card and a note explaining your gift and why you think she'll enjoy it. She'll be touched—and likely feel much more positive about the year to come!
DIY 40th Birthday Gifts to Share and Enjoy
DIY gifts are great if you don't really know how to pick out a birthday present for her. I find that for my friends who seem to have it all, DIY is best because you give her the gift of your time. Block off an afternoon or evening to spend with her to celebrate her big milestone, and honor it with something special made by your own hands with her in mind.
Here are a few DIY 40th birthday gift ideas for her to get your creative juices flowing:
A tiered cake in her favorite flavor: Most 40-year-old women have made a lot of birthday cakes in their lifetime, whether it's for their kids, partners, or friends. I say it's about time that she gets a homemade cake of her own. Use her favorite flavors and colors to inspire you as you get baking! Find a fancy 40th cake topper for some added flare and be sure to sing Happy Birthday loud and clear!
A playlist of her favorite oldies: I know mixtapes and CDs aren't really a thing anymore, but I still love the idea of compiling music for someone—especially when it triggers a big nostalgia trip. Find out what her favorites bands were when she was younger and put together a playlist for her big day. While she's listening, sweep her off her feet and have an impromptu birthday dance party!
A Hygge-inspired kit: Maybe you've haven't heard the hype but I'll bet the birthday girl has. Hygge is a Danish tradition that refers to creating a comfy, cozy atmosphere. Putting together a Hygge-inspired kit simply involves finding little things to help her get nice and cozy and enjoy an evening to herself. Find a cute basket and start filling it will all things Hygge including a scented candle, cushy socks, decadent hot cocoa mix, an adult coloring book, or a journal and a pen. She'll love the encouragement to curl up on the couch and practice some Danish-style self-care.
Remember, gifts don't need to be expensive to be great. What matters most is the thought that goes into it. If you're stumped for more DIY ideas, just think about the birthday girl and let her hobbies and interests inspire you to create something she'll love!
Thoughtful Gifts For Her to Make Every Day of Her Forties Fabulous
Sometimes the best gifts are little things that she would never buy for herself but that you know she'd really enjoy. Even somewhat generic gifts, like jewelry and chocolate, can be made creative if they're personal to her; you can never go wrong with little tokens of affection. A few thoughtful ideas are:
A pretty bracelet that matches her eyes.
Decadent chocolates from her favorite chocolate shop in town.
Luxurious body cream in a scent she loves.
A selection of her favorite cheeses to enjoy throughout her birthday week.
A decorative laptop skin to spice up her computer.
A great book you know she's always wanted to read.
A cozy sweater she's had her eye on.
A pasta maker to celebrate her love of Italian food.
A new yoga mat so she can take her practice to the next level.
Whether you opt for a gift she can enjoy all year long, a DIY present made just for her, or a fun, personal gift to brighten up her day, the most important thing is that you give it with love. That way, any gift, no matter how big or how small, will touch her heart and make her 40th birthday all the more special.
For more creative Elfster gift ideas for a special birthday gal, check out our For Her Gift Guide or start an online gift exchange for a super fun way to celebrate a birthday. You can also connect with Elfster on Facebook, on Twitter @Elfster, or on Instagram @Elfster.