If revenge is best served cold, does it stand to reason that a thank-you note should be plated piping hot? Not necessarily.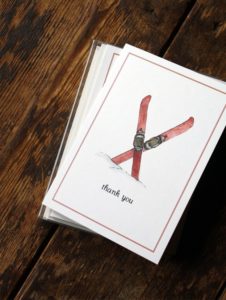 Here we are, almost three months into the new year. Practically one quarter of the year has passed, and it seems like only yesterday you were jamming to holiday hits, wondering just what figgy pudding really was.
But by now, you've probably discarded the tree and paper snowflakes. And if you've forgotten to send your holiday thank-you notes, well, you've literally dis-carded more than that! Your friends and loved ones have (regrettably) been gypped.
If the guilt is finally starting to creep in, don't fret. We might be glorifying procrastination here, but Elfster believes that a late thank-you note actually presents a golden opportunity for extending holiday cheer… And pleasant surprises are simply never a bad thing!
Are we making you feel any better? Now that you've found the necessary motivation to write a belated holiday thank-you note, here are a few strategies to give it character and tact:

"Let's not tell Santa about this, shall we?"
Reference to a higher authority will help the recipient to remember that no one is perfect. Try to mention the special "powers that be" in your life to customize the message.
"I may be forgetful, but that doesn't mean I don't appreciate… Wait, what was I saying?"
Acknowledging your flaws is an excellent first step to recovery, and a little humor goes a long way in that process. By playing off of your shortcomings in a belated thank-you note, the addressee will be pleased to hear you're on the road to recuperation… even if you aren't quite there yet!

"I forgot to tip the mailman… Frankly, I think he's got it out for me."
The good old-fashioned "Blame Game" can be a useful addition to your late thank-you note. Just make sure it's all in good fun.
"Just to be fair, let's say I wait 3 months for a 'You're Welcome'… Deal?"
Negotiate an informal act of contrition to give the recipient a sense of justice in your thank-you note. A self-imposed sentence of equally "rude" behavior is the recommended punishment, but don't be too hard on yourself!

"I was under the influence of eggnog…"
The holidays can have an intoxicating effect on everyone. Explaining this in a humorous way will likely resonate well with your audience.
"I was going for a record on the longest delayed thank-you, but I caved!"
Try making your procrastination a virtue. Your belated thank-you recipient just might be flattered by how much you care!
"I knew that telepathic thank-you card was too good to be true!"
Who's to say some unseen obstacle didn't keep you from sending a timely thank-you note? The thankee might just be willing to suspend their disbelief if you craft a whimsical and entertaining backstory to account for the note's tardiness.
"Thank you for everything!"
Using the humorous ice-breakers above will doubtlessly soften the blow of your belated thank-you note. But as a final word of advice, be sure to always end your message in sincerity. Tell the person how much their thoughtfulness has meant to you, and assure them that your late timing is no indication of their importance in your life.
Okay, okay, now dry your eyes. Time to get writing!
Share what your belated thank-you message will say and see what others are writing on our Facebook page, on Twitter @Elfster and Instagram @Elfster.