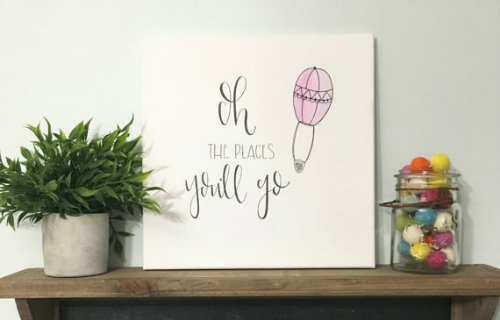 A Wondrously Wordy "Good Morning, Dr. Seuss" Read Across America Gift Exchange
A Wondrously Wordy "Good Morning, Dr. Seuss" Read Across America Gift Exchange
"The more that you read, the more things you will know. The more that you learn, the more places you'll go!" – Dr. Seuss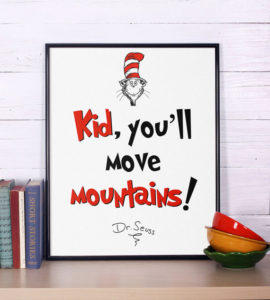 As a toddler, my mom would drop me at my grandma's house early in the day before she went to work. I'd spend those mornings with my nose buried in Green Eggs and Ham, Fox in Socks, and The Cat in the Hat, sipping hot chocolate while cozied up on the couch. I would sit, enthralled, still in my pajamas, while the San Diego sun streamed in through the open windows.
This was how my boundless appreciation for the wise words of Dr. Seuss began to take root as he set my imagination free to run rampant, encouraging and nurturing thoughts of kindness, openness, and creativity.
As I got older, I was gifted Oh the Places You'll Go for my high school graduation, bringing it along as I ventured to San Francisco for college, daring to dream and take chances with my writing and career. Today, magical whimsy still accompanies the words of Dr. Seuss as I read them aloud to my niece and nephew, his cartoon drawings and the loops of his letters leaping off the page and into the big openness of their eyes and hearts. There's a wonder, an inspiration, a timeless feeling about Seuss that has the ability to affect and inspire us all.
So, what better way to celebrate the brilliant brains of Seuss than in that same poignant way I did as a child—in my pajamas, sipping hot chocolate at a cozy morning reading get together for adults and kids alike.
An Imaginative Hot Chocolate Bar
It's a strong belief instilled from my childhood that Dr. Seuss should always be accompanied by hot chocolate; the comfort of a good book and a warm mug will forever, quite literally, go hand in hand. Creating a wacky and wonderful blue and red-themed hot chocolate bar, inspired by Thing 1 and Thing 2 from The Cat in the Hat, is a very Seussian way to kick off our party!
What You'll Need:
Whole milk

Cocoa powder

Milk chocolate chips

White chocolate chips

Marshmallows

Whipped cream

Crushed peppermints

Blue and red sprinkles

Blue and red straws

A slow cooker

Clear mason jars

An assortment of mugs (the wackier, the better)
How to Set It Up:
The day before the party, prep your table. To use

The Cat in the Hat

as your theme, include lots of blues and reds. Use a red tablecloth, then layer with a blue runner. Fill mason jars with blue and red striped or polka dotted straws. Then, set out your mugs, seeing if you can safely stack them in some wacky way to evoke the hazardous way Thing 1 and Thing 2 would carry household items about.

The morning of the party, make your hot chocolate in a slow cooker. For a party of 8, mix 1 1/2 cups of chocolate chips with 1/4 cup cocoa powder, 1/2 cup of sugar and 7 cups of whole milk. Combine in the slow cooker and stir, keeping on low for 2 hours until you're ready to serve.

While you wait for the hot chocolate, put out your marshmallows, milk chocolate and white chocolate chips, whipped cream, crushed peppermints (or candy canes), and sprinkles. For an added Seuss-like touch, use red and white baker's twine to attach labels onto clear mason jars.
In the Words of Dr. Seuss
"Today is your day! Your mountain is waiting. So get on your way!" The words of Dr. Seuss bring forth lessons on love, learning, and life with wit and wisdom for both kids and adults. Sharing my personal favorite quotes with guests makes me feel like I'm doing my part to encourage a love of reading and the written word. Plus, there seems to be something therapeutic about writing the words of Seuss out as an adult, important little reminders of the past that I can apply to my present.
Adorning your space with DIY Dr. Seuss quote decor is also a simple, but clever way to carry your party theme into your home. I like the modern look of plain white cardstock with blocky black ink letters, which is difficult to achieve with my left-handed chicken scratch. So I always turn to simple alphabet stencils for a little guidance.
I like to hang the quotes around the reading nook (which I'll tell you about below) and above the hot chocolate bar. I even hang some in the bathroom for fun; the Seuss quote, "Only brush the teeth you want to keep," comes to mind. As Seuss alludes to, the day of the party is your day, indeed, and the mountain that is waiting is the decor. So, it's time to get on your way!
Bring out your old Seuss books and get searching for favorite quotes. Be sure to enlist your little ones for help. Here are a few of my go-tos:
"I'm telling you this 'cause you're one of my friends. My alphabet starts where your alphabet ends!"

"You'll be on your way up! You'll be seeing great sights! You'll join the high fliers who soar to high heights."

"You'll miss the best things if you keep your eyes shut."

"It's opener there in the wide open air."

"So, open your mouth, lad! For every voice counts!"

"You have brains in your head. You have feet in your shoes. You can steer yourself any direction you choose."
Then, when your party has run it's wild and wacky course, surprise your guests by letting them pick a quote or two to take home as a party favor!
A Seuss-pirational Book Exchange
Using an online gift exchange website to organize it, ask your guests to bring their favorite Dr. Seuss book for a wordy gift exchange. The idea is a simple one: give a book, take a book, and most importantly—read a book! Theodor Seuss Geisel, best known as Dr. Seuss, published over 60 stories in his career, so encourage your guests to dig a little deeper than the most well-known classics to add something new to the collections of fellow guests.
Here are a few of my Dr. Seuss favorites:
Oh the Thinks You Can Think
There's a Wocket in My Pocket
Thidwick the Big-Hearted Moose
Did I Ever Tell You How Lucky You Are?
A Reading Nook to Cozy up In
With a house full of books, you'll need a cozy nook for your guests to relax in while they explore the wondrous world of Dr. Seuss.
First, pick a corner to transform into a dreamy word wonderland. You can use a twin sized mattress covered in a fun fitted sheet, an assortment of over-sized pillows, and even a kids' tent or two. Drape a canopy from the top of the ceiling to create a whimsical effect or string up a curtain between walls. Hang a twinkly string of bulbs as your reading light and spell out READ with wooden letters painted in Seussian colors, which you can find at any craft store. Then just add the Seuss classics and let the imaginations of your guests take flight.
While you decorate, if you feel like your imagination gets stuck, just pull out a Seuss book to get your creative juices flowing. As Seuss himself says, "Oh, the thinks you can think up if you only try!"
For kids, the words of Dr. Seuss create memories. For adults, they bring back visions of childhood, and the importance of what it means to approach life with a little bit of humor, a little bit of wit, and a whole lot of wonder.
Throwing a Good Morning, Dr. Seuss party, complete with hot cocoa bar and reading nook, DIY quote decor, and a book exchange, will add some whimsy to your world and the world of your guests. It brings back the idea that there is, perhaps, no greater and timeless gift than the gift of a book. For in that book, new worlds can be explored, doors opened, and unexpected thoughts can be thought! Just remember,"You're never too old, too wacky, too wild, to pick up a book and read to a child."
Happy reading!
Elfster encourages you to think imaginative, wandering, and wonderful Seuss-like thoughts when giving gifts. Explore our Seuss-inspired gift guide, download our Seussian bookmarks or connect with us on our Facebook page, on Twitter @Elfster, or Instagram @Elfstergram for more tidbits of inspiration.

Bay E. has her BA & MA in English and creative writing from San Francisco State University. She's passionate about poetry, cooking, photography, and exploring the great outdoors. When it comes to gift-giving, she loves creating homemade gifts with a natural and artistic flair, often food-related with some sort of quote or recipe attached.
Please follow and like us: