My sister and I never loved the hot weather that comes with summer, so making tree forts in the cool shade of the forest was always our first project over long school vacations. But once we had each claimed our trees and made them feel like home (you can accomplish a surprising amount of interior design with leaves, sticks, twine, and a little imagination), we'd start exploring.
We discovered that when you peeled back the bark from a fallen log in the forest, it was like another world inside. Ants, potato bugs, and grubs were run of the mill, but we were the most delighted by the cute and curious little salamanders we'd find hidden in the logs. Looking for the little critters every day became our passion, our tree forts long forgotten as we abandoned the canopy for the forest floor. We even went to the pet store and got small plastic terrariums, filling them with pebbles, moss, stones—and live salamanders, of course. But my mother didn't love the salamanders in the house and, after an incident where we turned the bathtub into a forest habitat, she made a "no creepy crawlies inside" rule.
Luckily, there was a work around. At my sister's birthday party that August, we opened our party favor bags to find small plastic salamander figurines, colorful glass beads, and moss. We could keep making the terrariums we loved and, thanks to the toys in our gift bags, the salamanders could stay outdoors where they belonged.
I love throwing my kids parties that have a nature-based, interactive theme, giving little ones a link between the great outdoors and a fun celebration, sparking their imaginations to keep exploring the natural world around them long after the party is over. So, don't fly off just yet! Explore these wild and woodsy birthday favor bags ideas that will have your nature lover bugging out.
Nature-Themed Birthday Party Favor Bag Inspirations
Growing up, if I wasn't searching for salamanders in the forest, I was watching for hermit crabs down at the beach, leaving bundles of clover and baby carrots at the edge of my yard to attract rabbits, or mucking through the duck pond down the road to look for frogs and turtles. But not all kids love the crawlers and critters of the great outdoors. While my husband grew up exploring the mountains of Maine with his dad, and connected to nature that way, show him a salamander or a snake and he'll start running, not making it them cozy terrarium.
If you're throwing a verdant spring or nature-themed party, simplify things by choosing either flora or fauna as your focus. When you're planning your decorations and party games, having the theme in mind will make your job a lot easier, and it can help you put together gift bags that tell a cohesive story as well.
Whether you have a "collecting earthworms after it rains" kid or a "pulling up the plants in the garden to see what their roots look like" youngster, these gift bag ideas will help any kiddo take a closer look at the wild world around them (Bonus hint: Use eco-friendly wrapping paper for an extra green party).
A Bug Lover's Bonanza
Plastic tweezers for picking up bugs (just because kids are interested in crawlers doesn't necessarily mean they're gung ho about touching them)
A miniature bug and insect coloring book, so they can draw the critters of their dreams
Plastic bug figurines, so they can investigate and play with insects in the house—without having to worry about any great escapes
Bug and insect stickers, so they can wear their passion on their sleeve
Use a small plastic terrarium instead of a traditional gift bag—kids can use it to house their latest finds or create elaborate homes for their new figurines
The Green Thumb Gang
A packet of quick-growing cat grass, or another plant that sprouts quickly, so you don't test their patience too much
A small air plant to teach them that, even without soil, life finds a way (they're easy to care for as well)
Stickers featuring a variety of plant life, so they can turn any surface into a garden
A custom coloring book featuring plants from your area (learn how to make a custom coloring book for extra DIY points)
Pack it all into a ceramic pot they can grow their seeds in
DIY Nature Walk Bingo
Getting a group of kids together, feeding them sugar, then locking them up indoors can lead to some interesting situations—just ask me about the chocolate cake stain on my dining room ceiling, I dare you. I've learned from experience that outdoor activities are essential when it comes to helping kids burn off all the energy of a fun event full of cake and ice cream.
Nature walks can be a calming experience, but to keep kids' attentions and excitement levels up during a party, I like to make nature walks into a game. Including an easy DIY nature bingo card in each party favor bag turns outdoor exploration into an exciting challenge. Here's how you can create your own nature bingo cards:
Using a ruler and pencil, or on your computer, draw a graph of three squares by three squares, so you have a grid of 9 squares total.
In each square of the graph, write the name of an insect, animal, plant, or other natural elements that can be found wherever you'll be taking your nature walk. For younger kids who are still learning to read, you can include an image to make things easier, either hand drawn if you're the artsy type, or printed from the computer.
Print out, or make copies, of the bingo board on cardstock. You'll need one for each party guest. You can make each board the same (which will make things a little easier on you), or switch up the squares so the game is a little more exciting.
Place a bingo board in each party favor bag.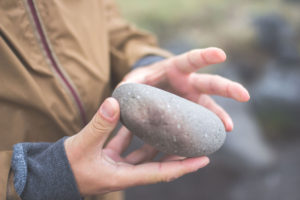 When you're ready to play, you can either take the kiddos on a guided nature walk or chaperone them as they go out into your yard. Kids should poke around, searching out the objects on their board and checking them off as they find them.
If you like to keep things competitive, award the first kid to complete their board with a prize, or you can give one to each child as they fill out a row completely. I like to offer prizes like magnifying glasses and inexpensive binoculars so they can continue to explore the world around them.
When the party's over, kids still have their gift bags to dig into. It's always fun to take time to get down in the dirt and see things from a kid's point of view. Thanks to the nature walk and party favor gift bags, you're encouraging them to keep exploring the world around them without even realizing that they're learning as they have fun.
At your next party, skip the flimsy filler party favor toys and go for something substantial, whether it's wildflower seeds that teach kids how to nurture and care for new plant life or a magnifying glass that lets them take a closer look at the wild world of insects surrounding their own home. You never know how big of an impact taking time to teach kids about nature will have. Maybe you'll inspire a whole new generation of amateur salamander scientists.
For more inspiring eco-friendly party ideas, take a look at our Green Thumb gift guide or connect with us on Facebook, find us on Instagram at @Elfster, and on Twitter @Elfster.