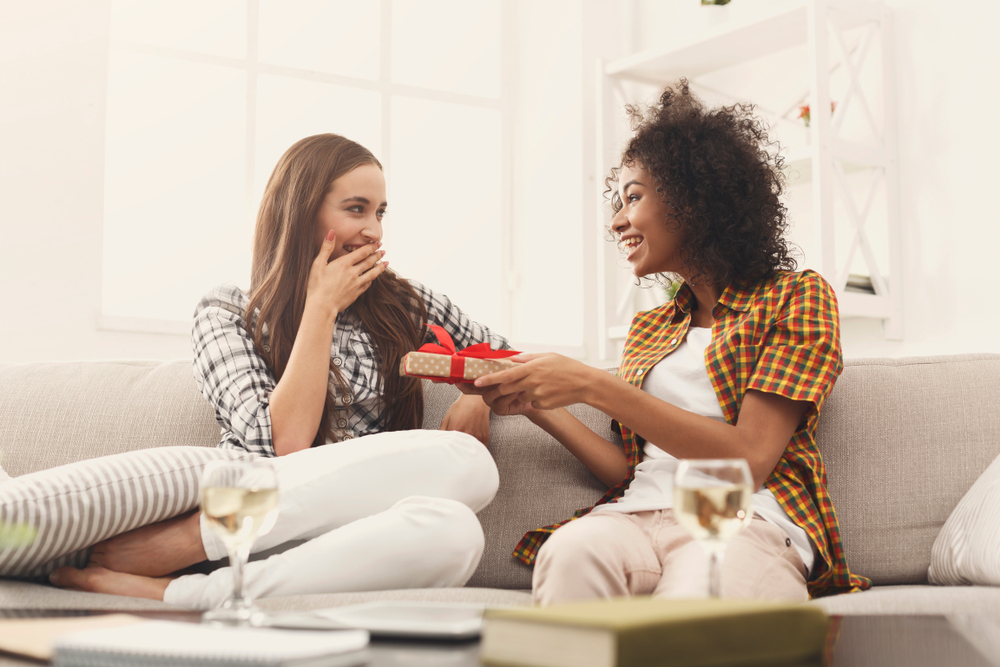 "Congratulations! You're running the office gift exchange!"
I recently had the pleasure of telling that to a co-worker as we were planning a remote office party. We'd been working from home for a while, so we decided it would be a cool way to keep everyone together. And even though I was the pro, we decided Jess could take the reins on this one.
She turned a bit pale at the thought, but I reassured her that it would be easy. And it is easy. Whether you're meeting in-person or remotely, gift exchanges are a great way to come together, share fun, and get to know each other.
And these days, it couldn't be easier to plan. Online Secret Santa generators make it easy for everyone to participate. All you have to do is figure out the best way to throw the shindig. With that in mind, here are 5 gift exchange party ideas to get you started.
Why Throw a Gift Exchange Party?
One of the questions that came up when we were planning our party was, "Why should we have gifts?" After all, we're just going to be doing a group Zoom meeting; shouldn't we just gab or whatever?
Well, first of all, there will be plenty of time for both gabbing and yucks. I promise you that. But also, giving gifts isn't just about getting something. It's about getting closer. There are a few reasons I love incorporating gifts into a party:
It gives a party structure. This is helpful any time, but especially with a remote party. It means people won't all be talking at once and, in a live party, that people don't segment themselves into little groups. It's a way to bring everyone together.
It creates an instant game. A gift exchange is a guessing game, preceded by a game of hiding your tracks. When there's a game to be played, everyone's present and having fun.
You get presents! Okay, I know I said it wasn't just about presents, but that's still pretty fun. No matter how big or small, everyone gets to go home with something.
And it can be small. I know of great parties that only used gifts under $20 or even set $10 price limit.
5 Favorite Gift Exchange Party Ideas
If you're like Jess and aren't sure how to get started, here are some gift exchange party ideas to get the ball rolling.
Find an Easy Gift Exchange Generator
Find an online generator that allows people to sign up for free, that assigns Secret Santas anonymously and with restriction lists in place, and that lets people make wish lists and shop right from the platform or app. You want to make this easy.
Make Sure Everyone is Ready to Play
When you send out the invitation—whether on the finest stationery or over a work calendar invite—make sure you cover all the details. Tell them if there's a price limit. Make sure they know the rules of Secret Santa. And if it's remote, make sure they have an easy way to ship wrapped gifts to the right place so people can open them on camera.
Choose a Theme
This is optional, of course. And if your party is during a holiday, well, a theme is already picked out. But if you're having a random party, a theme can help create a sense of unity. I know I have some go-to Secret Santa themes for office parties, but really these can be anything from "Arbor Day" to "Star Wars Day". Whatever makes you happy.
Help People Plan Their Wish Lists
What can you ask for when planning your wish list? Well, anything that fits the themes or the limitations. If you have an online generator, you can browse through almost any gift guide, choosing from nearly every online retailer. It's easy to find something for your Santa to choose from. If you have the right platform, you can even upload photos directly to your list from the app.
Select Some More Games
You know what gets people in the mood for a game? MORE GAMES. People love playing, and a party can have a bunch of games with the gift exchange as the centerpiece. No matter if you're together or remote, icebreaker games are a great way to make each other laugh and think.
Gift Exchanges Are About Friendship
What are you really opening with a gift exchange party? Friendship. Thoughtfulness. Caring. You're saying, "I saw your list, and I think this is what you will like the most." When you're guessing, you have to imagine who was thinking about you and why.
It's fun. It's funny. It's meaningful. And most importantly, it helps you connect with loved ones.
If you want to throw a great gift exchange party, use a Secret Santa generator. With Elfster, you can easily pair people up, shop for gifts, and start a Wish List. Plus, you can do everything from an iPhone app or Android app.