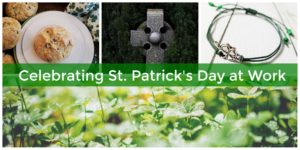 Last year, as I was looking up St. Patrick's Day workplace ideas, my son suggested "snakes" as a theme. When I asked why, he picked such a weird—and creepy—theme, he said to me "St. Patrick's Day is to celebrate when the Pied Piper got all the snakes out of Ireland, right?"
While he was a bit mixed up on that, his heart was in the right place and he did give me a good idea. A lot of people don't understand why we celebrate St. Patrick's Day, only knowing it's a celebration of the Patron Saint of Ireland, Maewyn Succat. However, there are many ways to add a wide range of Irish traditions to your St. Patrick's Day party at the office.
Of course, in the workplace, non-denominational is the key. While St. Patrick's Day started out as a religious holiday, today it's more of a celebration of Ireland's culture and history―and that's so much more than shamrocks and leprechauns. If you're prepping for a St. Patrick's Day work office party, consider digging a bit deeper into Irish traditions for an authentic good time.
Host a Traditional Potluck
One fun way to celebrate Irish traditions is by having your co-workers bring in Irish dishes for a company potluck. No clichéd corned beef and cabbage though! If you really want to celebrate Irish culture, you should ask for real Irish celebration foods like:
Champ: Champ is easily one of the most popular potato dishes in Ireland. It's simple to make as well. It's a combination of mashed potatoes, cheese, and chopped scallions. Think of it as a deconstructed baked potato.
Irish Stew: Irish stew is traditionally made with lamb, goat, or mutton. Since those meats can be hard to find, though, beef works fine as an alternative. While strict traditionalists believe the only other ingredient should be potatoes, some choose to add onions, leeks, cabbage, and carrots to give it a bit more flavor. The best part is it's ideal for a potluck, as you can keep it warm all day with a crock pot. It only gets better!
Soda Bread: Soda bread is a dense, easy to make bread that goes great with other Irish dishes, especially Irish stew. It gets its name from the baking soda that is used instead of yeast to make it rise. Generally, it's supposed to be served warm, but that isn't a necessity.
Porter Cake: No Irish potluck would be complete without dessert! Porter cake is a sweet Irish fruit cake made with butter, sugar, and stout. It's perfectly acceptable to replace traditional stout with non-alcoholic beer as the primary goal of the stout is to flavor the cake. Another fun alternative that can really flip the flavor is apple cider, which will give the Porter cake a delightful tartness that enhances the fruit.
The best part of these Irish options is that they're relatively easy to make. Most use very few ingredients and for hard to find ones, like lamb and mutton, it's okay to substitute lower cost and easier to find meats like pork and beef. The simplest way to organize the potluck is to print out a listing of dishes and recipes and then assign people as needed. That way, you won't have some people bringing the same dish while others get ignored entirely.
Try Your Luck With a Gift Exchange
Another fun thing to do for the holiday is to make a new twist on an old gift exchange idea! In Ireland, gifts are customarily opened in front of the giver. They're also less about cost than they are about the meaning behind the gift. Gifts are expected to be personal.
If you're organizing a St. Patrick's Day gift exchange, it may be best to use a program like Elfster to assign gifts and keep it organized. The site manages the entire process, from sending out email invites to keeping track of anyone who opts in and pairing them off.  That saves you a lot of time, allowing you to concentrate on giving the perfect gift.
As for what gifts to give coworkers during that exchange, here are a few options to consider:
Clover Plants and Seeds: St. Patrick's Day isn't just a celebration of Irish traditions; it's also a celebration of the coming of spring. Gifting a clover plant or clover seeds can help celebrate spring and the heritage of Ireland.
Lottery Tickets: The phrase "luck of the Irish" was popularized not in Ireland but instead during the gold rush when many Irish Americans struck it rich. It happened so frequently among the Irish that it became a widespread belief that Irish people were lucky. Try to see if you can spread some of that Irish luck with scratch-off tickets or other lower cost games of chance.
Items Printed With Irish Blessings: There are more than a few whimsical Irish blessings that you can gift and more than a few ways to gift them. Bookmarks, notepads, and pictures can all be printed with traditional Irish blessings and gifted to offer good feelings year-round.
Lucky Charm Jewelry: Jewelry that incorporates four-leaf clovers or Celtic knots can be a fun and pretty way to celebrate the holiday.
When in doubt, think green—but not expensive! Green is the biggest overarching theme of St. Patrick's Day for good reason. It's the primary color of Ireland's flag, and the country itself is nicknamed "The Emerald Isle." Items for St Patrick's Day gift exchanges don't need to be costly. They just need to be inspired by the holiday.
Adding Irish Culture to St. Patrick Day Workplace Ideas
Playing some Irish folk music or sharing stories of the country's folklore on St. Patrick's Day can also help inspire interest in Irish culture. The country has a rich history in art, music, and literature to pull from. Use the day as an opportunity to learn and you're sure to be able to throw a great workplace party.
St. Patrick's Day is a fun, informal holiday that's changed a lot since the days of the saint it was named for. An exchange of holiday-inspired gifts, hosted after a potluck featuring popular Irish dishes, can help make your St. Patrick's Day workplace event one to remember.
If you need some inspiration for gift giving ideas for St. Patrick's Day, take a look at Elfster's St. Patrick's Day Gift Guide.  Elfster's Facebook page is also sure to offer some ideas as the holiday draws near, or you can follow Elfster on Twitter @Elfster and on Instagram @Elfster.