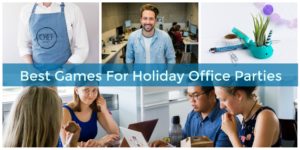 "Come out, come out, wherever you are!" my boss called, while I trembled beneath the cleaning supplies in the janitor's closet. As her footsteps drew nearer, I tried to hold my breath and remain as silent as possible when—BANG! The door flung open, and I saw my boss and my coworkers laughing. I was the last one found during our annual game of hide-and-seek, played during our Halloween party. As I crawled out of the closet, grinning from ear to ear, I realized I had won the prize—a desktop aromatherapy machine that would hopefully drown out the strange smell of the lunches reheated in the microwave next to my cubicle.
I spend all year looking forward to our office parties, whether they end up being hilarious office party gift exchanges or a day of spooktacular Halloween party games for adults. Things can get stressful during the workweek, but our occasional celebrations melt any tension among coworkers and brighten the office for weeks after.
Instead of setting out a platter of veggies and dip and calling it a party, at your next work function, why not play a goofy game with your office mates? These fun holiday party games for work parties are great for any occasion, and between the laughter shared and the bonds they create, they're the perfect way to make your celebration last throughout the year.
An Office Party Trivia Game
MJ was a total mystery. He always came to work a few hours early to avoid rush hour traffic, and he left early, too, barely saying a word to me throughout the day except for when asking about putting on a new pot of coffee (the answer was always "yes!"). Then my boss asked me to organize a fun holiday party game to celebrate our company's anniversary. I decided to do a trivia game full of factoids about everyone in the office. Suddenly, I was looking for every excuse to learn more about my coworkers, especially the quiet ones.
When the big day arrived, I was happy to see everyone talking together—even MJ was joining the conversation! The game was a big hit, and we all headed home knowing each other better than before. What a surprise it was to learn that MJ left early every day so he could get to his favorite Zumba class!
To organize a game of office trivia, find out some interesting facts about your coworkers. Compile them into a deck of homemade cards. Some sample questions include:
Who has the most kids?
What is [insert name of coworker]'s secret talent?
How many pots of coffee does accounting go through on a daily basis?
Gather everyone together to play the game, splitting into teams if necessary. Every time you ask a question, each person will write their answer down. Tally the correct answers each round, and at the end of the game, give a prize to the winner(s), like a gift certificate to a nearby restaurant or store. The real prize? No matter who wins, everyone will have a ton of fun!
Musical Chairs With a Creative Twist
My dad pressed play, and we all started walking around a group of chairs surrounding a wrapped present. But as the familiar notes of a Christmas carol filled the room, something was slightly off. "I don't remember that bit about Uncle Bill's trip to Cebu in Jingle Bells," I thought, scrambling for a chair as the music stopped. A slow murmur of laughter began to build around the room as we collectively realized my dad had written and recorded his own hilarious, customized song about the family.
If you're looking for a fun holiday party game for office parties, this could be it. Not only is musical chairs a great way to get everyone out from behind their desks, it's also an opportunity to make your own creative tune about the quirks of your coworkers and office culture. Record something totally original or make a funny cover of one of your favorite songs. Then, play a usual game of musical chairs, with the winner getting the present in the middle of the circle. The best part is watching a group of adults struggle to play a simple game as they get distracted by the hilarious song lyrics!
A Gag Gift Office Supply Secret Santa Exchange
A stapler encased in Jell-O. A hole punch shaped like a lobster. A set of googly eyes to stick on the copier. As we opened each gift, everyone in my office was laughing. Our company party was gag-gift themed, and we all wound up purchasing different quirky office supplies. Even after the party was over, their presence made the workplace a lot more fun—it was kind of nice to look the copy machine in its googly eyes when it started acting up!
A fun holiday party game for your office party is a classic Secret Santa exchange, but one where everyone brings a goofy item that can be used in their gift recipient's cubicle or at their desk. Be creative, and remember that you can spend your time looking for the perfect gift while letting an online gift exchange site like Elfster take care of the logistics. Just register and create a gift exchange, then invite the participants via email. They'll be assigned a person to buy a gift for, and each person can create a wishlist of items they'd like to receive.
At the end of the day, everyone will wind up with a present that's useful, but that will also make their time at the office a lot more silly.
Host an In-Office Cooking Competition
As I went to pour myself a third cup of coffee, I noticed a meaty smell in the kitchenette. When I peered into the carafe, I saw it was full of…hot dogs. "Hot dogs?!" I exclaimed as my boss walked into the room. Turns out, he read online that you could make hot dogs in a drip coffee maker and was testing it out for his lunch. That got me thinking. How many other creations could an inspired cook make with just the usual office kitchen appliances, like a coffee maker, toaster, and microwave?
At your next work office party, try hosting an in-office cooking competition. People can work alone or in teams, depending on the size of your company. You should set a number of ingredients everyone is allowed to use, as well as a time limit (if space is a concern, the competition can be held in rounds, so each cook is able to use the appliance they need). When a dish is completed, everyone gets to have a little taste. Once the cooking is done, everyone writes down their favorite dish, and the host will tally up the votes. The winner gets a prize agreed upon before time—perhaps something to make preparing office lunches a little easier?
Fun Holiday Party Games For Work Help You Bond With Your Coworkers
Working in an office is a strange experience—it can kind of feel like a high school for adults. But that means there's plenty of opportunity for having fun and building relationships, and nothing helps coworkers bond more than playing a silly game at an office party.
These games will help you and your coworkers let off a little steam. Laughing together will make everyone feel more comfortable around one another, and workplace productivity is always higher when everyone gets along. Whether you're receiving an octopus-shaped tape dispenser during a game of Secret Santa or hustling to make the best microwaved chocolate souffle your office has ever seen, your next office party is going to be a lot more fun.
Stumped on what to get your coworkers for this year's party? Check out Elfster's For the Office Gift Guide for workplace gifting inspiration! You can also share your favorite ideas with Elfster on Facebook, on Instagram @Elfster, and on Twitter @Elfster.