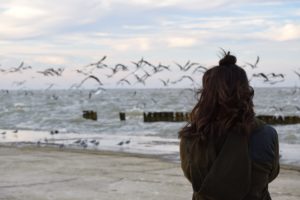 This beach season, you're probably looking to add something more to your bag than suntan lotion and the newest teen vampire novel-although you totally want both of those too. You want to rock the sun and sand in style, comfort, with a little decadence, and a lot of goodies. You want, nay need, great beach gear. And so do your girlfriends!
This year, why not send a beach-themed gift bag to your sister, girlfriend, wife, or best friend? It's a great gift that really kicks summer off in style. You can have the best Fourth of July party plans ever but, really, what most of sane people want is not a single day, but a whole sunny season filled with relaxing by the carefree splash of the ocean or a sparkly lake. Sound like someone you know? Then they're sure to appreciate these DIY thoughtful gift baskets.
There's something about water that just seems to center and relax most of us; it's a beautiful gift straight from nature. And, by reading up on our ideas for what to put in a beach-themed gift basket or bag, you'll make that gift even more special.
Hot Items to Put in a Summer Beach-Themed Gift Basket
So, what should go into this magical summer gift basket, this enchanting beach bag that will change her life, or at least her afternoon? Start with the (semi-)basics…
A Custom Beach Towel or Blanket: Beach blankets are the way to claim your own little slice of sandy heaven. They establish your place on the beach; rolling it out is your cue that relaxation has begun. So why not take that slice and make sure everyone knows it's yours? A personalized embroidered towel puts your friend's name right on the spot she's claiming. Or, choose a one-of-a-kind hand-dyed blanket so she can spot her spot from the waterline. It's a little indulgent, but isn't that what the beach is all about?
Beach-Proof Cups: One of the main problems with the beach is the question of what to do with your cup. After all, sand rarely makes an even surface and the wind off the water, while refreshing, can cause more spills than blindfolded volleyball (a great beach game, by the way). That's where spiked beach cups can come in handy. These burrow into the sand like a mole crab, offering your bestie, sister, or wife spill-free, sand-proof sipping.
Candles for the Beach: There is nothing like the night and the water, the setting sun and the lapping waves, the sea and the rhythm. And that can be made better with candles, piercing through the darkness and making everything more romantic. Putting outdoor candles in a gift bag says that you know your friend's trip is going to be very good. This can include lantern holders to shield the candles from the wind, or even non-flame, look-a-like LED candles. The point is to cut a soft arc through the silent darkness.
(Optional musical accompaniment for use with candles)
Reads Perfect for a Beach Gift Bag
Water (etc.) cup: check. Towel: check. Sun and sand: check. Now it's time for your friend to kick back and enjoy a little bit of beach reading. So, what's hot this year for a read perfect for a beach gift bag? Here's a list of a few books that people want to sink their teeth into (vampire teen novels excluded, sadly):
Beach House for Rent by Mary Alice Monroe, the next in the beloved Lowcountry Summer series, following The Beach House and Beach House Memories.

Magpie Murders by Anthony Horowitz. A chilling whodunnit, and a page-turner that'll keep you guessing.

The Salt House by Lisa Duffy. Tragedy, family, and fishing along Maine's rugged coast.

The Idiot by Elif Batuman. A debut novel about a shy and bookish girl finding herself at Harvard in the mid-90s. Quirky but not pretentious, charmingly meandering, and fiercely anti-climatic. If you are of Elif's age, you'll relate to the moods and the music.

Swing Time by Zadie Smith. A new sweeping, bracingly funny novel from one of America's best writers.

The Handmaid's Tale by Margaret Atwood. Whether she's been watching the show or not, she needs to read the book.

Lincoln in the Bardo by George Saunders. Strange, haunting, macabre, riotously funny, and definitely weird. America's short story master creates a page-turning novel.
A Beach Bag-Themed Summer Gift Exchange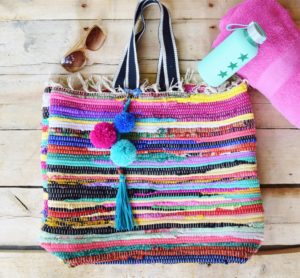 Of course, if you have a big group of girlfriends, you can all surprise each other with handpicked summer gifts and beach bag-themed items by bringing a bit of Christmas into July. With an online Secret Santa-style beach gift bag exchange, you can send your friends and loved ones the perfect beach day tucked neatly into a basket whether they're across the country or around the world. All you need to do is have everyone sign up for a free online Secret Santa organizer, and drawing the names for the exchange will be randomized and anonymized.
Participants can fill out what they want and make detailed, beach-tastic wish lists that their Secret Santas can pick their perfect presents from. Gifts will be delivered right to everyone's doors, just in time for vacation. It's as if Santa decided to take a beach trip, which, let's be honest, would be well-deserved.
But you deserve it too. And so do your girls. So start a gift exchange, and get your friends the gift of summer sun, sand, and fun. Then, enjoy those salty waves!
We're up in the North Pole so Elfster wants to live vicariously through you! Share your favorite summer beach stories—and this year's vacation plans—on our Facebook page, on Twitter @Elfster, or on Instagram @Elfster. And, for inspired gifting ideas, browse our Beach Getaway Gift Guide.