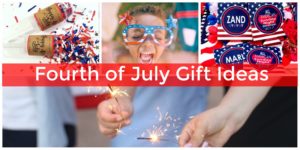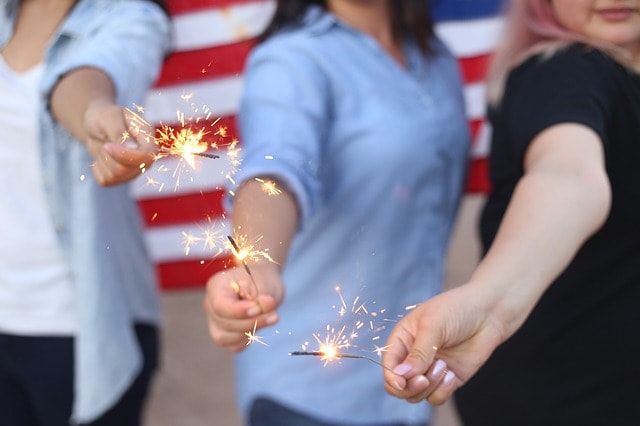 If you're looking for Fourth of July gift basket ideas, then your goal should be creating something patriotic, exciting, and useful. That's what I focus on when I make favors for my annual Fourth of July barbecue to ensure my gift baskets will be a hit.
I also look for items that are economical, as I'm buying a lot of baskets for a lot of people. Plus, Independence Day isn't a time when you usually shell out the big bucks to buy your loved ones fancy, expensive presents! Still, the great thing about gift baskets is that they can be quite inexpensive to put together. And if you focus on those three basic qualities—patriotic, exciting and useful—you'll be able to come up with some great Fourth of July gift baskets.
While the Fourth of July celebrates America, it's also a great time to celebrate summer, as July is perfect barbecue weather. You may want to have a neighborhood block party and offer fun baskets filled with summer toys like water balloons or sidewalk chalk to keep the kids entertained. For managing a large get-together, consider using an online gift registry to keep track of all your Fourth of July party ideas.
Building a Basket That's Patriotic, Exciting, and Useful
When I was a kid, the Fourth of July meant a huge backyard barbecue followed by a neighborhood block party. To keep us out of her hair, my mom would get the children little party favor bags filled with items like sparklers, water balloons, and sidewalk chalk. That would keep us all busy until it was time for the fireworks. At that point, those party favor bags would come out again, stocked with earplugs to keep the loud booms from hurting sensitive ears and mosquito wipes to keep the bugs at bay. My mother was a great planner like that and to this day, I create baskets that are a lot like hers for the kids on my block.
To make the holiday memorable, choose gifts for your basket that are:
Confetti poppers are a fun alternative to fireworks. | Image courtesy Etsy seller PoshAndSparkle.

Patriotic: Give a small symbol of America. A plastic flag for waving at parades is great for kids, while a lapel pin or piece of jewelry allows adults to wear their patriotism with pride.

Exciting: Exciting doesn't necessarily mean big and it doesn't mean fireworks, which may not be appropriate anyway. A safer option is to give something that makes people jump just a little, like party horns or a confetti popper.
Useful: Consider adding a practical twist with a keychain or drink holder that the receiver can use year-round. Patriotism isn't just for one day of the year, after all.
A lot of these Fourth of July gift basket ideas revolve around being outside. It is the height of summer, so most events will occur outdoors. To add a summery twist, consider giving your gift basket in a beach pail or picnic basket.
If you're thinking about creating Fourth of July gift baskets for little ones, you may also want to get the parent's input to be sure you are only giving presents they consider appropriate for their little ones.
Organizing Fourth of July Gift Basket Ideas With a Registry
While the Fourth of July is certainly a fun holiday, it also has more than a few safety hazards. Parents may not want their child receiving risky items like sparklers or toys with small parts that a child could choke on. That's why you might want to track your gift basket ideas for children online and get the parent's input on what is safe to give to their child.
An online wish list website, like Elfster, offers a few benefits in managing your Fourth of July gift giving, such as:
An easy, private place to exchange ideas: If the parent has any concerns about certain toys or candy, they can share those concerns via the online platform. That way, you can be sure to avoid those items in your basket. You can also mark items as purchased so you don't accidentally give two identical gifts to the same person.
Simple sharing and social media integration: You can also link the registry to your event page on Facebook or share it via Instagram, Twitter, text, and more. You can manage just about everything for an event this way, including invites and RSVPs.
A gamified component for kids: Making something fun is a good way to get kids to participate. With an online wish list, the little ones can help plan the party by picking out party favors they'd enjoy—with their parent's approval, of course.
A comprehensive selection: A good online registry won't limit you to just one retailer but will allow you to select gifts from a variety of sources. You should be able to organize your ideas in one place, whether you add items by link, text, or directly from the site with a Fourth of July gift guide.
An online registry can be helpful in creating Fourth of July event planning lists as well, as these sites allow you to keep track of necessities for the traditional backyard barbecue. You can list all your needed supplies in one place and set reminders so you can order them as the event approaches.
Fourth of July gift basket ideas can easily be cost effective if you're planning on giving out a lot of these baskets as party favors. Just meet the three basics; useful, patriotic and exciting. If you're troubled by buying for young ones or need a place to keep track of your gift ideas, an online registry can be a great tool. The right registry will help you collect all the Fourth of July gift basket ideas you need to toast the summer. The best part? You'll spend less time worrying about the party favors and more time celebrating with friends and family.
Still searching for gift ideas? Check out Elfster's Fourth of July Gift Guide, or start a gift exchange for even more festive fun. You can follow Elfster on Facebook, Instagram @Elfster, or Twitter @Elfster to get more ideas that are sure to please this Fourth of July.