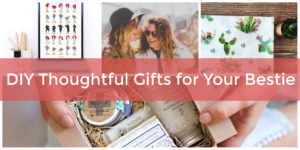 My apartment looks calm and neat at first glance, but I've got a deep, dark secret that's just waiting to burst free. Lurking deep beneath a table in the dining room, hidden behind a curtain, there's a monster waiting to be let out: my sprawling collection of crafting supplies
I'm a firm believer in giving homemade gifts and that means I have supplies on hand for just about everything—paint, fabric, clay; you name it, I've probably got it. Recent makes include a Boston Terrier print tote bag for my best friend, an orange flannel patchwork quilt for my brother, and a painting of a mallard for my duck-obsessed father-in-law.
When I make gifts for the people I love instead of heading to the store, I can give them something that's catered to their passions, whether it's a creative hostess gift for a friend who loves throwing dinner parties or a teacher appreciation gift for my cousin who works in the education field. They'll feel extra-appreciated knowing the thought and time that went into their gift, and I'll feel great that I was able to make someone feel special—and that all those trips to the craft and fabric store went to good use.
The next time you need a gift for your bestie, skip the "usual" present you always wind up buying and tap the greatest resource of all to make them the perfect gift: your memories. You'll wind up with one-of-a-kind, DIY thoughtful gifts for your best friend that celebrates your friendship and remind both of you that the greatest gift of all is your friendship itself.
Thoughtful Gifts for Your Musically-Inclined Best Friend
I grew up in the golden age of '90s-era boy bands; my BFF and I would spend literally all of our combined allowance on boy band paraphernalia. We collected everything from music documentaries to pillowcases featuring our favorite crooners, and constantly traded mixtapes. So when it came time for my bachelorette party, my bestie knew exactly what to do to bring the shenanigans up to the next level—she made me the ultimate Spotify playlist featuring all of our favorite boy band songs so we could dance and sing the night away.
Whether you're burning a mix CD or creating a streaming playlist, you can immortalize your and your BBF's memories through music for a thoughtful best friend gift. Think back to the songs you blasted on the radio during a road trip, concerts you've been to together, and the nostalgic music you loved as kids—all are candidates for creating a mix that'll bring up memories only the two of you share.
To make it extra-special, think outside the (boom)box. Get a custom vinyl record made of your favorite songs, so you can gift your friend with hipster cred and great memories.
Thoughtful Gifts for Your Best Friend… In a Basket
The first time I received a gift basket (full of artisanal English muffins, jams, and tea), I thought life couldn't get any better. Hey, life is all about the simple pleasures, right? But, proving that a little personalization goes a long way, my mind was absolutely blown when my best friends put together a wedding weekend survival gift basket and gave it to me when I was getting married. It was packed with useful things like lavender aromatherapy spray to sniff when things got hectic and waterproof mascara to fight against the happy tears, and more whimsical items like a scrapbook full of pictures of puppies and kittens wearing flower crowns that I could look at whenever I got stressed. It made me feel so special and so understood to have received a collection of small gifts that were exactly what I needed, even if I hadn't realized it.
A friendship gift basket can contain food items, but make sure it's not stuffed with something generic. If your friend loves chocolate, don't opt for a standard sampler box—seek out their favorites, or get some from a shop that's in a location that has some significance to the two of you (your hometown, a city you traveled to together, etc.). Something pampering is always nice, like body spray in their favorite scent, a deep-conditioning hair mask for your friend who's always in the pool, or a pair of cushioned slippers for your bestie who's on her feet all day. You can also go really unique, like with these pet lovers gift basket ideas for dogs and owners to share.
Most importantly, you should include something really personal. You could make a traditional photo album and include the aforementioned mix CD or custom vinyl record, or add a homemade "coupon" for something exciting, like a weekend getaway together or concert tickets, so you can keep making new memories together.
A DIY Friendship Map: Gift a Trip Down Memory Lane
I've been lucky enough to travel a lot with my besties. Once, we took a detour on a trip to the Netherlands just so we could go to Belgium and stuff our faces with street vendor French fries, warm waffles filled with sugar crystals, and handmade chocolates. And then there was the time my friend won a photography contest with a grand prize of an all-expenses-paid trip to Las Vegas and brought me along for the ride.
I can scroll through our various social media accounts to look back at photos of our trips, but even better is the map I have hanging on my bedroom wall with a pin marking everywhere we've been together.
You can create a thoughtful gift for your bestie as well that includes a trip down memory lane. Choose a large map of your town, state, country, or the entire world depending on where you've been together. Mark each destination on the map that you've traveled to with a numbered pin or sticker (stickers are better if you want to frame your work of art). Then, create a map key, writing out your favorite friendship memory from each destination. It's a heartfelt gift that will bring on the nostalgia—and it's also a nice piece of conversation-starting wall art for your best friend's home.
Thoughtful Gifts for Your Best Friend Are Almost as Good as a Hug
6 years ago, I moved across the country leaving all of my friends and family behind. But before I went, I left my bestie with a gift: a homemade stuffed seal made out of cozy fleece fabric. Like most great gifts between friends, it was based on an inside joke, but the intent was genuine. Whenever we missed each other, she could give the seal a squeeze, and it would be like I was there to offer my support.
Sometimes you just want to give your BFF a big hug, and a homemade, cozily thoughtful gift can do that for you even when you're not together. Whether it's a warm knit hat, a fluffy custom pillow, or a homemade quilt or blanket, every time these items get used it will remind your friend that you love them. A simple quilt, made from a couple fabrics that remind you of your pal (they make printed fabric in just about every pattern conceivable these days), is the perfect way to wrap them up in a hug even when you're apart.
Supplies for a Simple Quilted Blanket:
1 ½ yards of top fabric
1 ½ yards of backing fabric
1 ½ yards of batting
Thread to match the top fabric
Basting Spray
Quilted Blanket Instructions:
Following the instructions on the can of basting spray, attach the batting to the wrong (non-print) side of your top fabric.
Using a sewing machine, quilt the top fabric and batting together in a grid pattern.
Trim any excess batting so that it lines up perfectly with the quilt top fabric, then sew around the edges of the two using a blanket stitch.
Pin together the quilt top (now attached to batting) and backing fabric, right sides facing in.
Sew around the perimeter of the "quilt sandwich" using a .5" seam allowance, backstitching when you begin and end sewing, and leaving a six-inch length unsewn.
At the unsewn edge portion of your quilt, reach in and slowly turn the quilt inside out. You should wind up with the right sides of the quilt top and quilt backing facing outward, with the batting nestled in between.
Using a ladder stitch, sew the opening closed by hand.
Iron the quilt, pressing the edges and corners flat.
Stitch around the perimeter of the quilt, once with a .5" seam allowance, then a 1" seam allowance.
Cuddle up with your creation!
My only other advice when it comes to sewing a friend a quilt? Consider making a matching quilt for yourself as a token of friendship that's a lot more snuggly than a "Best Friends Forever" heart necklace.
I have some friends I go to when I'm sad, other friends I invite over to watch bad '80s comedy movies, and some friends that are great adventure buddies. But because they're all such different people, going the DIY route is the best way to give them gifts that truly reflect the uniqueness of our friendships.
When you make your own thoughtful gifts, there's no chance your friend will get a duplicate from someone else. Instead, they'll have a totally personalized present that will always remind them of the crazy, funny, bittersweet, nostalgic, comforting, and hilarious memories you've made together—and all of the good times still to come.
Still need a gift? You may find just what you're looking for in our BFF Gift Guide, curated with your special friendship in mind. You can keep up with all things Elfster on Facebook, and don't forget to visit us on Twitter @Elfster and Instagram @Elfster.