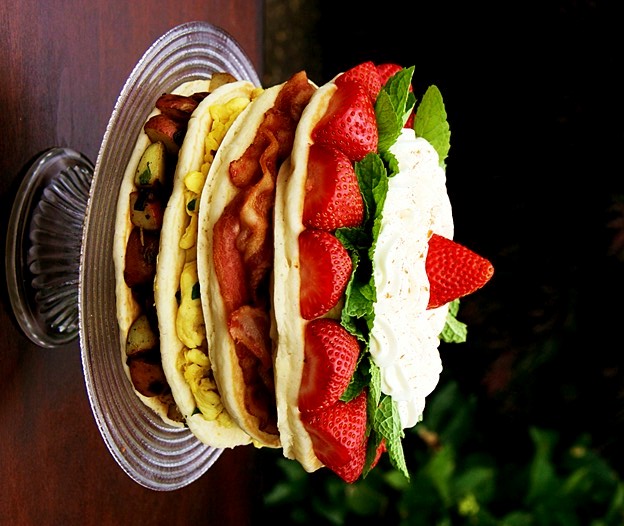 Photo and directions courtesy of Savory Sweet Life
Want to make something special for Father's day but can't choose between sweet or savory? Or maybe you already plan to cook all his favorite breakfast foods, but haven't thought of a good way to present them? A leaning tower of pancakes might be the answer to all your problems! Of course, there's always room to add in other layers, like waffles or sausage. Not only do these breakfast foods combine deliciously, they make a gorgeous cake when stacked up like this. All you need to add is a drizzle of thick syrup and a cup of joe, and breakfast is served!
Ingredients
4 pancakes
1 cup of whipped cream
1 cup of sliced strawberries
1.5 cups of roasted potatoes
1.5 cups of scrambled eggs
1 lb. of cooked bacon
Directions
Lay the first pancake down on a plate or serving platter.
Add a layer of roasted potatoes all the way to the edge, then add another pancake, then the scrambled eggs, another pancake, bacon, and the final pancake.
At this point if everything is cold, you will want to microwave everything for 3 minutes right before serving.
Top off with strawberries and whipped cream and serve immediately.