Last Minute DIY Mother's Day Gifts: Elegant Breakfast in Bed Ideas for Mom
Last Minute DIY Mother's Day Gifts: Elegant Breakfast in Bed Ideas for Mom
The smell of coffee, morning sun streaming in through the window, the tang of freshly squeezed orange juice—there's nothing quite as special as a thoughtfully prepared breakfast in bed to fill a soul up with happy content.
The older I get, the more I can comprehend why moms enjoy—and very much deserve—a luxurious sleep-in every so often. They get to stretch out, ignore the alarm clock, and not have to think twice about cracking an egg, flipping a pancake, or pouring their own coffee. That's why I've put together all the necessary ingredients for a delicious last minute DIY Mother's Day gift surprise.
Here are my favorite breakfast in bed ideas for mom. From the vase that holds the flowers to the mug that holds the coffee to the tray that holds it all, make it handmade for to embrace minimalist giving while still offering gifts that feel extravagant—and straight from the heart.
DIY Dot Mugs That Are Dishwasher Safe
My mom still keeps a ceramic coffee cup on her kitchen counter that I made in elementary school. To this day, I watch her refill that coveted homemade mug up with pride. And when she's not using it, it sits alongside one that my niece made her with photos of some of their favorite shared memories plastered to the side.
The idea of a mug decorated with acrylic paint is a simple one, but it never goes out of style. When it comes to creating this gift at the last minute, I've found a gold dotted mug is the perfect balance between crafty and quick.
The Supply List:
An oven safe white mug

Gold acrylic paint (oven, dishwasher, and microwave safe)

Multi-sized

circle sponges
Crafting Instructions:
Make sure your mug is clean of any stickers, dirt, or fingerprints.

Next, dip your sponge in your gold paint and stamp your polka dots.

Bake the mug in the oven at 350 degrees for 30 minutes, then let sit for 24 hours to set.

Wash, then gift while mom lounges with breakfast in bed!
If your mom is a true coffee lover of Friends proportions, present the mug to her alongside her own pot of locally roasted French press coffee. A dollop of whipped cream on top and a sprinkle of cinnamon make this an extra sweet treat.
Twine-Wrapped Glass Vase Gift Ideas
Flower bouquets are a classic Mother's Day gift, though they can sometimes feel impersonal. To give them your own twist, try these DIY twine-wrapped vases. They're a super simple present for mom that will let your fresh cut flowers take on a refreshingly custom spin.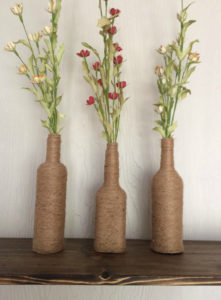 You can leave the decor simple and rustic, or you can see what sort of things you find around the house, on Etsy, or at your local craft store. If your mom loves the beach, glue on some seashells that you pocketed on a recent trip. If she likes jewelry, pick out some artful beads to add a bit of color. Possibilities abound with this crafty homemade gift that even toddlers can help out with.
The Supply List:
A glass bottle, anything from a wine bottle to a leftover jam jar

Rustic twine or string

A hot glue gun

Decorations (optional)

Fresh cut spring flowers
Crafting Instructions:
Starting at the bottom of the vase, add a drop of glue and press the end of the twine into it. Add more glue, wrapping twine as you go around the vase from the bottom up. Wrap and glue, wrap and glue, wrap and glue—a little bit at a time. Once you get in the rhythm of this craft, you'll realize how simple it is. Hot glue your decor over the twine, if you'd like, then arrange your flowers inside, maybe also adding some greenery for extra color. Whether you fill your vase with wildflowers you picked in your backyard or a bouquet of red roses you picked up at the store, they're sure to shine wrapped in twine!
An Easy DIY Wooden Serving Tray
The sight of a beautiful wooden breakfast serving tray being carried into a bedroom doesn't have to be reserved for Pinterest accounts and home magazines; there are tons of creative ways to put together your own handmade trays simply and in a short amount of time.
I love when folks use chalk paint to personalize their trays, or tiles to create interesting mosaics. But for a quick and easy reclaimed scrap wood gift, I've found this tray to be the easiest one to create. And, if you're super short on time, you don't even have to paint it at all—just add handles. It will be beautiful however you make it.
The Supply List:
A piece of reclaimed wood approx.

19 ½" long x 13 ¾" wide

Paint or wood finish

A drill
Crafting Instructions:
Salvage a tray-sized piece of wood, or have one cut to size at a hardware store.

Paint—or don't!

When the paint is dry, attach your handles. I'd suggest going with handles that have visible screws from the top so you can easy screw them down.

You've just DIY'ed a breakfast tray fit for a Mother's Day queen!
A Homemade Butter Croissants Recipe
The idea of making croissants tends to scare some of us away; they look so elaborate and detailed. But, in reality, beautiful, buttery homemade croissants require less than ten ingredients—many of which you probably have on hand in your kitchen already. Plus, once you get the technique down, the art of croissant making will become second nature to you. You just may find yourself in your kitchen weekend after weekend, windows open, the smells of a French bakery enveloping your every sense. Here's how to whip up a buttery batch for your mom's breakfast in bed.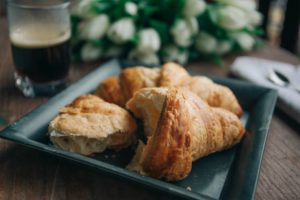 The Ingredients List:
For the Butter Mixture
1 ½ cups butter, softened

⅓ cup flour
For the Dough
¼ oz active dry yeast

¼ cup warm water

1 cup warmed whole milk

¼ cup cane sugar

1 egg

1 tsp salt

3 ½ cups flour
Baking Instructions:
Beat your butter and flour until combined in a small bowl.

On a piece of parchment paper, spread the mixture into a 6 x 12" rectangle. Cover this with an additional piece of parchment and pop into the fridge for about an hour and 15 minutes.

In a big bowl, dissolve your yeast in warm water, then add the milk, sugar, egg, salt, and 2 cups of the flour. Mix until smooth. Stir in the remaining flour to form a dough.

Move the dough onto a floured surface and knead with your hands for about 7 minutes or until it becomes smooth and elastic. Roll it into a 12-14" square.

Take your butter mix from the fridge and remove the top layer of parchment paper. Place it top-side down over half of the dough, then remove the additional piece of parchment. Fold the remaining dough over the butter and seal the edges.

Roll the dough into a rectangle of about 12 x 20" then fold the rectangle in half by bringing each side to meet in the middle. Repeat this rolling and folding action two more times. Then wrap it in plastic wrap and leave it in the fridge overnight.

The next day, unwrap the dough and, on a lightly floured surface, roll it into a 20 x 25" rectangle. Cut that rectangle into 5" squares, then cut each square diagonally in half to form two triangles.

Finally, shape your croissants! Roll the triangles up beginning from the wide end then place them on a baking sheet lined with parchment paper. If you'd like them to have the traditional croissant crescent shape, curve the ends down. Cover and let rise until doubled (about 45 minutes to 1 hour).

Bake for 12 minutes at 375 degrees.

Serve them to your mother warm, alongside her steaming hot coffee!
Whether you've been planning an elaborate Mother's Day for a month, or you end up throwing something together the day before, we have a sneaking suspicion here at Elfster that your mom (or any mom you may be celebrating) will love it just the same.
From croissants to gold-dotted mugs, the components of a special breakfast in bed are made whimsical and wonderful by what they represent from the gift-giver—love, appreciation, and the desire to say, "Unwind. Relax. Enjoy the slow pace of your morning—you deserve it." Gifts to encourage a calm and serene mind are always well-loved, especially by moms.
From all of us here at Elfster, a happy Mother's Day to you and yours! May it be lovely and love-filled.
For more gift-giving inspiration for your mom, visit our Mother's Day gift guide. Or join the Elfster world on our Facebook page, on Twitter @Elfster, and on Instagram @Elfstergram. We can't wait to meet you!

Bay E. has her BA & MA in English and creative writing from San Francisco State University. She's passionate about poetry, cooking, photography, and exploring the great outdoors. When it comes to gift-giving, she loves creating homemade gifts with a natural and artistic flair, often food-related with some sort of quote or recipe attached.
Please follow and like us: