DIY Mother's Day Flower Arrangements Picked Fresh to Surprise Mom with a Classic
DIY Mother's Day Flower Arrangements Picked Fresh to Surprise Mom with a Classic
"A mother is one who fills your heart in the first place." Amy Tan
Flowers are so naturally and intrinsically linked to Mother's Day gifts. When I was a kid, I can recall using every last piece of pink and red colored tissue paper in the house to create a special faux flower bouquet for my mom, Nini. One year I tried to perfect the art of piping frosting in the shape of her favorite flower, plumerias, on top of a double chocolate cake. I also have memories of wrapping green tape around her most-used pen to secure a rose at the top and presenting it to her while she sat at her desk organizing her stationary.
Flowers, celebrating the bounty of the spring season, and my mom are all irrevocably linked in my memories. This saying often comes to mind, "I'd rather wear flowers around my hair than diamonds around my neck." If it brings a vision of your mom to mind as well, these DIY Mother's Day flower arrangements are freshly picked for her.
Happy Mother's Day, to my mom and all the moms who appreciate the beauty of the natural world—and the ways in which it inspires their daughters.
An M-O-M Floral Alphabet
Once you've seen how fun creating these colorful floral letters can be, you may just find yourself doing it for everyone, from your mother to the mail lady. I like to simply spell out MOM with my letters, but you could also choose a nickname or short family saying. Then I wrap the letters individually to create more of a surprise element—what are the letters going to spell? Interspersed within my layers of eco-friendly wrapping paper or tissue, I'll hide Hershey's kisses, photographs, and even seashells I've picked up from various beaches while traveling. I think opening a gift should be part of the fun!
Many friends I know love using silk flowers on this craft so their floral alphabet stays lovely forever. I personally enjoy the look and smell of fresh mini roses, so often use those instead, even though they wilt in a day or two. Either way, your gift will be naturally beautiful—and your mother will love it.
The Supply List:
Silk (or fresh) flowers

Cardboard letters

Glue gun
Instructions:
First, cut the flowers as close to the stem as you can.

Next, arrange the flowers starting from one end of the letter and working up or down from there. Sometimes, an ombre hued color scheme can be fun. Or, start with the smallest buds at the top and the largest at the bottom.

Try not to let the flowers droop too much over the edge. A little extra is fine, but keeping them in line with the letters will make your alphabet appear more uniform. I'm normally one for organic shapes, but in this case, neatness works in your favor.

Once you have the flowers where you want them, glue them into place on the letter and watch your floral alphabet take shape.
A Photo Flower Pot Bouquet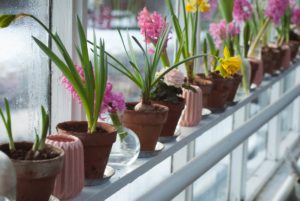 Even a simple floral arrangement can make a bold statement. But, if you're looking to change things up for Mom this year, opt for a flower pot bouquet that uniquely integrates photos of the two of you. It's super simple and sure to please. I like to choose pictures that conjure up old memories and stir up conversations. The best part? This is a therapeutic craft that can be done while sitting outside and sipping iced tea in the sunshine.
The Supply List:
Mod Podge (I prefer matte finish over gloss)

A foam or sponge brush

Your favorite photos

A hot glue gun

A terracotta pot
Instructions:
First, print out your image or images. Make sure the size fits on the pot you're using. I find the simplicity of one photo in the center looks minimal but beautiful, though you can work with multiple photos if you'd like.

Cut the photos and decoupage them onto your planter. Decoupage, if you're new to this whole thing, is simply the art of decorating an object by gluing colored paper cutouts onto it.

Once they're decoupaged down, seal them in with 3 coats of Mod Podge, the wonder worker. Let each coat dry on its own before applying the next.

And that's it! It's one of the simplest and best looking floral mother's day gifts out there. Just add flowers!
DIY Dried Flower Candles
This sweet craft combines two of my mom's favorites—flowers and candles! You will have to prepare this one ahead of time though, or buy dried flowers if this is a last minute gift for mom.
The Supply List:
Pressed flowers

(directions below)

Pillar candles

Paraffin wax

A double boiler

A metal spoon

A paintbrush
Instructions:
First, you'll want to preserve your flowers. The easiest way to do this is by placing them between two pieces of wax paper, then between the pages of a heavy book. Add pressure by placing a large rock on top. Let sit for two weeks.

Next, use a metal spoon and a double boiler to heat your paraffin wax over low heat, continuously stirring.

Dip a paintbrush into the wax and form a coat over the part of the candle that you want to decorate. Press the flowers into this coat of wax, then apply a second coat. Let cool for 25 minutes.

Using a dry cloth, softly buff the candle before gifting.
A Hanging Flower Chandelier
This flower chandelier is delicate, unique, and perfect for all of the truly special moms out there. You only need a few items to create whimsy and a spring flourish of color—and maybe a DIY spirit.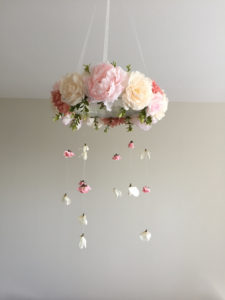 Put on a playlist of your mother's favorite songs, hang this over the dining room table, and plan a spring-inspired dinner or picnic party for you and your family. It's simple. It's creative. It's so very special.
The Supply List:
Long floral stems, like snapdragons

A 10-inch embroidery hoop

Washi tape

Clear thread

A metal ring

A needle
Instructions:
Begin by wrapping your embroidery hoop with washi tape.

Then, thread a needle through the stems of your snapdragons, pulling it all the way through.

Next, bring both ends of the thread around the embroidery hoop, letting your snapdragons hang below it so that stem isn't smashed up against the washi tape—about an inch or two. Tie the thread in a double knot and trim the remaining loose end of the thread.

To make the chandelier easy to hang, tie three pieces of thread equal distances from one another. Then, bring them together at the top and tie them onto a metal ring.
Like the wonderful Maya Angelou once said, "I will look after you and I will look after anybody you say needs to be looked after, any way you say. I am here. I brought my whole self to you. I am your mother."
Whether you're using fresh flowers or felt ones, creating a timeless floral gift for your mom or someone who embodies everything the title of mom means to you, is bound to create special moments and memories this Mother's Day.
Happy Mother's Day from the entire Elfster family. May your day be filled with flowers and magic, friends.
For more floral gift-giving inspiration for mom, visit our Mother's Day gift guide. Or join the Elfster world on our Facebook page, on Twitter @Elfster, and on Instagram @Elfstergram. We can't wait to meet you!

Bay E. has her BA & MA in English and creative writing from San Francisco State University. She's passionate about poetry, cooking, photography, and exploring the great outdoors. When it comes to gift-giving, she loves creating homemade gifts with a natural and artistic flair, often food-related with some sort of quote or recipe attached.
Please follow and like us: