Imaginations Take Flight: Ideas for a Children's International Storytime Party
Imaginations Take Flight: Ideas for a Children's International Storytime Party
"We all went on safari, over grasslands damp with dew…" Little minds will fill with wonder as the story We All Went on Safari unfolds in detailed descriptions and colorful pictures, transporting wee ones to the foreign land of Tanzania on the wings of their imaginations—and with the help of author Laurie Krebs.
Reading stories about traveling and people living colorful lives in foreign countries allows us to explore the world in ways not always open to us in real life, sending us into grand adventures with each turn of a page. These literary encounters provide the perfect platform to teach our kids about places and cultures beyond their home country, expanding their vocabularies and geographical knowledge over an afternoon bonding with a community of friends. So get ready to board a flight for a grand adventure, right from the comfort of your living room.
An Invitation to Experience the World
Deciding to get fully immersed into storybook travels with our kids, another book-loving mom friend and I hosted an "Around the World" luncheon, with a book gift exchange, to give our children a taste of the wide world beyond their doorsteps. We invited a handful of other families to join us, along with their little travelers, for an adventurous storytime and some international eats by sending out "A Passport to Read the World" invitations.
These fun mock passports can be made with some blue cardstock, just a few sheets of paper, staples, and stickers:
Using blue cardstock for authenticity, we sliced each page down the middle to make two covers from each sheet.

Repeating the process with plain printing paper, we cut five pages in half to fit between the cover sheet.

Lining up the blank white pages with the blue cover, we stapled them down the centerline to make a binding.

Once stapled, we folded each booklet in half and decorated the cover with foil markers and

passport stamp stickers

to craft them into the perfect tickets to guide the way for our reading travels.
Inside the front cover of each passport-inspired invitation, families were asked to go online and sign into our book gift exchange to find out which family they'll be gifting with their favorite cultural tale. Then, they'll bring a new book, gift wrapped for the exchange, as well as their own beloved copy to read to the group. We even included an option to donate a second new book to our local library so our entire community can expand their horizons.
Finally, we made sure to remind the guests to bring their invitation, nay passport, along with them to the party—their mini world travelers will be filling up the blank pages with all the fun things learned about exotic locales as we read about them.
A Space to Seek Adventure—and Treats—Together
For our trip around the world, we pack the living room with comfy places to sit, centered around one large armchair that acts as the pilot's seat for the featured storyteller as they take us on the escapades of their chosen book. To add an element of traveling whimsy to the decor, we enhanced the armchair to look like the front end of an airplane:
Using a couple cardboard boxes, we

fashion two sides of a plane and a pair of wings

by tracing the general shapes and cutting them out.

Grabbing the markers and stickers we had leftover from making passports, we adorn the wings and label the sides of the plane "Storytime Air."

Once our plane parts are decorated to our liking, we fasten the wings to the sides of the plane using clear packing tape.

Now that each side of our plane is assembled, we prop them up against either side of the armchair, and we're ready for takeoff!
When it's storytime, we'll explain to the kids that each of their books is a special "flight map" able to take us on a unique adventure all over the world with the turn of a page. We also lined up a couple tables along the wall in the back to display the international cuisine we would sample for our storytime luncheon. We spread out book pages and maps to act as a table runner, hung extra books over a clothesline as a banner, and propped books up in stacks topped with a globe, a telescope, and a compass to inspire us in our explorations ahead.
Navigation Through Narration
Now that the room is staged for a grand adventure, the little ones are ready to dive into the pages of their favorite tales from afar with their friends. As we read aloud, parents are encouraged to help their kiddos make journal entries about our travels in their passports. The little ones can draw pictures while parents write in fun facts their adventuring babes loved from each story so they can revisit them again and again, taking note of the titles for future book purchases.
Lily and her mom Rachel read Ruby's Wish, a Chinese-inspired tale, taking turns on a few pages so 6-year-old Lily could practice her out-loud reading. Ryan could hardly wait to pass out the "passport stamp" stickers he brought along to match his favorite book, and jumped up to start the moment his dad turned to the last page of The Cat Who Walked Across France. Other amazing international reads the group brought were:
The Post-Flight Meal
There's no easier way to introduce other cultures to kids in a tangible manner than through food. After our flights of story fancies, we enjoyed a luncheon Sarah and I prepared of finger foods inspired by worldwide cuisines. Options included a few familiar looking choices in the form of a French cheese tray, English tea and biscuits, Italian pasta salad, Australian fish and chips, and a Caribbean fruit salad—and a couple not-so-common dishes like Indian Chicken Marsala, and Moroccan lentil soup cups.
All dishes were clearly labeled with the names of the food and marked with small flags from the country of origin to help kids match the dish to its culture. And the variety of flavors and textures gave the kiddos a chance to taste what their favorite characters from the day's stories might be enjoying.
Exchanging the Tales of Our Travels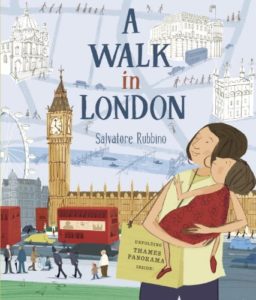 Once every family had an opportunity to read their book, and all had their fill of the tasty lunch assortment, the kids got to share in the joy of giving a copy of their favorite story to the friend they were assigned in the exchange online. Having learned which child they would be gifting a book to before the event, but not who would be giving a book to them, left all of the kids super excited to find out which story they would end up with.
Sarah's son Kale was thrilled when he found out Michelle had picked him in the book swap since he fell in love with her tale Are We There Yet? during our storytime. Isabell couldn't have been happier to discover that she would be going home with A Walk in London, having thoroughly delighted in the tea and biscuits at lunch.
New tales of travel in hand, and young minds full of wonder at the world, we part ways with a renewed love of the written word. Wanting to make every effort to spread that love, many of us brought along a second new copy of our favorite book to donate so even more kids can fly to far off places and explore interesting cultures thanks to their nearby library.
Everyone left our storytime with a renewed sense of adventure to discover more of the fascinating worlds to be found in books. I know I was more than happy to oblige when my son asked to revisit our new storybook again before bed—and I'm sure we'll all dream of spectacular world travels as we drift off to sleep tonight.
Looking for new adventures to share with the little ones in your world? Let the elves at Elfster help you create a globe-trotting reading gift guide and find lots of colorful ideas for an Around the World party of your own on Facebook, Twitter @Elfster, and Instagram @Elfstergram.

Jeni is a music-loving, crafty boy mom of 2. When she's not crawling on the floor after her toddler, she can be found DIY-ing up a storm, coffee cup in hand—there's always a reason to party in her world.
Please follow and like us: