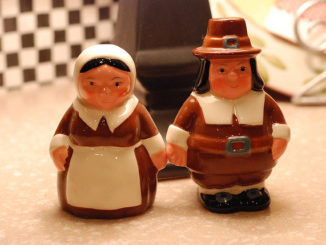 "Stick a fork in it." This might be a top-notch tip for preparing a turkey, but we think it should generally be avoided in Thanksgiving dinner conversation. We know that families are under a lot of pressure to amp-up their suppertime small-talk, especially on this nationally sanctioned day of quality time. So to better prepare for a lull in the conversation, Elfster suggests you inject a splash of humor, and history, into this year's festivities. You can get the Butterball rolling by using these pilgrim-approved words of thanks:
• Father, I am most mightily beholden to you for the generous portion of slaw.
• Mother, I see the lima bean casserole has not returned for this year's festivities, and I give you many thanks.
• Grandpa, I am very much obliged to you for your tips on the art of turkey-basting, but please stand aside.
• Thanks with a bowed heart for sparing us the details of your last trip to the podiatrist, Uncle Jim.
• Aunt Midge, a thousand times I thank you for hinting at the parsley betwixt my teeth.