For some parents of children living on the autism spectrum, family life can seem very different and distant from the experiences of many others. And facing challenges unique to their own family, many parents feel alone in their often highly-structured daily and weekly routines. But growing the tribe through meaningful relationships may be just the connection they need.
After all, don't we all get by with a little help from our friends?
Growing The Tribe
"It originally started over a bus incident and I needed help. The thing is, I knew I was not alone. Other parents had to be feeling this way too. I desperately needed friends who got it, gave virtual high fives and support, even if it's 2 a.m." explains autism spectrum mom & community organizer Suzi Noyes.
Ten years ago, Suzi realized she needed to make it her mission to create a community and growing the Tribe of families to fill the gap she experienced in her own life. In her hometown of Hampton Roads, Virginia, Suzi created a non-profit organization to support autism spectrum children and their families by scheduling events specifically geared towards them. Fundraising and creative planning both contribute to the success of these events, often supported through the generosity from local businesses.
A visit to Suzi's Spectrum Parents Facebook group tells the story of her big heart, as you're greeted by warm words of encouragement:
I am a mom, wife, daughter, sister… I am an amateur photographer, advocate, Realtor, Founder of Spectrum Parents Events, a former Special Ed Teacher and Social Worker. My husband and I have two sons with special needs. One has ADHD with anxiety and our youngest has Autism. Our kids are now in their late teens. It does get easier, I promise.
Her community has grown to over 1,800 in just a few short years, confirming the need for having a place to make such valuable connections.
Creating a 'Safe Zone' for Autism Spectrum Families
"Since starting my non-profit local support group for parents with kids on the autism spectrum, our lives changed," Suzi says. "Not only did I make friends, but so did my son. From there, my goal was to organize over the top events for autism families who normally wouldn't leave their homes."
And when it comes to planning the perfect events, the sky's the limit!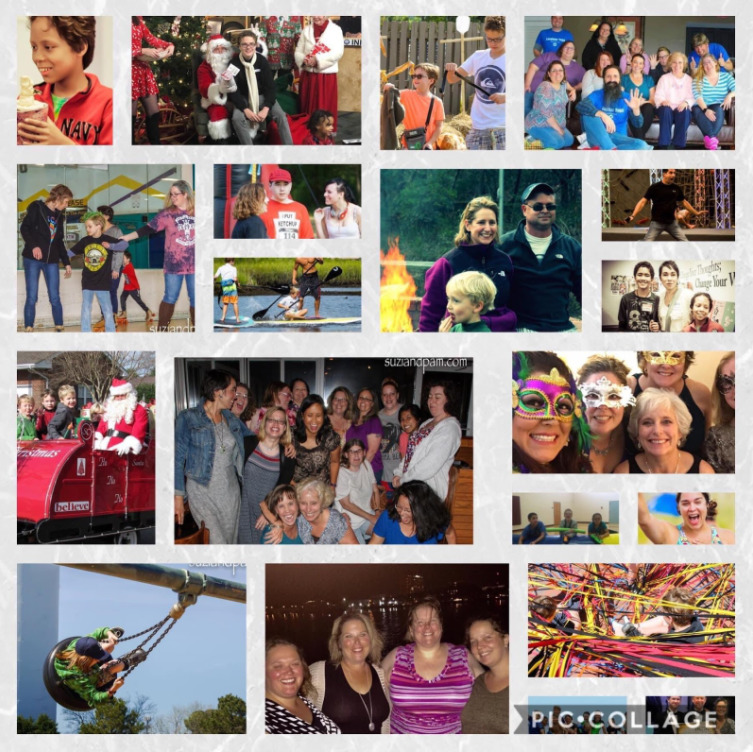 We like to PLAY. Giggle. Runaway. Go off-roading. Share our biggest fears. Be adventurous. Create incredible memories. Take tons of pics. Ice Skate with Superheroes. Ride in Santa's Sleigh. Hold each other's hands. Go Tubing. Watch amazing sunsets. Surf. Laugh till we cry. Enjoy Autism on Ice. Eat scrumptious food with our Breakfast & Lunch Club. Make S'mores. Dance on Tables. Go on Retreats. Make friends. Love Beach Nights. Play Russian Egg-Roulette. Get massages. Cheer each other on. Make Trick or Treating AWESOME again. Explore the unknown. Talk for hours. Celebrate Birthdays. Be there – no matter what.
"I am tickled pink that they are comfortable and take off their coat of armor and attend my events tailored just for autism families. They know it's a 'safe zone.' There's no glaring, snickering, or evil glares," Suzi promises. "We all need to be accepted and you get that at Spectrum Parents Events."
Spreading Good Vibes Through Generosity
The month of May was much ado about Moms, including an Elfster gift exchange just for the ladies — growing the tribe & spreading good vibes! The exchange theme of "Let's Spoil Each Other" says it all and a Zoom call is in the works to show their gratitude!
"Mom's Day Month was spectacular," Suzi notes. "We started off with two incredible contests. The first was a one-night stay at The Cavalier, a luxury hotel in Virginia Beach for two including brunch and the other was an amazing 10ft longboard from a local surfboard company, Tamarindo Board Co."
Next up was a trip to the farm to "Pick Flowers with Mom," as well as a laughing the night away on a Zoom comedy night, brunching with other moms (in real life) and gifting galore for the moms who took part in the Elfster swap for a little secret Santa fun!
Living with Autism During the Pandemic
As we all know, the pandemic certainly brought our lives to a screeching halt for over a year, along with the normal routines of our lives.
So how did it affect the kids in Suzi's group, as well as the families who spent so much time on lockdown?
"It's been incredibly challenging especially for parents trying to work and be a teacher. Many kids cannot do virtual, so that was a big issue as well. Masks? Ugh. Some kids can do it, others cannot," Suzi explains.
And the routine must go on…
Does the group now see the light at the end of the tunnel with eager anticipation of great adventures to come?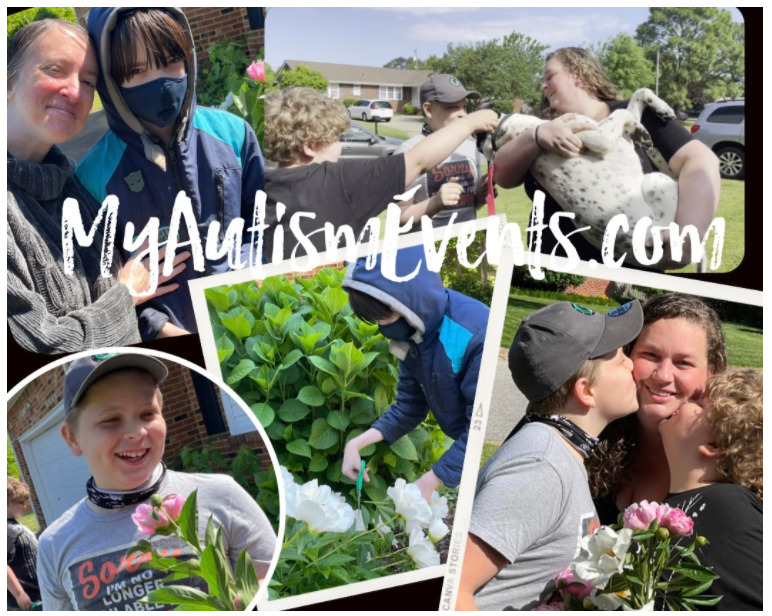 "During the pandemic, I kept Spectrum Parents alive by hosting events like Elfster. We've also had comedians, magicians, game nights, etc." she adds. "Yes, the light at the end of the tunnel is there and we have beach night, a scavenger hunt at Maymont Park, and a Sensory Farm event set up."
The group has gathered for a variety of events to suit the group, but one of the group's (and the elves') favorites is an annual visit with Santa! Kids get to ride in Santa's sleigh, sit on his lap and get a present. Love it!
5 Facts About People Autism:
People with autism need understanding, love and acceptance, just like everyone else.
Children, teens and adults with autism are very creative and find a passion and talent for music, theater, art, dance and singing quite easily.
Some traits people with autism share include intense focus and concentration, honesty, perfectionism, attention to details, being organized and reliability.
They like rules. They like structure. So, if there's an unexpected fire alarm, they might get upset. Comfort them.
Many are social! They like to have friends and play, just like you.
We asked Suzi if she had a special message she would like to share with the Elfster community or other similar communities trying to grow the tribe with hope, support and generosity using Elfster, and we're grateful for her glowing review:
"Elfster can be used for any event — it is such a neat platform that brings joy to so many people. Use it for Mom's Day, Father's Day, or even birthdays, especially if you have a few in one month."
We are very grateful to Suzi for sharing her story of how she is growing the tribe and spreading good vibes through acts of generosity with Elfster! And kudos to the moms & dads of the Autism Spectrum community for supporting one another through even the most trying times!
If you'd like to support Spectrum through the purchase of beautiful photography prints, please check out the Autism Spectrum Events store. Your contribution will make a difference for these amazing families!  
Looking for an easy way to spread joy in your community? Try a Secret Santa generator that simplifies the process. Elfster makes it easy to pair people up, shop for gifts, and start a Wish List. Plus, you can access it all from an iPhone app or Android app.
All photos courtesy of Suzi Noyes