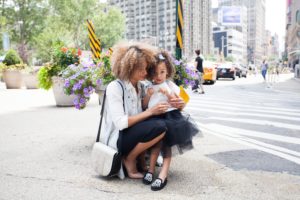 What do you get the mom who seems to want for nothing? I find myself pondering this question every year. My mom doesn't quite have everything, but she certainly seems to think she does, and it's almost impossible to get her to produce wish lists on her own volition for her birthday, Christmas, and, of course, Mother's Day.
As someone who loves to shop and give gifts, it can leave me in a bit of a tough spot. I know she's expecting and wanting a gift when the holidays roll around, but I have to find something creative that she'll genuinely love—no basic flowers and chocolates for this lady!
A lot of moms are like this, but we all know that in spite of their protests, they definitely deserve the best. That's why I came up with a list of cool ideas for Mother's Day gifts for the woman who has everything. Say goodbye to the generic candles and soaps and get ready to surprise your mom with a gift she didn't even know she always wanted.
Mother's Day Breakfast in Bed
We crept down the hallway in the near-dark, a bowl of cereal overfilled with milk clutched in my sister's hands and a watery mug of tea and a handful of dandelions in mine. We opened the door to my parents' room, where my dad was loudly snoring, and carefully balanced the cereal, tea, and flowers on top of my slumbering mother. I held up my fingers—1, 2, 3—then my sister and I yelled, "HAPPY MOTHER'S DAY!" The next thing I knew, milk and cereal were everywhere, my sister was crying, and my confused mother was starting to giggle.
"Girls, it's not even 5 am!" she laughed. Thank goodness she has the patience of an angel!
That was probably our worst-executed breakfast in bed, but these days, the tradition lives on. Instead of waking my mom up at dawn on Mother's Day, though, I let her sleep in; she texts me when she's awake. I set up a tray with food and coffee to bring up to her, and as a special touch, I like to buy her a book so she has something to read while she peacefully enjoys her morning meal. To make the tray extra pretty, you can also add a DIY flower arrangement.
Even if your mom doesn't want anything for Mother's Day, a morning where she's able to sleep in and doesn't have to cook will let her know she's appreciated. Just make sure you clean up after cooking—after all, you're not a kid anymore!
A Meal Kit Delivery Service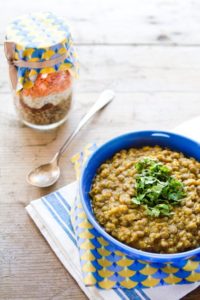 "Chicken AGAIN?" I asked dispiritedly as my mom began cooking dinner. I was a grumpy 13-year-old and couldn't believe that I was forced to eat chicken and ground beef every night for supper. These days, I can't believe how ungrateful I was! Both my parents worked full-time jobs, and my mom would come home from work and make dinner for her family of four, usually getting the food on the table just a few minutes after my dad walked through the door. I honestly don't know how she did it—it's a miracle when my family eats before 7 these days, and there are definitely times when we have spaghetti and red sauce two nights in a row because I can't for the life of me figure out what else to make.
Now that my mom doesn't have to worry about cooking for the whole family, she's gotten more adventurous. But living in a small town where the grocery store selection leaves a little to be desired, it's hard to be inspired by new ingredients. That's why a meal subscription box is the perfect Mother's Day gift. It's a great pampering gift that will make getting dinner together easier because someone's already found the recipe, done the shopping, and prepared the ingredients. As an added bonus, it's also a fun way to try out new foods.
These days, you can choose from a wide variety of meal boxes. You can get options for vegan and vegetarian meals, gluten-free meals, paleo meals, and good old classic comfort food meals. If you think a full meal kit subscription is too much, you can look into something like a spice box, where a selection of new spices and seasonings are sent to your mom every month so she can get creative in the kitchen.
A Charitable Donation
We always had dogs growing up, large breeds like Labradors and Rottweilers, rescues that my parents would hear about and then, suddenly, there'd be a new puppy in the house. We always had at least two dogs, but these days, one pet at a time is more reasonable for my mom to take care of. That doesn't stop her from wishing she could get another one, though, and she's constantly fretting over the dogs she sees posted for adoption by local rescue organizations.
But just because she can't personally adopt one doesn't mean she can't help. The past few years, she's taken to donating to her favorite local rescues every holiday season, and that gave me an idea. Even if she claimed she didn't want anything for herself for Mother's Day, I could still do something for a cause she cared about. I sent a donation to her favorite puppy rescue, then got her a cute card decorated with dogs. When I delivered the card, I let her know how much I admired her passion for pet adoption and rescue and told her that I'd made a donation in her honor. The smile on her face told me everything I needed to know—it was the perfect gift.
Mother's Day Gifts for the Woman Who Has Everything
Mothers do so much for us as we grow up, and it's nice to give back in adulthood, even if it's not with a physical gift. If you're still scratching your head, you can try asking your mom to create a wish list on a site like Elfster, where she can add items she loves from all around the web. You can use this as a guide when you need to get her a gift for any holiday, and she can update her list whenever she comes across something she covets.
It can be challenging to buy a gift for someone who seemingly has everything. But it turns out that looking toward the experiential—whether that's a morning of relaxation, help with meals, or doing something that makes the world a better place—is the key to getting hard-to-shop-for moms a gift they will truly love.
Still looking for the perfect gift for Mother's Day? Check out Elfster's Gift Guide for Mother's Day for inspiration. You can share your ideas with us on Elfster's Facebook page, on Twitter @Elfster, and on Instagram @Elfster.