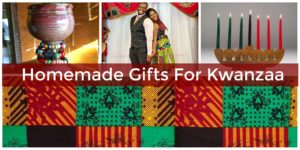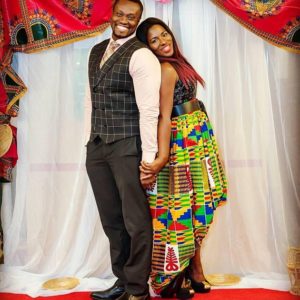 I was in college the first time I was invited to a Kwanzaa celebration. Some girls in my dorm were hosting a Kwanzaa feast in the common room and asked if I wanted to come. Honored that they wanted me to witness this special celebration, I said yes. But in the days leading up to the event, I realized I didn't know much about the holiday and decided to do some research.
Kwanzaa first began in the 1960s as a celebration of the African cultural roots of African Americans. Historically, many African-Americans didn't know much about their cultural heritage, their ancestors having been stolen from their homelands and brought to the U.S. as slaves.
Once here, slaves were forced to abandon their traditional cultural practices and religions. This forced assimilation, along with the careless splitting up of families by slave owners, caused many to lose touch with their roots. Kwanzaa began as a way to connect African-Americans with what founder Maulana Karenga called "The Seven Principles" of African heritage—Umoja (unity), Kujichagulia (self-determination), Ujima (collective work and responsibility), Ujamaa (cooperative economics), Nia (purpose), Kuumba (creativity), and Imani (faith).
Knowing how important the Kwanzaa feast (karamu) was to my friends, I wanted to make sure I brought a present that showed how touched I was to share in this special, personal cultural celebration. I decided to make a gift by hand to make it more sentimental, but I had a hard time coming up with ideas at first. After some more research, though, I settled on some Kwanzaa gift ideas, homemade ones at that, that would show my friends how thankful I was that they let me join their celebration.
Homemade Candles for Kwanzaa
I've always loved candles and usually light one every night when I'm eating dinner. I've even made my own, which is why I decided that a perfect gift for my friends would be a homemade set of Mushumaa Saba (seven candles) to place in their Kinara (candle holder).
Each candle represents one of The Seven Principles and is lit on one of the seven days of Kwanzaa, which is celebrated December 26th – January 1st. The black candle in the center is lit first, followed by the three red candles on the left and the three green candles on the right. The black, red and green candles mimic the colors the UNIA declared the official Pan-African colors. The black candle represents the African people and their unity, the red candles represent their struggle, and the green candles symbolize the future and hope.
Making candles may sound hard, but it's actually fairly simple and fun. I decided to use colorful sheets of beeswax to make sturdy tapers that would fit in the Kinara, burn cleanly, and not be too difficult or messy to create.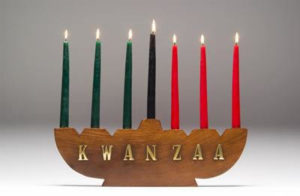 Here's all you need to do to create your own set of beeswax tapers for Kwanzaa:
Get your supplies: You'll need one sheet of black beeswax, three sheets of red beeswax, three sheets of green beeswax (all about 8 x 16"), and a roll of #2 square braid wick.
Starting with the black wax sheet, cut a wick that's about 8 ¾" long. Line the wick up along the edge of the 8" side of the wax, then fold the wax tightly over the wick, pressing firmly to hold in place.
Gently continue rolling, keeping the ends of the wax sheet straight as you go, until the entire wax sheet is rolled up with the wick in the center. Gently press the end of the sheet against the rest of the candle to seal.
Repeat with the remaining wax sheets.
When it's time to give your homemade Kwanzaa gift, decorate a white gift bag with red, black and green paint or markers. Place the candles inside along with a box of matches, and don't forget to include a heartfelt card thanking your hosts for their thoughtful invitation.
A Homemade Kente Cloth Mkeka for Kwanzaa
I started sewing when I was a kid after my mom read me a book called The Wonderful Pigs of Jillian Jiggs, in which the heroine makes cute stuffed animals out of her socks. I took all my socks out of the drawer (much to my mom's dismay and amusement) and made my own little pigs. From then on, I was obsessed with sewing. As an adult, I've swapped socks for finer fabrics, and one of the most interesting and beautiful fabrics I've seen is Kente cloth.
Kente cloth is a traditional hand-woven cotton fabric from Ghana, originating with the Akan people of South Ghana. It's a sacred, ceremonial cloth, so it is often used to make clothes and other fabric items people use when celebrating Kwanzaa. Each cloth has its own name, and the patterns found on different cloths have various symbolic meanings, so make sure you buy your Kente cloth from an authentic source who can tell you about what you're buying.
I decided that sewing my friends a Mkeka (the ceremonial mat placed beneath the Kinara) out of real hand-woven Kente cloth from Ghana would be a great gift to show them how touched I was by their invite.
To make the mat, I purchased 2 yards of 12" wide Kente cloth. I turned over the edges ½", then turned them over ½" again, and hemmed along each edge. You could also use no-sew fabric glue. I kept the design simple so the fabric could shine—the handwoven detail was too beautiful to obscure.
In the end, I had an item that could be used during the week-long Kwanzaa celebration, and one made from a material that was already  imbued with sacred meaning.
Kwanzaa Gift Ideas: Homemade Presents Add a Personal Touch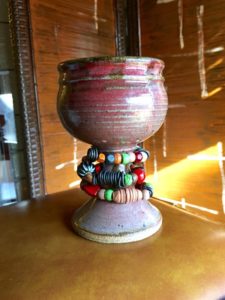 Being invited to share in someone else's cultural celebration is an incredible honor. I was a guest that year at Kwanzaa and wanted to bring gifts that would show my friends just how much it meant to me. That's why I chose to create some Kwanzaa gifts that were homemade—I wanted them to feel personal.
Whether it's your first time celebrating Kwanzaa or your 50th, you can't go wrong with a gift that's made from the heart. Perhaps it's a gift made from reclaimed scrap wood or something useful and creative; no matter what you choose, your present should be a symbol of your appreciation. Take care to respect the sacred ceremony of lighting the candles on the Kinara and learn about the culture behind this important holiday. This way, you can enjoy participating in this incredible celebration of the past, present, and future of African-Americans—and show your solidarity with the cause of freedom and equality for all with your homemade ceremonial Kwanzaa gifts.
Still stumped on Kwanzaa gift ideas? Check out Elfster's Gift Guides for Her or For Him. You can share your ideas with us on Elfster's Facebook page, on Twitter @Elfster, and on Instagram @Elfster.