I was totally lost and had only been out of my car for 10 minutes—everything looked the same. The blinding white light overhead only made my head hurt more as I scanned the horizon for a familiar landmark. I was at a big box home goods store trying to pick out a housewarming gift for a family friend, but I was ready to just sit down in the middle of the aisle and call it a day.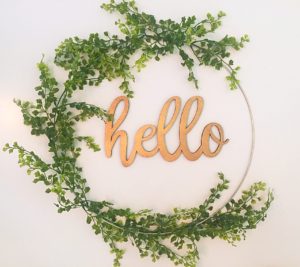 Housewarming gift registries are a fairly new concept, but for younger home buyers, millennials in particular, they're a total lifesaver. Going to the store without any idea of what to get a friend is stressful, especially in an age when we're used to having any information we desire at our fingertips.
Registries do just that. They exist to take the stress out of gift buying, and it makes sense to create one for an event like a housewarming where guests traditionally do bring a present along to the party.
But, because new home wish lists are relatively new on the scene, it's best to proceed with caution. There are a couple of things you should do to make the process as easy as possible for any friends who want to treat you—and there are also things you should avoid doing to help prevent any unnecessary awkwardness. The housewarming gift registry etiquette tips below will help your housewarming party go off without a hitch so you can introduce your new abode to your loved ones in a way that will make them feel welcome for years to come.
The Housewarming Registry Wish List Etiquette Checklist
DON'T include your registry information on your invitations.
DO include items at various price points.
DON'T include home renovations on your wish list.
DO make your party worth attending.
DON'T have more than one housewarming party.
DO keep your wish list when the party's over.
#1: DON'T Include Your Registry Info on the Housewarming Invitations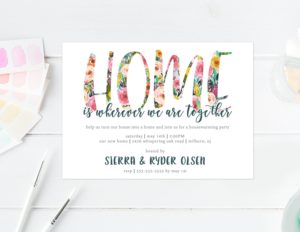 It's tempting but, just as with a wedding invitation, you should never include the gift registry information on the invitations to your party. In this case, it's best to wait until your guests ask if there is anything in particular you need that they could get you as a gift; just sending the registry information to people who haven't asked about it can seem a little forward. After all, not everyone will be bringing a gift to your housewarming—and you don't want to make them feel like they're obligated to.
Create your wish list before your invites go out, though, so you can share it with anyone who asks. The one exception to this registry etiquette rule? Feel free to share the wish list with your immediate family members if they've already expressed an interest in helping you put the finishing touches on your house.
#2: DO Include Items at a Variety of Price Points
"This can't be right," I nervously said out loud, perusing my childhood BFF's wedding registry. She got married fairly young and I was working a couple of low-paying jobs at the time, just desperately trying to pay off my student loans and build my meager savings. So I was shocked when I saw that not a single item on her wedding registry was less than $50. Even the kitchen towels she wanted were French linen—and totally out of my budget.
I felt guilty and uncomfortable knowing I couldn't afford to get something that she actually wanted (although I ended up splitting the cost of one of the items with a friend, including a photo collage of us as kids to add a personal touch to the gift from the wedding registry).
The last thing you want when welcoming your friends to your new home is to make one of your loved ones feel uncomfortable when they see your registry. That's why it's important to include items at a variety of price points. Remember, getting a gift for you is already going above and beyond—and housewarming registries are a fairly new concept so you don't want to ask for anything over-the-top. Instead, add a few smaller items, like reasonably-priced kitchen gadgets, potted plants, scented candles, and framed art prints. These items are just as valuable in making your house feel like a home, but they can be purchased with little stress on anyone's wallet.
#3: DON'T Include Home Renovations on Your List
When my cousin got married, she and her partner eschewed the traditional gift registry, instead opting for a house fund registry. It was non-traditional, sure, but I loved the idea of contributing toward their future home together.
But, while it's okay to ask for more ambiguous, ambitious gifts on your wedding registry, it's better to stick to smaller, more practical items on a housewarming registry. This isn't your chance to remodel your just-purchased home; the registry exists as a resource for the people who want to buy gifts for you, so they don't have to go through the confusing process of buying a present without any guidelines. It's not a crowdfunding opportunity. Keep that in mind when you decide what to add to your wish list.
#4: DO Make Your Housewarming Party Worth Attending
A housewarming party isn't really about getting congratulated on your new home, although that is a nice perk. What you're really doing when you throw a housewarming is opening your arms to your friends and community, sending the signal that they're welcome. You want to show your hospitality, which becomes even more important if you do have a registry because you'll want the party itself to be like a pre-emptive thank you to your guests for anything they do bring (though you should always send thank you cards, too).
Now's the time to break out the good stuff—your fancy plates, finest candles, party lights, the works. You want your house to be as inviting as possible, especially since this is going to be the first time many of your friends and loved ones are seeing your new living space.
Make sure everything is squeaky clean and, if you've just moved in, don't be afraid to hide some of your clutter and boxes in an out-of-the-way space (you can organize and finish unpacking after the party is over).
You should also provide plenty of food, drinks, and music. Make it feel like their home away from home. An abundance of cozy comfort foods and homemade desserts will give the party a casual, familial feel.
#5: DON'T Have More Than One Housewarming Party
In the two years after I graduated college, I lived in 6 different apartments. Needless to say, I did not throw a housewarming party every time I shuffled my belongings around.
Housewarming parties are usually reserved for long-term moves. And while you can throw parties to welcome people to a new living space more than once, it's only appropriate to have a registry for one big move, usually to celebrate the purchase of your first house. The idea is that your friends and family want to help you put the finishing touches on your first true home; the next time you move, even if you buy another house, the understanding is that you pretty much already have what you need.
#6: DO Keep Your List Once the Party's Over
You don't have to throw away your housewarming wish list once the party's over. It can still be a helpful resource, both as a shopping list for yourself (I'm still knocking items off of my wedding registry) and as a wish list to share with your family and friends on birthdays and during the holidays. My family always exchanges Christmas lists so having my registry to use for reference has made putting mine together each year easy as can be.
Even better, set up your initial housewarming wish list on a site like Elfster. Then, after your party, you can keep adding gift ideas to the list and use the same link to share with your family during gift-giving occasions.
Nothing is more exciting than opening your doors to your friends and family, welcoming them into your living space, and making them feel at home. It's the true finishing touch to any big move because no matter how well decorated your house is, it won't feel complete until it's been graced by your loved ones.
Housewarming parties are the best way to get everyone together. And a registry will help anyone who's keen to bring a present avoid the inevitable stress that comes from shopping blindly. That way, when people show up to your party, they'll be relaxed and ready to laugh, chat, and enjoy your warmth and hospitality.
Need some ideas for what to add to your registry? You can check out our For the Home Gift Guide. Share your finds with us on Elfster's Facebook page, on Twitter @Elfster, and on Instagram @Elfster.