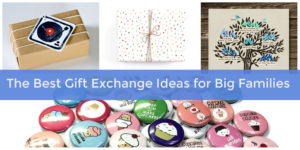 I'll never forget the very first family reunion I went to when I was a kid. My brother, my parents, and I all piled into our red station wagon and road tripped to Wisconsin where we gathered at my Uncle's country home—along with forty of our relatives. It was the first time that all of my aunts, uncles, and cousins were together in the same place at the same time.
I remember feeling very overwhelmed and shy when I first stepped out of the wagon; I'm pretty sure I hid behind my mom for the first full day and avoided making eye contact with anyone. But then, something happened that forced me out of my shell: we had a family gift exchange. I mean, what kid doesn't like presents, right?
I can't remember the exact details of the exchange, but I do remember that my uncle made it into a super fun game. There was a ton of laughter, a lot of bonding, and only a little bit of play fighting (at least I think it was play fighting).
From my experience, there really is no better way to break the ice at a family reunion than with a fun, creative gift exchange that gets everyone involved. It doesn't matter that it isn't Christmas; take advantage of the fact that your family is all together and get gifting! Here are my best gift exchange ideas for big families that are bound to have you bonding in no time at your summer reunion.
Gift Exchange Ideas for Big Families (and Memorable Reunions)
I love dreaming up gift exchange game ideas because there are literally endless possibilities. They can be as simple and straightforward as you like, or as wild and wacky as you dare. The classic white elephant gift exchange is always a hit for any gathering, but the ideas below also emphasize interaction, bonding, and humor—all the ingredients for a memorable family reunion. My hope is that they'll bring your family closer, break any ice that needs to be broken (there always is in a big family), and maybe even encourage everyone to share a good belly laugh or two.
The Game of Musical Gifts
Do you remember playing musical chairs as a kid? This idea was inspired by that childhood game. It's super simple to play, so if you have a bunch of little ones in your family it's a good choice.
Basically, everybody sits in a circle holding the gift that they brought. Start the music using a musical chairs app for iOS or Android so that everyone can participate and nobody has to worry about shutting off the music at random intervals. When the music starts, everyone passes their gift to the person to the right of them to the tempo of the song until the music stops. When it does stop, stop passing gifts as well. At this point, you have the option of either keeping the gift that is in your hands and leaving the circle or continuing in the game until you get a gift you want to keep. Keep playing until everyone has walked away with a gift.
I like to play this game with unwrapped gifts because I think it makes it more exciting. Everyone will have a good laugh when a pink teddy bear ends up in big Uncle Rick's hands! Plus, this way you'll be able to eye the gift that you want and stay in the game until you (hopefully) get it.
The Family Trivia Gift Exchange
Who doesn't love a good game of trivia? Well let me tell ya, it's even more fun when the questions are about your family! There will be lots of laughs and maybe even a bit of impromptu storytelling with this one. Plus, you'll all get to learn a lot about your family members, which can bring everyone closer and maybe even inspire some great conversations later on.
Before the reunion, prepare the trivia questions (you'll need as many as there are family members in attendance, plus a few extras just in case). They can be about anything, as long as they're about your family. Here are a few examples:
What is Aunt Jenny's middle name?
How old is cousin Sally?
Where did Grandma and Grandpa meet?
What sport did Uncle Samuel play when he was little?
Name everyone in the family who was born in July.
Place all the gifts (wrapped or unwrapped, your choice) in a pile and begin asking the questions to the group. This will mean that someone will have to place host, but I promise it will be a fun job. The first person to correctly answer each question gets to choose a gift from the pile. Keep going down the line of correct answers until everyone has a gift.
I love to set a gift theme for this one. Beach-themed gifts can be fun, and food related items are always a hit. The last time I played, we had a unique pin theme and everyone had to wear theirs on their shirt for the rest of the day. Not only is this an inexpensive idea, you'll all get a good laugh at Grandpa wearing a "Keep Calm and Make Cupcakes" pin.
The Gift Auction Game for Big Families
Want to see your family members get a little competitive? Select a family member with the best auctioneer voice and give everyone the same amount of monopoly money or bingo chips to use as currency. If you really want to go all out, you could even get bidding paddles for everyone to use. Have everyone bring a wrapped or unwrapped gift (up to you), hand them a paddle, and let the bidding begin!
You'll definitely want to be sure to set a budget for this one so that all the gifts have relatively similar values. This will help keep the peace and make sure that there is something for everyone to bid on. Otherwise, your whole family will be in a bidding war over the iPad that your rich Aunt Tammy brought.
Ideas for Organizing Your Big Family Gift Exchange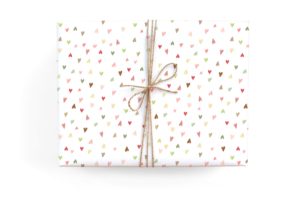 No matter which gift exchange game you choose for your reunion, the game will only work if you keep everyone organized ahead of time. Of course, big families are notoriously hard to keep track of, so I'd recommend using an online gift exchange program to keep everyone in the loop and make things as straightforward as possible. This way, you'll be able to send email invites to all of your family members, set a gift budget, and notify them of any other gifting guidelines that you've set. What's really cool is that your family members can even create wish lists for items they want so that nobody is shooting in the dark when it comes to shopping.
At my family reunion gift exchange, I ended up with an oversized t-shirt embroidered with my last name and decorated with a map tracing the journey that each of us had taken to get to Wisconsin. It was way too big for me, but I refused to give it away. Throughout my childhood and into my adulthood it served as a reminder of that special weekend spent with my whole family, and the fun gift exchange game we played that paved the way for many special memories to be made.
Create your own special memories with a fun family gift exchange game with the help of Elfster—simply sign up for free today! Our Secret Santa wish lists, online exchanges, and gift guides make it simple so that you and your whole family can have fun.
Do you have any sweet gift exchange ideas? Tell us about them on our Facebook page, on Twitter @Elfster, or on Instagram @Elfster.