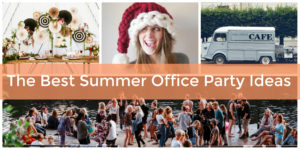 In the long history of spoken communication, most sentence combinations have been uttered. But one that probably hasn't is "It's such a nice beautiful summer day. I'm really excited to go into work!" Or, ok, it may have been said, but never sincerely. It might, in fact, be the most sarcastic sentence possible.
That's the thing about work. Most of us have to do it, but there are days when it feels almost impossible to focus on it. And as the summer drags on, employee morale might sap in light of the sun filtering in and enticing them out-of-doors. That's why you should have an office party or a summer company picnic. It's something to look forward to, a great way to bond, and if you do it right, a real boost to how your employees feel about work.
But you don't have to do the same "We'll be having hot dogs in the parking lot from 12:30 to 1:15" company picnic routine. Shake it up. If you can go big, you should! Having a summer party that's creative, exciting, and cool is a way to rebrand your company, both externally and internally. It becomes a place not just to work, but a place to be.
Here are some of the best office party ideas for a summer company picnic.
Summer Office Costume Party Ideas
Why should Halloween have all the make-believe fun? Summer invites great costume parties! You can go light and airy, or go for a throwback costume party. Either will challenge your employees to get creative without the Halloween pressure of being scary or finding something office appropriate. Here are a few of our favorite summer costume party ideas.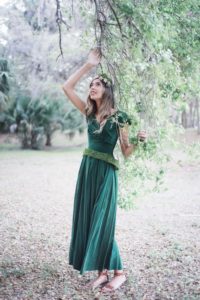 The Great Gatsby
Flapper dresses! Straw boaters! White jackets! Everyone loves the glamour and swinging thrill of the Gatsby era. You can serve delicious punch and fun finger sandwiches, as well as normal picnic fare. Get some swing music and get ready to rock away West Egg. Feel free to combine it with other period-friendly party ideas, like Downton Abbey or Idlewild. (If you do Gatsby, don't be afraid to consult the book).
Alice in Wonderland
If you've read our blog, you know that Alice in Wonderland is one of our favorite books. And why not? It's sweet and funny and weird and magical. And it makes for great costumes.
People can come as Alice or the Red Queen, the Mad Hatter or the nervous rabbit. They can do steampunk interpretations or create their own characters. Just make sure you have a garden party set up, with plenty of tea.
A Beach Theme
It doesn't matter if you live right by the shore or in the middle of Nebraska; when it's summer, you're thinking about the beach. So are your employees. That's why having a beach party is great. Rent some sandboxes, set up a volleyball net, maybe give out cool beach-themed gift bags, and grill something delicious. It makes the summer suddenly real.
We All Scream for Ice Cream at Summer Office Parties
It's one thing to have ice cream at your party. Lots of companies might do that. A tub of chocolate, maybe some whipped cream if sales hit their 2nd-quarter goals (and if not, talk to Stan. Thanks, Stan), etc. But to have a party where ice cream is one of the central themes, and the pièce de résistance? Well, that's a different animal altogether. A different, delicious animal.
Having a big ice cream buffet bar creates a fun, childlike air to the party. Give choices of toppings, a whole wide variety, with fruit and nuts and candy and various sauces and non-Stan-dependent whipped cream. Make sure, of course, you incorporate dairy-free ice cream options so that everyone can participate.
Participate? Yup. This isn't just about eating ice cream. There are fun and games to be had! Have various contests for "Strangest Topping Combination" or "Highest Stack." See which department can make a banana split the quickest. See which team can use ice cream and toppings to make the perfect image of the CEO (if they have a sense of humor, of course).
Go all out. Get cool ice cream gear. Maybe even have the C-Level or management team don old-timey ice cream uniforms to give out some scoops. It's a great way for a company to bond on a hot summer afternoon.
A Halfway-to-Christmas Gift Exchange
It's silly, when you think about it, that only once a year do we get to exchange gifts. After all, exchanging gifts is fun. It's fun to get gifts, and to receive them. It's fun to guess what's in a box, and to guess who got it for you. And it's not fun to have to wait until December to do so every year. So why not do a Halfway-to-Christmas or a "Christmas in July" gift exchange?
You can do it the same way you do your December Secret Santa exchange, with a helpful online portal to make the anonymous selection and gift ideas even easier. You can even put up Christmas decorations for a day, which is a surefire attempt to get everyone's spirits up in a goofy sort of way, and maybe make you feel cool in the hot summer. Maybe encourage summer-themed gifts as well, such as:
Gift Ideas
The point of these parties is to boost company morale, to celebrate their hard work, to let people talk to each other outside of meeting rooms. Employees should get to know one another so that work becomes a collection of people instead of a distant group of atomized individuals. We shouldn't only do these once a year. New hires come in, routines can get set, and it can be hard to break habits once Christmas comes around.
So, have a summer office party. Be goofy, bring in a Santa, have ice cream fights, dress like beautiful goons, exchange gifts. Encourage creativity, and you'll be rewarded with happiness. Merry summer.
Here in the North Pole, our summer office parties aren't much different from the winter ones—they all involve reindeer games—so we want to hear about your summer office parties. Share them on our Facebook page, on Twitter @Elfster, or on Instagram @Elfster. And, for inspired gifting ideas, browse our Beach Getaway Gift Guide.