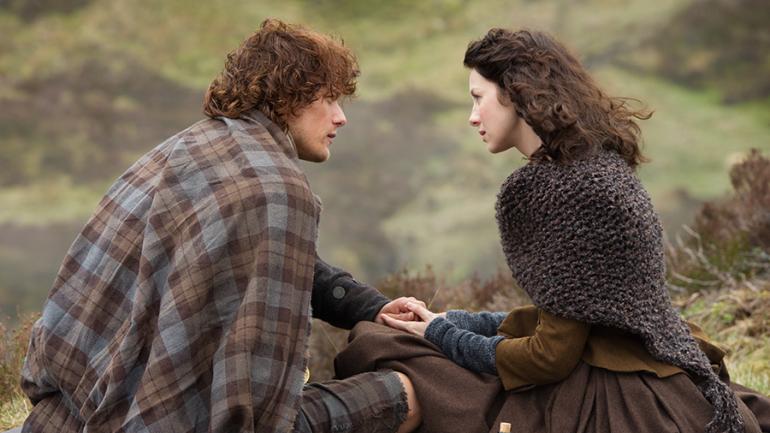 It's another time. Another place. And all Claire Randall can do is fight for her own survival, stuck a world away from her own life.
This is the premise for the wildly popular Outlander  television drama based on the addictive series of best-selling novels by author Diana Gabaldon, in which the time-traveling heroine Claire is transported from her life as a World War II nurse in 1945 to the world of 1743 Scotland, where she encounters and falls in love with a captivating Highland warrior, Jamie Fraser. This makes life in another time more challenging than Claire can imagine, as she battles to try to return to her original life.
The American-British television series, featured on the Starz network, premiered in 2014 and has since become a sci-fi sensation, telling the tales of one novel in each of the series' seasons. Inspired by the amazing production and costumes worn in the show, a group of talented knitters, crocheters and sewers have been brought together to share their talents with one another and Elfster is proud to play a role in the group's winter exchanges of handcrafted gifts from the heart.
According to the group's Facebook page, Outlander Pattern Central is a group for fans of the books and show, Outlander and the costumes. We discuss and share patterns (sewing, knitting, crochet) mostly, with additional discussions on the show/book/character/actors.
Outlander Pattern Central was formed just after the second episode aired in August 2014 by Kristie Snively, who was on the Outlander Facebook page and chatting with others about the knitted accessories Claire was wearing when it was suggested that "somebody ought to make a group about this," which is just what Kristie did.
"[I] decided to make the group focus on knitting, crocheting, and sewing, but it has since spread to discussing jewelry, yarn spinning, tatting, and even wool waulking as seen in the 'Rent' episode," explains Kristie. "We have 4400 members now, three admins (myself, Carryl McCarthy and Jennifer Johnson), a crochet lesson coordinator (myself), a knitting lesson coordinator (Kate McCullough) and gift exchange coordinator (Cathei Baynes). The group is secret in order to keep our population down, but we do have a Facebook page where prospective members can request an invitation to join the group https://www.facebook.com/outlanderpatterncentral ."
And of course, with so much talent in this group, it needed to be shared with each other!
"We have become a close-knit group (pun intended) of good friends and decided to do our first exchange for the holiday season in 2014," she explains. "We did not know about Elfster at the time, and it was very difficult to organize. Since then Cathei Baynes has taken over organization of our exchanges. She knew about Elfster from a past exchange with another group and suggested we use it. We haven't looked back since."
Kristie says the features of Elfster "have been an invaluable tool for us since we normally have anywhere from 30 to 60 participating. So far we have done two exchanges through Elfster and are now working on our third and fourth at the same time."
"Our first Elfster exchange was called, 'Outlandish Scarf From the Heart' where the main theme was an Outlander-ish (Outlandish) handmade scarf. Our second exchange was called, 'Outlandish Treasures of France.' The second season of Outlander will be set mostly in France, therefore we decided to have an exchange based on this. We currently have two exchanges running — "Droughtlander Holiday" and "Droughtlander Winter"– one for those who celebrate holidays this time of year and one for those who don't. We have many members participating in both, however," she explains.
For these creative exchanges, there is a $25 spending limit and participants should send a handmade gift as well. "Our themes are Holiday and Winter, and should keep those in mind when deciding what to make or what extra items to buy," Kristie says. "All members are encouraged to answer a questionnaire to help their gift giver learn about them, and once the gift is received, they are expected to post pictures of everything they received and, most importantly, thank the gift giver."
Organizers for the group say Elfster makes organizing much easier. "The ability to ask questions anonymously is very helpful," she says. "The wish list can help members get to know each other and learn what the other likes. We tell members that the wish list is not required, and items on the wish list are not necessarily expected in their gift box. We use it more of a 'getting to know you' tool."
What does the future hold for these costume aficionados? "We plan to include anyone who would like to participate and to do three to four exchanges per year," says Kristie.
The elves at Elfster look forward to seeing the Outlander Pattern Central group for their next exchanges to celebrate their favorite series with another creative theme. Are you a part of a group with a passion for creativity? We would love to hear how your group is using Elfster, too. You can reach us via Facebook here. Tweet us @elfster or catch us on Instagram at #elfstergram. Need help getting started with your own exchange? We can answer any questions you may have at help@elfster.com.
Wish. Gift. Shop. Share.