Elfster is pleased to announce an all-new, open-door approach to the joy of gifting. Introducing: One-to-One Wishlist Sharing!
Remember the pesky old "no peeking" policy for sharing your Elfster Wishlist? The one that said, "Thou shall only share your profile with registered Elfster account holders"? Well, now with a single simple step, you can show-off your Wishlist to virtually anyone you want, whether or not they are an official Elfster user.
You may have noticed this feature recently added to the Elfster website (now displayed at the top right corner of your "Wishlist" page). But here's a closer look at the snappy new menu that makes it all possible: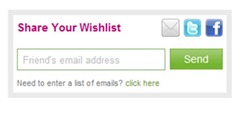 Here, you can enter the email address of anyone you want to allow to view your Wishlist, sending that person a direct invitation to take a peek. You can also invite friends via Facebook or Twitter by clicking the corresponding icons at the top right of the display. Whatever the format, your lucky invitee will be then transported to your Wishlist welcome page. Here, they will have the option of joining Elfster to start the gifting fun, or simply continue viewing your Wishlist as a guest.
We understand that not everyone is ready to go "Full Elf". So this new addition to the Elfster website is one way to make wishing easier for all parties involved. Invite your friends and let the gifting begin!