The Best Wedding Registry Sites 2017-2018
The Best Wedding Registry Sites 2017-2018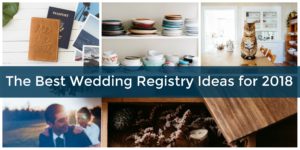 There was watercolor paint everywhere, dripping from our new kitchen table and onto my feet. My husband and I were trying to make homemade thank you cards to send to our friends and family after our wedding, but the process was a little messier than we had bargained for. But, we had received such generosity from our loved ones that we wanted to put a heartfelt touch on our thank yous, to try to convey to them how much we appreciated all they had done for us in the past few months. And, funnily enough, we were doing so on a table and using watercolor paints that had been gifted to us from our wedding registry.
Wedding registries can seem complicated; there are so many options. But, it turns out that having all of those options actually makes it easier for you and your significant other to tailor the experience to your personal needs, so your friends and family can shop for your gifts confidently, ensuring that no one spends their money on something you just don't need.
We opted for a mostly traditional wedding registry, but we chose a site that let us add wish list items from all across the web, meaning we ended up receiving everything from art supplies to an immersion blender.
If that sounds too traditional for you and your love, there are so many others to choose from. Fund your honeymoon skydiving trip in the Andes or work to build up your local community with charitable donations—whatever you decide, there's a wedding registry for you! Here are my best wedding registry site ideas for 2017 and 2018 brides and grooms.
#1: The Honeymoon Wedding Registry: The Best Idea for Adventurous Couple in 2017-2018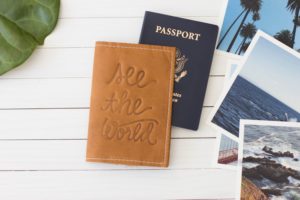 Leading up to my wedding, people would tell me constantly: make sure you take your honeymoon right after the wedding or it will never happen. Life gets in the way! But we were already investing a lot of time and money into our wedding, even if we did DIY our wedding centerpieces, which took place across the country from where we live so it would be closer to our families. In the end, we planned on taking our honeymoon a few months after the ceremony. A few months turned into a few years, though, and now I'm a huge proponent of honeymoon fund wedding registries.
There are a few different ways that a couple can use a honeymoon registry. Basically, friends and family simply donate money to a fund that can be used to finance a new couples' honeymoon. Some online registries even allow you to list specific excursions that people can pool money toward. For instance, swimming with dolphins, a meal at a world-class dining destination, or a guided hike into a desolate desert. This can be really fun for some of the guests as it gives them an inside look into what you'll be doing on your trip. But if you aren't positive about the little details, a general fund works too.
Just make sure to choose a destination and honeymoon date ahead of time so that after the wedding you know exactly where your wedding present money is going. I know my hubby and I will make it to Iceland someday, but a little planning ahead sure could have made it happen sooner!
#2: Charitable Donation Wedding Registry Sites for 2017-2018
What do you get the couple who has everything? This past Christmas, my husband and I realized there wasn't really anything that we needed. We didn't want our friends or family to buy us presents that wouldn't get used so, instead, when asked what we wanted, we gave a list of our favorite charitable organizations that they could make a donation towards.
Now that a lot of couples live together before getting married, there often isn't as much need for the traditional wedding gifts of stand mixers and power tools. Instead of stressing over the possibility of your friends and family unwittingly getting you duplicates of items you already have, consider setting up a charity registry instead. You can either choose one charity and ask that guests donate to them directly, or you can use a charitable giving registry and select a few different organizations that could benefit. It's also a great opportunity to give back to the charities in the newlyweds' hometowns, a sort of nod to where they came from and became the people they are today. My husband and I always encourage people to donate to our rural high school's music and theater programs, which we loved, for instance.
Helping others who are less fortunate is a really symbolic and positive way to kick off your marriage, and you may be pleasantly surprised by how enthusiastic your loved ones are about participating in something that helps lend a hand to those in need.
#3: The Best Wedding Registry Site Idea for Remodeling a Home
Chainsaws buzzing, nail guns blasting away, a shop vac whirring in the background—based on the amount of home improvement television I watch, my neighbors probably think my apartment is constantly being renovated. But the truth is, I'm just studying up for the day when my partner and I have a house of our own, something we've been working toward since before we even got married.
Weddings are about more than just a ceremony and a party for your family and friends. They're about two people joining their lives, and that usually means moving in together and planning for the future. But, after a wedding, not everyone, myself included, has enough saved up to use as a nest egg.
Enter the home registry! This is a newer type of wedding registry that's been getting more and more popular in 2017 and 2018, and it's pretty self-explanatory. Basically, instead of a present, people contribute to a fund that the happy couple can use toward the purchase or building of a new home together. Family members who work in real estate or construction can also donate their services. Just like the wedding itself brings people together, a home registry makes it easy for the families of the newlyweds to work together to help make the couple's future just a little brighter.
#4: A Traditional Wedding Registry for 2017-2018 Couples
The apartment was filled with acrid smoke, a reminder of the time I accidentally made a bagel in the toaster oven, leaving it on a plastic plate by accident. I think it was that same day that my husband and I finally started working on our wedding registry; when everything you eat tastes like melted plastic, it's pretty good motivation to start seeking out something better.
My husband and I had lived together for several years before getting married, but we were in serious need of some upgrades. We had basically just combined our belongings, leading to a mismatched assortment of goods that were leftover from our college days. Most of our dishes were plastic take-out containers we'd saved, our wooden spoons had scorch marks, and the worn down hand-mixer I used when baking could barely whisk an egg faster than my own two hands.
For us, signing up for a traditional wedding registry made a lot of sense. We chose to add the classic home goods, small appliances, tools, and a few cozy items so we could make our apartment really feel like ours, something filled with things that belonged to both of us, and not just a strange mishmash of two different sets of possessions that didn't really go together.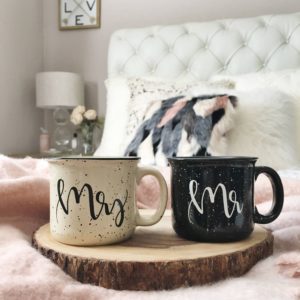 But we didn't want to have to register with just one store. If you're in the same boat, the easiest way to set up your registry is to sign up for an online wish list on a site like Elfster that will let you add items from stores all across the web. Once you create and fill your wish list with items you both want, you can share the link with friends and family who inquire, or include it on your wedding website.
I loved being able to add exactly what we wanted to our registry, and I felt like we were able to be more economical with our choices as well since we were able to price shop. Also great? After our wedding, we were able to see what items had yet to be purchased and used that as a shopping list to stock our home over the course of the next year.
Thanks to our extremely generous friends and family, we wound up with an apartment filled with beautiful items, many of which I use every single day. Every time I whip out my stand mixer (which is more often than I ever imagined), I feel compelled to text my grandma a quick thank you to let her know that I'm using it.
After cleaning up our spilled watercolors and watching a few YouTube painting tutorials, my husband and I finally finished our thank you cards. It was hard to believe that just a few weeks prior we had gotten married, and even harder to believe that the shiny new belongings placed here and there around the house hadn't always been there. I'm still floored by the generosity of our loved ones every time I use one of the gifts we received, and so thankful that my wedding registry wish list made the whole process easy for everyone.
And while I love what we were gifted, what means the most to me is that our families came together and supported us. The gifts themselves are just things, but each one is a token of love from someone who wanted to show us that they cared. No matter what you're looking for in a wedding registry, there's one out there that will allow your kin to express their love for you in the same way.
Ready to start your registry? Start filling your wish list with items from Elfster's Gift Guide for the Happy Couple! You can share your finds on Elfster's Facebook page, on Twitter @ Elfster, and on Instagram @Elfstergram.

Justina H. loves creating things, whether it's sewing a dinosaur-themed quilt for a friend's baby or whipping up a healthy meal using seasonal ingredients. Her favorite gifts are always homemade, and her overly-stuffed craft closet and fabric collection are always threatening to take over her apartment. Her favorite Elfster feature is the
secret santa app
. When Justina's not busy planning her next quilt, chances are she's writing the day away, Facetiming her niece, or engaging in a battle of wills with her temperamental cat. Hit her up for creative ways to bring a DIY flair to all of your fabulous gifts and parties!

Latest posts by Justina H (see all)
Please follow and like us: