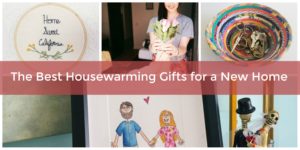 I remember feeling so proud as I stood in my 500-square-foot apartment in a run down three-story walk up, waiting for my guests to arrive. I didn't care if it was small and a little sketchy because it was mine all mine. I'd just moved into my very first apartment—and it was time to celebrate.
Of course, my new place didn't really start feeling like a home until the night of my housewarming party. It was a little empty, and I had yet to really make it my own. Thankfully, my sweet friends gifted me all sorts of goodies that made my space feel much homier.
Thanks to my friends and all the fantastic gifts and inspiration they brought me, I now consider myself to be an expert when it comes to finding the best housewarming gifts for a first home. Whether it's your newly married friends moving into their first house together or your younger sister settling into her first apartment after college, I've got the best practical, decorative, and DIY housewarming gift ideas sure to make any new space feel like their own.
The Best Practical Housewarming Gifts for a First Home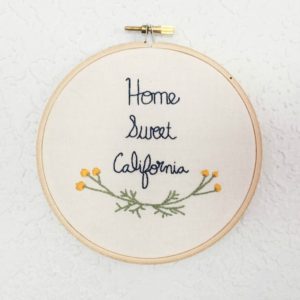 Luckily for me, a lot of my friends happened to be older and further along in life than I was at the time, so they knew the perfect gifts for first time apartment dwellers. I didn't even make a wishlist, but they intuitively knew exactly what I needed. Many of them gifted me with practical gifts that I would never have even thought to buy for myself.
For instance, my friend Rebecca gifted me with a super cute, bright orange, mini fire extinguisher which I swore I'd never have to use. Much to my surprise, it did come in pretty handy when a homemade doughnut experiment went awry.
Here are some of my favorite ideas for practical gifts that every homeowner or renter should have for their first home:
A key keeper: It's amazing how keys can go missing in a new home. Whenever I've moved into a new place, I always lose my keys at least half a dozen times in the first few weeks because I don't have an established place for them. Find a brightly colored bowl or basket for your loved one to put by the door to hold their new house keys so they don't go missing. Your giftee will thank you for it!

Key keepers complement any new home | Image courtesy Etsy seller PrairieThreads

A holy grail cookbook: A new home calls for new meal ideas and food inspiration. Look for a recipe book that uses common ingredients, offers plenty of kitchen tips, and has simple, healthy recipes. A few of my favorite holy grail cookbooks are Smitten Kitchen Every Day, Chef Michael Smith's Kitchen, and Oh She Glows Every Day.
A gift basket of kitchen staples: Stocking a new home's pantry is something that typically takes time so why not gift a basket of kitchen staples that every home should have. Olive oil, coconut oil, balsamic vinegar, fancy Himalayan pink salt, pepper, dried pasta, a jar of Italian tomato sauce, dried beans or legumes, or a unique rice blend are a few ideas for filling it up. Plus, if you pick out a pretty basket, it can double as a counter top display for fresh fruit straight from the farmer's market.
I don't know anyone moving into a new home who wouldn't love to receive these gifts, but if you'd rather come up with a practical gift idea of your own, just think about something you have in your own house that you couldn't live without. Love your silicone oven mitts? Have to have your mini toolkit? If something is useful for you, chances are it will be useful for one of your loved ones as well.
The Best Decorative Gifts to Warm a New Home
I still have a cute vegetable-themed print on my wall that my friend Steph gave me at my first housewarming party. I love it because she knows how much I love veggies and whenever I look at it, it reminds me of her and that super fun evening.
When it comes to home decor, make it personal to your giftee in some way—keep an eye out for their favorite colors or have something custom made for them.
Here are some of the best decorative gift ideas to warm up a new home:
A custom illustrated portrait: I've absolutely fallen in love with the idea of gifting a cute custom portrait to a couple for their housewarming; it's now my go-to gift idea for my friends moving into their first homes. You have to be a little sneaky to pull this one off, though. Find your favorite pic of the new homeowner on Facebook or Instagram and send it to an artist on Etsy that does custom illustrations (my fave is TheGirlinGlassesShop). They'll create an adorable pic, which you can then frame for your giftees. Rather than a generic piece of art, they'll have something personal to hang on their walls!
A plush throw blanket: Who doesn't love to curl up on the couch with a super soft, cushy blanket? Throws make great gifts, and a home can never have too many. Look for a neutral shade, like cream or slate, or choose a bold color you know your friend loves for more of a statement piece.
Fun and fancy towels: I don't know about you, but I love brightly colored towels to brighten up my bathroom that doesn't have a window. And really, what home doesn't need a pretty set of quality towels for when guests come over? Look for something super absorbent, quick drying, and unique. Choose a color palette that is neutral enough for any home, but has a fun pop of color or an interesting design for a little added character.
For other decor inspiration, think of something in your home that the giftee has complimented or admired in the past and find something similar.
The Perfect DIY Housewarming Gift Ideas for New Homes
Sometimes, housewarming gifts can get a bit generic; DIYing is the best way to give something fresh and unique. My favorite housewarming gift of them all was a delicious basil-infused olive oil that a friend made for me with basil from her backyard garden. It paired sensationally with the handmade pasta I served that night!
In addition to infused oils, here are a few of my other favorite DIY housewarming gifts that are as fun to make as they are to give:
A succulent terrarium: These cute cactus arrangements are all the rage right now. Simply find an open-top clear glass container, fill the bottom with pretty rocks, top with a layer of potting soil, and pop in little succulents of various shapes and sizes. Top the soil with a layer of white sand and decorate with more rocks if desired. Not only are they super fun to make, your giftee will appreciate how low-maintenance they are.
Natural cleaning products: This is a great gift for eco-friendly folks who are looking for ways to go green in their new home. My favorite cleaning product to make is a naturally sweet citrus vinegar cleaner. Not only does it smell heavenly, it works like a charm and is incredibly simple to make. Two weeks before the big housewarming shindig, grab a big mason jar, some oranges, and some white vinegar. Remove the peels from the oranges and place them in the jar. Top up the jar with vinegar, cover, and let it infuse for two weeks. When it's ready, strain it and pour it into a nice spray bottle with a pretty handmade label.

A fresh loaf for a fresh home | Image courtesy Etsy seller HUSdeligns

A homemade loaf of bread: Bringing a loaf of bread for a housewarming gift is an age-old tradition thought to bring prosperity and ensure that those in the household will never go hungry. Try your hand at baking a lovely artisanal loaf at home. If you're new to breadmaking, try a simple and nearly foolproof no-knead loaf. If it's still a little warm from the oven when you bring it over, it'll perfume the new home with the delicious scent of freshly baked bread. For a little something extra, bring it in a handmade bread bag to keep it fresh.
I've moved twice since that memorable housewarming party, but the gifts I received have come with me in every home I've had since. What I realized is that it wasn't just the gifts that made my house feel like a home—it was the warmth, laughter, and love that my friends filled it with that night that truly transformed my space into a place I felt comfortable in.
So whatever you give as a housewarming gift, remember that the most important gift is friendship. At the end of the day, that has the power to warm a space unlike anything else.
For more fantastic housewarming gifts, check out our For the Home Gift Guide or start an online gift exchange for a fun gift-giving game to play at your next party. You can also connect with Elfster on Facebook, on Twitter @Elfster, or on Instagram @Elfster.