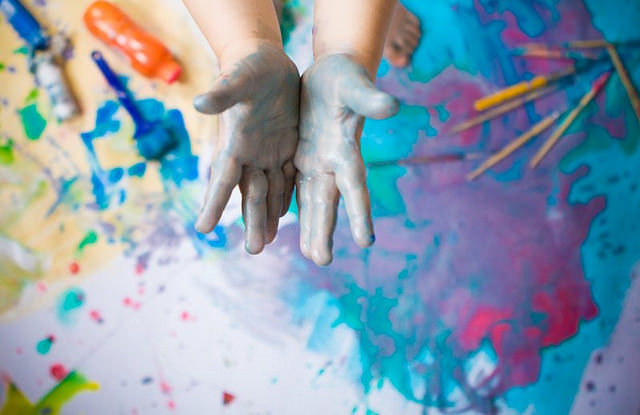 Crafty Homemade Gifts That Toddlers Can Make to Playfully Inspire the Joy of Giving
Crafty Homemade Gifts That Toddlers Can Make to Playfully Inspire the Joy of Giving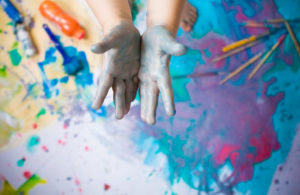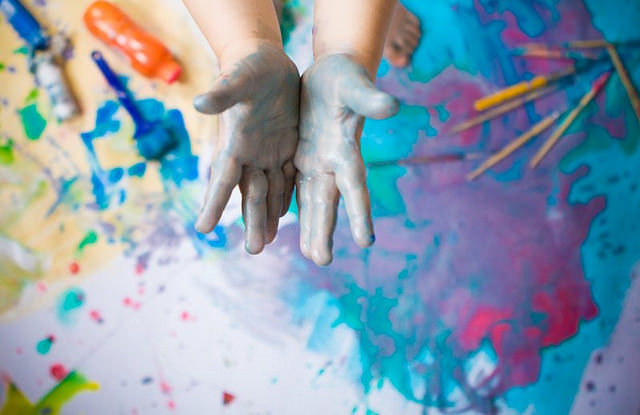 My little cousins, 2 and 4, are preschool crafting fiends. They come home with pages upon pages of pasted art, funky scribbles, and other staples of the toddlers' craft repertoire. When I enter their kitchen, I'm met with a fridge door covered in construction paper, cotton balls, tinted macaroni, and what I can only imagine was a glitter bomb.
Last weekend, I was at their house on a mission to spend the afternoon crafting gifts that the little ones could give to their mom for her birthday. I was determined to create something surprising, unique, and useful that my aunt would genuinely appreciate—and that had absolutely no construction paper or school glue in sight.
Little Keith was so excited when I entered with my Mary Poppins-style bag of supplies that he immediately went to the pantry to grab the plastic "crafting table cloth" to spread out over the kitchen floor. Then we all sat down together and got to work.
Household Toys Make a Scarf Mom Will Actually Wear
As a two year old, little Keith is still working on his fine motor skills, and not making an incredible mess when using craft paint, so this DIY infinity scarf idea plays directly to his strengths.
I came prepared with a 6×3 foot rectangle of lightweight jersey fabric that I picked up at the craft store around the corner and asked Keith to bring some car toys to our "studio." While he was busy collecting his favorites, I taped the neutral-colored fabric flat on the covered floor using packing tape, and added "stripes" with the tape every four inches or so across its surface before filling some paper plates with a thin layer of paint. Keith rushed back with a couple of large plastic cars and some smaller metal racers, and we were soon rolling their wheels in the paint and making car tracks on the fabric.
I chose the paint colors carefully, in tones I knew my aunt loved to wear. If we were to make this craft again, I'd get even more creative with lego blocks and other toys to stamp shapes on the fabric too. When we liked the way our abstract design looked, we moved on to craft number two and let this one dry. I threw the toys into a sink full of warm, soapy water immediately after we finished and gave them a good wash with my hands to remove all the paint.
It's best to leave your scarf to dry for a few hours so the fabric paint can completely harden. Then you can remove the tape and heat-set the paint using the instructions on the back of the bottle. Back home, I also sewed the short edges of the rectangle together to form the classic infinity scarf loop. You could also use fabric glue for this step if sewing isn't your forte. The result is a gorgeous abstract infinity scarf that looks like something you paid for on etsy—not a fridge-cluttering toddler craft.
Air-Dry Clay Gets a Sophisticated Makeover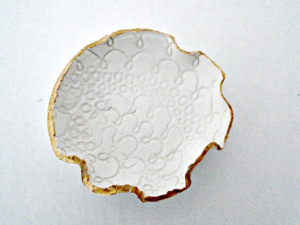 It may be difficult to find a use for a clay handprint, no matter how adorable they are. But, with a little bit of experimentation, I've found a new way to revitalize the old medium of air-dry clay to make a ring dish that my aunt will really enjoy using.
Let the kids knead and play with the clay until it's soft. Then, using a rolling pin to flatten it out to a somewhat even 5mm thick, use various stamps and other textured objects to let them imprint the clay with their favorite designs or patterns. Draw lines with the end of a toothpick, drive over the clay with a tractor toy, or use fingertips to create a polka dot pattern. This process is super forgiving, and you can easily try again if you don't end up loving the results the first time.
When you're happy with your patterns, place a small bowl upside down onto the clay and use a butter knife to cut around its edge, creating a circle. Let the kids help you press your clay circle gently into the bottom of the now right side up bowl and let dry overnight. In the morning, carefully lift your clay dish away from the bowl. If it's still a bit wet on the bottom, turn your dish upside down on a drying rack for another few hours. Paint the edges of the bowl with gold nail polish or acrylic paint for a boho-chic vibe and your DIY ring dish is complete.
Personalized Towels Make the Kitchen a Little Brighter
Kids have been making their mark on dish towels for centuries. They're inherently messy, and there's no end to the dirty kitchen towels that a household can go through in a week. Any mom can use more clean towels! Hence, this craft idea was born: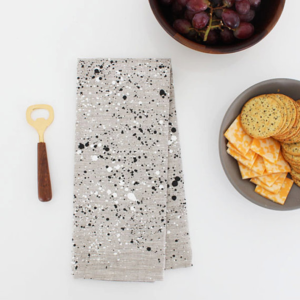 The Supplies:
Contact paper

Fabric paint in bright colors

Unsharpened round pencils

A pack of

flour sack towels
The How-To:
Get set up.

Tape your towel flat onto your work surface in one layer, taking care as this paint will bleed through.

Create your shapes.

Trace seasonal outlines on the contact paper. Hearts are a great choice this time of year, as are flowers. If you don't want to draw your own outlines, have the kids trace medium-sized cookie cutters onto the contact paper using a marker. Your outlines should be about 3" in diameter.

Cut out the shapes.

Then, position the sticky side of the contact paper on the towel's surface wherever you'd like. For ours, we used two shapes apiece and positioned them near the bottom short edge so they would show when the towel was hung on the oven door.

Paint away.

Place each color of fabric paint in its own paper bowl or plate and use either end of the round pencil to stamp little dots of color around the edges of your contact paper shapes. Keep going until the dots spread out as far as you like, making sure the edges of the contact paper are covered.

Let the paint dry.

Then, remove your contact paper shapes to reveal the crisp white silhouette underneath! Heat set your towels the next day by throwing them in the dryer according to your paint bottle instructions and your colorful gifts will be ready for gifting!
The Art of Helping Kids Experience the Joy of Giving
Crafting with kids can be alot fun. They're actively discovering how the world works, and their entire bodies are engaged in the activity before them. I love spending time being creative with my little cousins because I know they're learning a lot while having a memorably crafty afternoon. If you come prepared with the right structure in place, and a patient mindset, you'll find that crafting with kids is way more than a mess—it's creative inspiration.
Beyond just the joy of crafting, I loved watching Keith and Matthew give their handmade items to their mom at her birthday celebration. They were so proud of their creations, and couldn't wait to see the smile on her face when she opened their gifts. Because they were directly involved with the process (and with keeping the secret—always the hardest part) they seemed much more excited about giving than I've ever seen. Handmade gifts, especially when crafted by little hands, can bring joy to the entire family.
If you're looking for more ways to get your little ones involved in the gift giving process, why not let them help choose one of the gifts on our gift guides for the next holiday? The elves are hard at work to make gift giving meaningful for everyone. Like us on Facebook for more gift giving ideas, or follow us on Twitter @Elfster or Instagram @Elfstergram.

Mandi S. is a 20-something artist and gift-giver extraordinaire who loves to cook delicious meals at home. When she's not traveling the globe exploring new cultures, she can be found under a cozy blanket with a rather large book in hand. She believes traditions are the spice of life. Mandi's also incredibly in love with her 95 pound lab puppy, Leben.
Please follow and like us: