Famous Last Words of Summer
Famous Last Words of Summer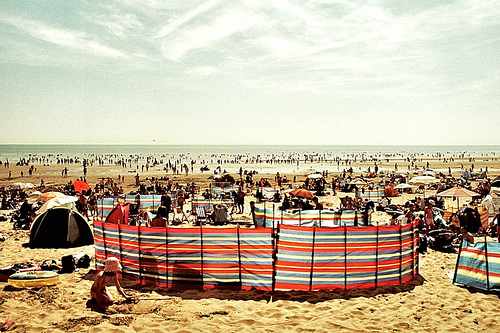 A moment of silence for the summer season. It came. It went. It left us with sand in our car we've hardly had a chance to vacuum. To commemorate its passing, we'd like to pay homage to a seasonal tradition that is as American as reality TV and apple pie. We of course refer to the dysfunctional family vacation.
This particular outing tends to meet a swift and sobering end; typically marked by a single, resonant quote which echoes on in infamy for years to come. Since it's never too early to start planning for next year, we've compiled a small arsenal of case-by-case solutions for future trips. It is based on what we call the "famous last words" of family vacations:
#1: "Beer on the wall? I tell you what. If I hear one more verse, I'll find a new place for those 99 bottles. And you will not want to sing about it!"
We've got beef with the traditional road trip sing-along. Not because it is repetitive, and not because it romanticizes binge drinking. No, our complaint is chiefly with its lack of customization. We say, if you're going to spend "family time" bursting into song, why not make it pertain to your trip? Try writing new lyrics to old standards. Sing of your sister's frequent bathroom breaks, or Dad's horrible sense of direction. Not only is the collaborative effort a valuable bonding experience, but it's also a good-natured means of airing one's grievances.
#2: "Would it kill you to smile for a picture?! One… Picture!"
An uninspired photo-op is a chore for everyone involved. Next year, revamp your album with more innovative family portraits. How about recreating notable works of art? Stage Da Vinci's The Last Supper at that world-famous Texas rib shack you love. On your honeymoon? Capture your smoldering passion with a new take on American Gothic. Push the envelope, if you like. Depending on your physique, the David by Michelangelo might be a fitting tribute to Niagara Falls; complete with a well-placed Canadian Maple leaf, of course. (Just be sure to check city ordinances first.)
#3: "I churned butter at an authentic Amish Mennonite Community and all I got was this lousy blister."
There always seems to be one member of the family who insists on transforming innocent weekend trips into life-enhancing, character-building experiences. (The more manual labor, the better!) These people tend to scoff at standard vacation destinations, vocally branding them as "tourist traps". Though they may be right, they also miss the point entirely. Selling-out is an American tradition. If there is ever a time to applaud frivolous endeavors and hokey points of interest, it is while on vacation. This trip, make it a priority to see the World's Largest Ball of Twine… Consider it your patriotic duty.
#4: "Wish you were here! Kinda…"
So Grandma isn't as mobile as she used to be. And her embarrassing public outburst at last year's Polka Festival went just a little too far. Don't let that stop you from including her on this year's activities! Just explain that while she isn't technically "invited" this time, you'll be glad to tote around a cardboard cutout of her likeness instead. From the summit of Mt. Kilimanjaro, to a biker bar outside of Toledo, Cardboard Granny will go everywhere you do. Note: Airline rates for cardboard cutout passengers vary. Do your homework first, and try to make use of the overhead storage bins.
So as summer draws to a close, we'd love to hear about your own tales of your "dysfunctional family vacation" you enjoyed this summer!  Share your stories with us on Elfster's Facebook page, our Twitter @Elfster, and our Instagram @Elfster.

Stephanie was born and raised in Tallahassee, Florida, which she'll gladly tell you about, prompted or not. She enjoys colorful expressions, loopholes in language and computer-lit evenings with Microsoft Word. When Stephanie's not mulling over age-old riddles of rhetoric, you can usually catch her traveling the globe (or the far reaches of Florida), reading up on world history, or bouncing ideas off her husband and her dog. They know all about Tallahassee, but are still nice to her anyway.

Latest posts by Stephanie K (see all)
Please follow and like us: