Can you believe it's been over 20 years since the world first fell in love with the mother-daughter duo of Lorelai and Rory Gilmore and their fast-talking, witty banter (ever-fueled by coffee)? The hit dramedy Gilmore Girls has certainly stood the test of time, and these Girls are not going anywhere, anytime soon.
Stars Hollow: Still Our Happy Place
The Gilmore Girls phenomenon seems to have only intensified since its debut in 2000. Love for the show is being passed down from generation to generation like a Y2K time capsule. Even the The New York Times recently chimed in on the groundswell of enthusiasm: "Few would have predicted in 2000 that Gilmore Girls would be so enduring."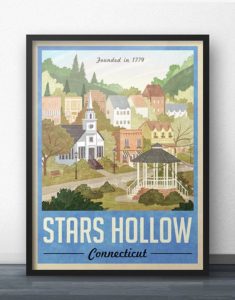 Though the show went on for seven seasons, the trials, tribulations and a few heartaches of Lorelai (who became a mom at 16) and Rory (her smart, serious teenager) live on indefinitely. Thanks to the modern-day magic of live streaming, episodes are never more than a few clicks away (thanks Netflix!) Mix in a cleverly timed re-airing of a 2016 revival (Gilmore Girls: A Year In The Life) which aired in late November 2020, and the package is complete.
Fast forward more than two decades after the show first introduced us to the twinkling town of Stars Hollow. In this idyllic fictional town, nothing bad ever happens. Colorful characters and oddball neighbors mark the seasons with town-wide festivities. But in our realtime reality, we found ourselves smack dab in the middle of the Covid-19 pandemic and on lockdown. In a year when binge-watching intersected with escapism, 2020 was the perfect time to get on the upbeat Gilmore bandwagon. Popcorn and movie night anyone?
"Where You Lead, I Will Follow"
As the show's opening theme song suggests, we're all better when we're together. Thankfully, there are those Gilmore-obsessed fans, who are encouraging the next generation and breathing fresh life into the timeless series.
Meet Mary Hoertz, an expert you might say, in all things Gilmore. For the past few years, she has brought her online fandom of 3,000 together to relive and discuss "the show, coffee, cast and anything in between" in a private group on Facebook. But what initially sparked Mary's love of the pop culture classic?
"I stumbled across the show around 2012 watching reruns on TV," Mary reflects. "It came out on Netflix a couple years later (on discs). I was so excited to watch it in order over and over again!" she reflects. "I remember waiting so anxiously for that next disc to come in the mail! The show is just so uplifting, funny, witty with a little dash of drama added in for fun. The show just pulls you into the relationships where you feel you are a resident of Stars Hollow with the rest of the cast."
"The popularity grows each year and that is what makes this show so incredible. With the release of A Year in the Life in 2016, we saw a big surge in interest in the show as we were able to see where our beloved cast is now," she explains. "It still continues to grow as more moms pull their daughters into this show based on the true love of this amazing mother/daughter duo."
Gift Giving with a Gilmore Girls Twist
About a year ago, Mary and fellow diehard fan Sabrina Beskow took the lead of an Elfster "Stars Hollow" Secret Santa gift exchange group that she first joined in 2017 which bonds over Gilmore gifts throughout the year.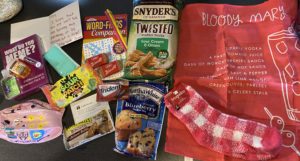 The group's most recent gift exchange — a "Pandemic Care Kit" — was a great idea and I'm sure it was fun not only to receive a care package, but put one together for another Gilmore Girls lover.
"We just thought we all needed a little 'care' right now," explains Mary. "To pick the best gift is impossible, we have girls that are so crafty and will make items to go in the box. We urge our participants to shop from small Etsy shops to get even more creative gifts and to support small shops. That is why we love Elfster because not only can you shop from the big guys like Amazon, but you can also paste links into your wishlist from any shop you like!"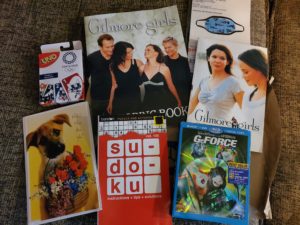 "Gilmore Girls has so many references that it makes it so easy to add items to the box to reference the show, and it's fun to see how creative the participants get!" she adds.
At any given time, the group has 2-3 gift exchanges going, meaning plenty of opportunities to share something meaningful with another Gilmore groupie.
How Well Do You Know your Gilmore Girls?
As Mary relates, "It's hard to pick a favorite character because even the supporting actors are so dang lovable! The better question for a Gilmore Fan is which team you are on. I am Team Jess! This is a huge debate among Gilmore Fans, and everyone has a strong opinion on which guy Rory should end up with." And even in the eventual finale, we'll never know the answer! So the debate goes on: Team Dean? Team Jess? Team Logan?
"I have watched Gilmore Girls more times to count, but I am so bad at trivia! So instead of participating in the trivia, I run trivia contests on my other Gilmore Page, Stars Hollow VIPeeps!" she adds. I asked Mary to share some of her trivia, so here goes… (answers below, but no peeking!)
Test Your Gilmore Girls Knowledge:
What song is playing in the very first episode as Lorelai walks across the street to Luke's?
Where did Lorelai & Rory go after Lorelai decided not to marry Max
How did Jess get a black eye?
What item did Rory steal from Doose's market after being kissed by Dean?
What was Richard's nickname for his mother?
There are many lessons to be learned from the Gilmore Girls, but top of my list is that love endures. And so do the stories of friendship, hope and generosity formed through the simple act of gift giving. A big thanks to Mary for allowing Elfster to help bring her community together to celebrate life in the inspirational town of Stars Hollow!
Are you part of a fandom looking for a great way to connect with each other? Set up a Secret Santa gift exchange today! And if you're looking for that perfect gift to represent your passion, browse Elfster's gift guides for inspiration! Share your favorite ideas with us on our Facebook page, on Twitter @Elfster, and on Instagram @Elfster.
Trivia Answers: 1) "There She Goes" by The La's; 2) Harvard; 3) He got "beaked" by a swan; 4) Corn Starch; 5) Trix
Top image courtesy: Screenrant