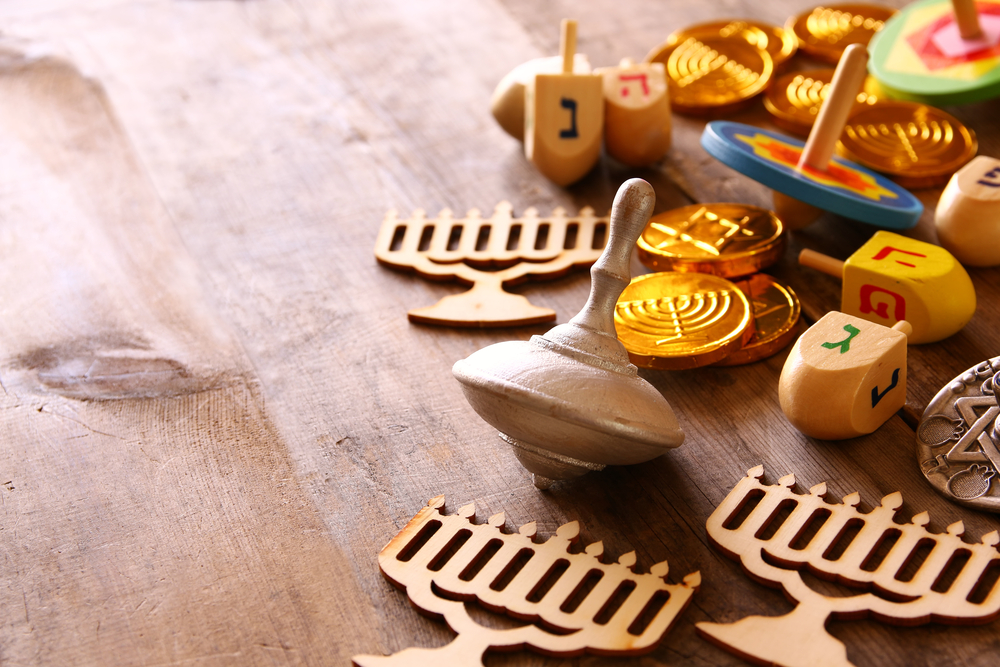 Every year, our friends Greg and Becky throw a latke party for Hanukkah. Becky is Jewish, and they're raising their children in that faith. Since the kids were born, it's been interesting and fun to see the gatherings incorporate more and more of her family traditions. We've learned a lot about the history and importance of this joyful holiday.
One question that often comes up from non-Jewish attendees is about gifts. Namely, "Do you have to give gifts for all eight days?" (or, in the more glass-half-full version, "Do you get gifts all eight days?") The answer, for them, is that the kids get a little something every day and they do one gift exchange, just a few presents, for each other.
That's their tradition. Anyone can incorporate the gift-giving element of Hanukkah in any way they see fit. But no matter what, you need to make a Hanukkah wishlist. 
A wishlist is a way to get organized, get your ideas in place, and make it easy for someone to find what you're looking for. Here are a few tips for making your Hanukkah wishlist easy for you and everyone else in your life. Hanukkah is about celebrating each other, so let's make each other's lives happier, less stressful, and more caring this year. 
Tips to Make a Hanukkah Wishlist
Making a list doesn't have to be hard work. Getting your wishes fulfilled doesn't have to be hard either. Here are our tips for making it all happen this Hanukkah.
Decide on the Gifting Format
Having a holiday that lasts eight days means deciding how you're going to approach gift-giving. Some people do a small gift every day, or one (or more) large ones at the end, or a weekend day that falls in the middle. It's really up to you.
Still, knowing the plan in advance helps with budgeting, timing, and, of course, creating your wish list. If the plan is to do eight smaller gifts and you just list three big ones, you're not being particularly helpful. If you're doing smaller, less expensive gifts, you might want to narrow your search to gifts under $20.
Choose Your Theme
This is obviously optional, but I have a lot of friends who have themes when making their Hanukkah wishlist. That way, each day's gift revolves around that theme. 
A lot of people like Hanukkah themes. It can cover a lot, from an LED menorah to crazy-comfortable Hanukkah slippers to a cool Hanukkah hoodie. For kids, consider educational books that help them learn about the ancient traditions of their faith.
Of course, you don't have to stick with that. I know a lot of people who really take the lesson of the single candle burning for eight days to heart and choose an eco-friendly gift theme. And some people gift only candles.
To be clear, it doesn't even have to incorporate Hanukkah ideas (not every Christmas gift is a manger, after all). So if you want a superhero gift theme, do a superhero theme! It's up to you. And, if pressed, you can respond that standing up to the Seleucids was pretty darn heroic.
Find a Wishlist Generator
There are a lot of ways to make a wishlist. A handwritten list is easy, but it's also easy to lose and you can't add to it later on. A wish list for a single store won't incorporate everything you want. And a shared document can be hard to control. 
This Hanukkah, you want a wishlist generator that incorporates a lot of different elements, including:
The ability to make a list from hundreds of leading retailers.
The ability to add to the list from desktop or mobile.
The ability to share different lists with different people, depending on how you're handling gift exchanges.
The ability to let people buy directly from your list.
If you have a generator with all of these features, making your Hanukkah wishlist suddenly becomes much easier. 
And when you aren't stressed about shopping, you can focus on what really matters. You can gather those around you, as they did over 2,100 years ago, to celebrate persevering over the odds. To celebrate being together as one. To watch the candles flicker and know that the light is still shining. Giving gifts to each other to say that you're glad they're there, that you're glad of who they are, and glad you've been brought together. To me, that's at the top of any wishlist. 
Looking for gift ideas for your Hanukkah wishlist?
Explore our Hanukkah Gift Guide to find the perfect present, plus fun finds to add to your own Elfster Wishlist. Happy Gifting!
If you want to start a Wishlist for Hanukkah, Elfster has you covered. You can use our Secret Santa generator to organize wishlists and set up gift exchanges. Plus, it's all available from an iPhone app or Android app. Need help? You can reach us via Facebook here , Tweet us @Elfster or follow us on Instagram at @Elfster.