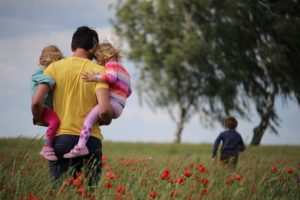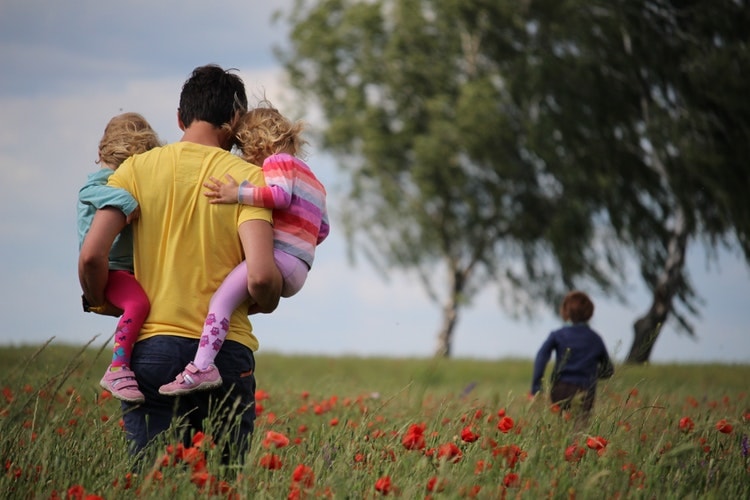 My dad is practically impossible to buy for. It seems like he already has everything and either wants for nothing or wants something so specific I'd have to be a mind reader to guess it.
I know I'm not alone in this issue. After all, dads are notoriously hard to buy for. So, every year when Father's Day rolls around, I find myself scouring the internet for gift basket ideas. There's a method to my madness. I figure if I focus on quantity with a gift basket, I'll at least manage to get him one thing he likes!
Putting together a gift basket takes a bit of organization, though. You don't want to throw items into a basket willy-nilly! Instead, I set my Father's Day gift basket ideas up around a theme.
My most successful Father's Day yet was the year I got my dad an NFL survival kit for those Sundays when he sits at home watching football. I built the basket around his favorite team, filling it with necessities like a team banner, a jersey and a drink holder to keep his beverages cool during longer games. Of course, there's more than just sports to focus on when creating a Father's Day gift basket. Pick something you know your dad likes, build a basket around it, and you'll be sure sure to please your old man this Father's Day.
Father's Day Gift Basket Ideas Using a Theme
Dads aren't just sports and easy chairs. While my NFL gift went over well, I wouldn't want to fall into the pattern of giving my dad a sports-themed gift every year. You really need to think about the unique things that interest your dad and design a gift around them.
Here are some ideas I've come up with:
Toolbox: If your dad is a "Mr. Fix It" type, consider getting him some updated tools in a shiny new toolbox.
Travel Bag: If your dad likes to take trips, or just does so for work, a travel kit with the conveniences of home would make a great basket. Bonus points if you find a stylish bag that will keep him looking classy on the plane!
Shaving Kit: A shaving kit is a traditional but always appreciated gift for dad, especially if you fill the kit with higher end or hard to find items. See if you can find a nice wooden box or a similar container to keep the items all together.
Tackle Box: Some dads love nothing more than to spend the weekend fishing, and getting dad a tackle box filled with all the gear he'd need would be a well-received gift. If your dad isn't much for fishing, consider the other hobbies he enjoys and think of ways to build a tackle box based on that.

A stylish travel kit is great for the dad with a case of wanderlust. | Image courtesy Etsy seller SouthernTradeMark.

Food: If your dad is a major foodie, consider getting him a gift basket full of some of his favorites snacks, like a collection of smoked meats or candies he enjoyed in his youth. This is a gift that will keep on giving!
One thing you might have noticed about this list is that there are very few actual baskets as part of the gift basket idea. While some dads might be into baskets, I know if I gave one to my dad, he would assume it was for my mom! That's why I focus on delivering his gift in a nontraditional "basket" that he can use for something else to give the classic gift basket a more "manly" twist.
Sometimes even the best-laid plans fail to perk dad up, so another thing I do is ask my dad for his input. That way, I know for sure what he needs and wants before Father's Day sneaks up on me. This is an especially smart tactic if your dad is one of those guys with very niche interests!
Ask for Dad's Input With a Wish List
The reason my NFL gift to my dad worked was not because I came up with the idea on my own but because my dad asked. Specifically, he asked for a jersey and I took that a step further with the gift basket. You can do the same by suggesting your dad create a wish list online.
An online gift registry can help you avoid Father's Day anxiety by knowing exactly what your dad wants. My dad is pretty tech forward, but for those dads who aren't, simplicity is key.
When looking for an online wish list site, choose one that:
Offers Mobile: If your dad is like mine, he's more likely to be browsing the internet via his smartphone than on a laptop. That's why you want to choose a site that's easy to use on mobile.
Provides Suggestions: A site that offers a wide range of suggestions is necessary if you want to buy for a finicky dad. Elfster's online menu offers more than a few gift suggestions, including an entire section for men's gifts and a Father's Day gift guide.
Allows For One-Click Additions: Some sites, like Elfster, allow dads to add a browser button to their homepage that will add gifts directly to their list, as they discover the items they want.
Gives a Place to Communicate: If you're one of several children, you don't want to run the risk of getting dad the same gift. It might even help to pitch in on a gift together. Use a site that offers online collaboration so you can let your family know what dad's getting and what he still needs.
An online wish list can be ideal to keep your family organized for Father's Day. When you choose to get dad a Father's Day gift basket, the risk of duplicating efforts is high if you don't get your family on the same page. That why a wish list you can easily share with friends and family is so helpful!
Building your Father's Day gift basket ideas around a theme is a fun way to celebrate even if your father is difficult to buy for, like mine. Get him to suggest an idea or two if you're lost as to what to get him and you can build from there. An online gift registry can really help in ensuring you get the perfect gift to celebrate your dad this Father's Day. After all, that's what the holiday is really about; showing your dad just how much you appreciate everything he does.
If you're looking for more Father's Day gift deas, browse our Father's Day Gift Guide. You can also connect with other users on Elfster's Facebook page, or check out our Instagram @Elfster or Twitter @Elfster to get tips for getting great gifts for dad.