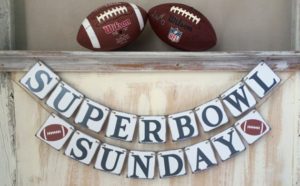 Super Bowl Sunday seems like a holiday to most Americans—there are even efforts to get the day after to be a national holiday. Many of my friends don't even watch football, and they still love to celebrate the Super Bowl with a party, usually hosted by yours truly. In fact, I've made a list of common football terms and the goals of the game so my less football-savvy friends can know a little reason as to why there are so many large, muscular men on a field running into each other.
The Super Bowl party has its traditions in its own right—betting on which team will win, chicken wings, barbecue, dip (I'm making myself hungry just thinking about it!)—but there's always the one friend who wins everything because they know more about football than anyone else. You know the friend—the fantasy football player, the NFL total package owner, the one whose Sundays take place primarily on the couch with a rack of ribs and a bag of chips. And of course, every game has those dead periods—defensive stalemates, players getting exhausted, etc.
So how do you make your Super Bowl party fun for everyone without those dull periods? I've had the best luck by having a plethora of football party games for adults: games that revolve around the game itself and games that don't require any outside knowledge—just a smattering of creativity. Want to make things even more exciting? Have football-themed gifts as prizes or even set up a gift exchange for the big day. After that, it's just a matter of getting your partygoers interested in the games, and what better way of catching their interest than offering them gifts?
Football Party Games for Adults During the Game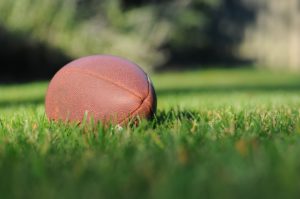 The Super Bowl is the best time to flex your accumulated football knowledge, laugh with friends over some predictable and awkward catchphrases, and go all-in with supporting a team. I still tease one of my friends about the Super Bowl he spent in a separate room because he got too obnoxious after his team, the New York Giants, started winning against the New England Patriots. I mean, his team barely made the playoffs, then somehow pushed themselves into winning the Super Bowl—I don't blame him for being a little excited!
Here are my favorite games to play with those who have a little knowledge coming into the big day:
Guess the Score: The big tradition of Super Bowl games, a score guessing game has as many variations as you can think of. You can give the guessers one big gift for whoever is closest to the final score or give several smaller gifts throughout the course of the game for quarterly check-ins.
Football Announcer Bingo: This is a personal favorite of mine. You could set a board up for exact phrases that you know the announcers will say often—first down, touchdown, sack—or you can go for more general moments like predicting an awkward sideline exchange or talking about Aaron Rodgers. You can assign pairs so they can compete against someone, or just have one big grab bag of prizes for anyone who gets a bingo during the game.

A great gift for a football fan. | Image courtesy Etsy seller LisaRussoFineArt.

Starting Line-up Player Jersey Number Lottery: People can sign-up for up to three jersey numbers from a list of the starting players' jersey numbers, then all of the numbers go into a jar to be picked out throughout the game. The winners get to choose a pre-wrapped, anonymous gift to unveil to everyone.
You can add some fun to all these games by making the night a White Elephant gift exchange and letting your guests intercept each other's gifts to run back for their own touchdowns! Or, you could let your guests make their own wish lists with an online Secret Santa generator that will allow them to pick the gifts that tickle their fancy the most. Either way, using a website like Elfster simplifies the process of organizing your gift exchanges and keeps your celebration stress free.
Games For Those Who Know Nothing About Football
Now, if you just like to get together with your friends and cheer with no repercussions for teams you don't really know—fear not! Super Bowl parties can certainly be catered to this goal. My last Super Bowl party was with some friends who barely knew anything about football. We decided to dress up as mascots for teams that didn't exist. My favorite was the incredibly glittery Manhattan Disco Balls that I'm half-convinced was just an attempt to blind all of us.
Try some of these games which don't need any real football knowledge:
Best Cheer or Jeer for Teams: Everyone loves a good cheer or trash-talking, so try letting your guests' creative juices flow by giving them the opportunity to cheer or jeer on the team they desire. You don't need to know that a team has a league-best rushing defense to tell them they're going down! Let your guests choose their favorites and buy a small gift off their wish lists.
Football Food Competition: I would be lying if I said that a lot of the appeal for Super Bowl parties wasn't being able to stuff my face with a huge assortment of delicious food. So why not encourage your guests to go all-out with their creativity? Can they make a football shepherd's pie? What about a meat, cheese, and cracker plate in the layout of a football game? Let your guests vote on whose dish they think is the most creative and reward the top chef with a gift.
Best Touchdown Dance: One of my friends insists that, in football, it doesn't matter who wins or loses but rather who makes the most of their celebration after they score. So, it's only fair to give everybody their time to shine with a celebratory touchdown dance competition.
Never fear a lack of football knowledge again; you can have as much or more fun than anyone who has devoted the fall to their helmeted champions. With a little creativity and some silliness, you can have fun with a vast assortment of games accessible to any level of football fan.
Leave the Competition on the Field With Gift Exchanges
Competitions are great for some people, but if your guests are there to eat some good spinach and artichoke dip while laughing with friends, then a gift exchange would be a fun alternative for your party. The best part about having a gift exchange is that you can be as creative with it as you want—don't let the game clock stop you here! After all, half the fun of the Super Bowl happens outside of the game: halftime shows, advertisements, and staying late to finish all the food. I still bring up Katy Perry's left shark frequently!
You can even make fun themes for your gift exchange lists. Team-based gift lists could leave you with a house full of birds or other animal-related paraphernalia, and shopping for your more manly counterparts could become a fun game, too! Challenge your guests to come up with something creative to add to the gift exchange, and make it so any gift that's opened is as much a surprise as the best Super Bowl commercial.
Whatever game you choose, though, remember that a Super Bowl party isn't just about what team wins. It's about coming together as friends, celebrating one of our nation's favorite pastimes, and, well, just having fun.
Try sprucing up your Super Bowl party with a gift exchange and check out our gift guide for football fans. You can share your creative party ideas with us on Elfster's Facebook page, on Instagram @Elfster, and on Twitter @Elfster.