My mom and aunt were dancing the Macarena. The catch? They were doing the right dance moves, but to the song "All I Want For Christmas is You," all while wearing flashy elf hats.
Our family holiday party had been a bit dull, so we decided to split into teams and have a dance-off. We thought the kids would be most excited about the game, but to our surprise, they went into the other room to watch a movie while the grown-ups brainstormed song and dance routines. I thought my husband and I had crushed it when we did the foxtrot to "Let it Snow!," but as soon as my mom and aunt started with the Macarena, I knew we were toast.
At the end of the party, we were all laughing and ready for some cocoa. It was a far cry from the quiet, reserved gathering we had started out with, and since then, I've played Christmas party games for adults at all my holiday soirees. Whether you opt for something that'll get you on your feet or a more traditional game, playing with your loved ones is the best way to make this Christmas one you'll never forget.
Lead a Christmas Scavenger Hunt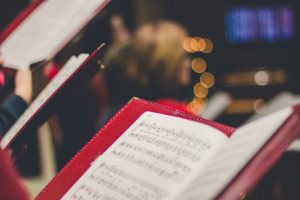 In the weeks leading up to the holidays, my aunt works tirelessly to decorate the window of one of the stores in her small New Hampshire town. It's a big tradition there, with each store keeping their windows shrouded until December 1st. A couple years ago, I joined my aunt for the big reveal. She hosted a party where we sipped cider and ate cookies before heading into the village. When we got there, each store had removed their window coverings, revealing the amazingly detailed displays inside. It was fun to see each store's display, but even more fun was getting out of the house and taking in the brisk air with my friends and family.
It made me wonder why so many parties involve people just sitting inside. So I came up with a plan to liven up my next soiree—a scavenger hunt!
To host a holiday scavenger hunt, let your guests know ahead of time what you're planning so they can bring the appropriate attire and be ready to drive. Then, make a list of scavenger hunt items, and hand out the list when everyone arrives. People will need to split up into teams, then set off into town. Set a time limit (1-2 hours, depending on how dedicated everyone seems), and make sure each team has a photographer who can capture each moment. At the end of the game, everyone will return to the party, and the group that checked off the most items wins.
Some ideas of things you can add to your scavenger list include:
Take a picture with Santa
Find a festive store window
Bring back a funny Christmas tree ornament
Go ice skating
Have hot cocoa
Sing a carol with someone
Don't be afraid to get silly with this game! Now's the time to make sure you have photographic evidence that Uncle Bob to dressed up like Mrs. Claus.
Play A Cutthroat Game of White Elephant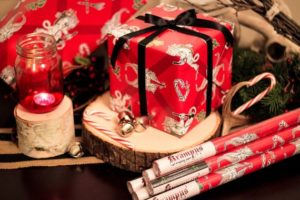 "Noooooo!!!" I screamed, as my sister ripped the coffeemaker out of my hands. We were in the middle of an intense White Elephant gift exchange, and I had been vying for the coffeemaker the entire game. In an instant, I lost it and had to decide whether to choose a new present or to pry an opened one from the hands of a beloved family member. Well, anything goes in White Elephant, so I chose the latter!
While us adults were busy hollering and betraying each other, the kids were in the other room having a much sweeter, tamer Secret Santa exchange that my mom had organized on Elfster. It was super-easy to set up, and each kid even got to create a wish list so their Secret Santa had ideas about what to get them.
But in White Elephant, the stakes are higher, drama flairs up, and our competitive side comes alive, so it's an activity best reserved for adults who can take a little heartbreak.
The rules for playing White Elephant are simple:
Instruct each of your guests to bring a wrapped gift that falls within a certain budget range. You might think of practical White Elephant gifts or choose a theme, like funny or edible gifts.
Place the gifts on a table.
Have your guests draw numbers from a hat. The person who draws 1 goes first.
Player 1 chooses a gift from the pile, then opens it.
Player 2 can choose to either take player 1's gift or to choose a new gift from the pile. If they choose player 1's gift, that player gets to open a new gift.
The game continues until everyone has a present. Then, player 1 gets to go one last time, deciding whether to keep whatever gift they currently have or to swap it with someone else's.
Whether you opt for White Elephant or a different funny Christmas gift exchange, there are tons of holiday party games for adults that will add fun to your soiree.
Hold a Santa Costume Contest
My grandmother was wrapped head to toe in toilet paper. She was laughing up a storm, as was everyone else. We were playing a game at my cousin's wedding shower, teams were dressing one person in the most elaborate wedding dress possible, using only toilet paper. My grandma won the contest—I think because of her runway swagger—but we had so much fun that I wanted to find a way to repeat the contest when there wasn't a wedding on the horizon.
The solution? A DIY Santa costume contest! It's the perfect Christmas party game for adults, a way to get in touch with your youthful arts-and-craftsy side while also relying on your competitive energy.
All you'll need is some simple arts and crafts supplies. I like using red crepe paper streamers, toilet paper, tape, and construction paper. Split everyone into teams, and give them a time limit. Each team has to dress up one of their members, and when time runs out, hold a fashion show to decide the winners. Make sure you take videos and pictures—these are the sorts of funny memories you'll want to hold onto for years to come!
Liven Up the Holidays With Christmas Party Games For Adults
There are many serious moments during the holidays—remembering family members who are no longer with us, attending religious services, contemplating our goals for the year ahead. But it's also the best time of year to get in touch with your inner child, and nothing brings out that sense of mischief and laughter like Christmas party games for adults.
So this year, keep the Dickens readings to a minimum and choose a game to play when your guests arrive. The cookies and cocoa each year tend to blend together, but the sight of Aunt June wrapped in toilet paper and pretending to be Santa? That's a memory that will last a lifetime.
Still not sure how to breathe life into your holiday party? Check out Elfster's Family Games Gift Guide for inspiration. And don't forget to share your favorite Christmas party games on Elfster's Facebook page, on Twitter @Elfster, and on Instagram @Elfster.