When we grow up, Easter tends to get unfairly short shrift. For one thing, it isn't fixed in place like Christmas or always on the same weekend like Thanksgiving. Landing anywhere from late March to end of April, as adults in a life filled with responsibilities and hecticness, Easter can catch us by surprise.
But you know who loves Easter? Who looks forward to it every year? Kids. And what's not to love? There's candy, there's the thrill of the egg hunt (because kids don't know you can just go to the store for eggs, the adorable little goons), and of course, there are bunnies, the fluffy and cuddly kid-magnets synonymous with the holiday.
There's more to it than that, though. I think kids just get excited by spring, with its atmosphere of warm renewal and crocus-pushing frost melt. Easter, both as a tradition and a time of year, promises a rebirth, the world unfurling again. Even toddlers, who might not fully remember the last holiday, know it's important. They know it's a season for growth.
So when throwing an Easter party for toddlers and kids, try to remember that feeling of awakening in yourself. Doing so can make for a party that's fun for adults, too! We can all enjoy a good Easter celebration this year, with pastel traditions and egg-based humor. And that's no yolk!
(Sorry.)
(I'm not actually sorry.)
Easter Party Theme Ideas for Toddlers and Young-At-Heart Adults
There's more than one way to pet an Easter bunny. Throw a party the day of, or throw one beforehand. Either way, you'll need to have some games and activities to make sure it's one of the most memorable days of the year, and something to look forward to spring after spring.
Here are some ideas for parties that will leave both adults and children very hoppy, er, happy. Obviously, these can be mixed and matched any way you see fit.
The Easter Competition Party
One thing we love to do at our Easter parties is set up games for both kids and adults to play. Depending on how old the kids are, participation may vary, but they're pretty suitable for anyone 3 and up.
The Egg Toss: This is the king of the Easter game because it combines the thematic importance of rebirth with people getting messy. Everyone pairs up and tosses eggs back and forth, getting farther apart each round, until only one pair has an unbroken egg. This is a lot of fun for adults and for kids because there is always the goofy tension of the egg hanging in the air. A variant for a younger crowd of toddlers could be having them toss a hard-boiled egg, or even rolling an egg across a table to each other.
The Bunny Hop Sack Race: All you need for this are enough sturdy bags (we prefer a good burlap bag designed for the purpose) and enough people who don't mind falling down. You can have a kids' race and an adults' one, or just watch the kids hop around the lawn. This doesn't even have to be a race, per se, it can just be an activity, with the kids hopping from tree to tree, each one getting a prize at various stops. For the adults though, it needs to be a race. After all, nothing inspires more fall down competition than ridiculousness.
Pin the Basket on the Bunny: All you need is a cutout of the Easter Bunny and some baskets to "pin" to his hand. There are a few variations on this. The basket could already be there, and the goal of the blindfolded participant would be to pin eggs to the basket. Or, you could even make it 3D, and have people try to drop eggs into a real basket while blindfolded (this is an outdoor game). Both kids and adults will enjoy this. It might be fun to see who is better!
The Crafty Easter Celebration
Part of the fun of Easter is that it is inherently DIY. From eggs to decorations, kids and adults can show off their creativity while celebrating the fresh, new season.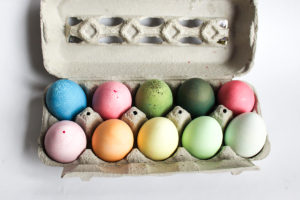 Egg decorating: This is wonderful no matter how old a kid is. Children as young as two can draw, and take their first fledgling steps at art. They know that eggs should be colorful, and as they get older, they'll want to try different designs. You can use a eco-friendly egg-decorating kit, or use different crayons and markers or patterns. It's an egg-cellent way to let imaginations hatch.
Build a Bunny: It's like Build a Bear, only different. All you need are some felt or stuffed bunnies, and some patterns for clothes and accessories. Should Mr. Bunny have a top hat and a basket? Of course! Kids will have fun creating the Easter Bunny of their dreams.
An Easter-themed coloring book: Kids—and adults—love coloring books, and Easter, with its warm greens and bright pastels and daffodil yellows, is a perfect holiday for it. Get some coloring books for kids (and grown-ups!) and give yourself an hour of peace and quiet before or after the jelly bean-based sugar rush. Or, make your own customizable coloring book using your home computer and printer!
The Adventurous Easter Romp
Maybe you want to take your party to the next level of hip hoppity cool. Here are a couple ways you can do just that.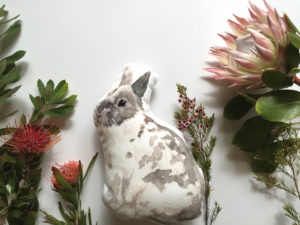 A scavenger hunt: Of course, you can do an Easter Egg hunt, which is always fun, but you can add more than just eggs. Hide items like coins, stuffed bunnies, toys, games, etc. If each child has a list of things to find, you can also ensure that everyone gets the same things, instead of the oldest kid hoarding 30 eggs while the rest of the kids cry. Let's try to avoid that.
A visit from the Easter Bunny: A plush costume, a basket of eggs and candy, and a willingness for one of the adults to disappear for a bit are all that's needed to make for a memorable Easter. It's obvious that the kids will love this, especially the younger ones, and all the adults (or at least the ones who aren't in the costume) will as well.
A petting zoo: This is obviously on the upper end, but there are a lot of organizations that will bring over rabbits for the kids to pet and play with. Who knows? It might end up sparking a lifetime of lepus love.
It's funny. It's easy for Easter to take us by surprise. Not in the Christmas sense of, "I can't believe it's only a week until Christmas where did the time go I NEED TO WRAP," but in a literal way. We don't always remember it's coming. But when we do, it's almost impossible not to get excited.
It's spring again. Flowers are coming back. Birds are returning north. The kids know it; they know that life is about to start unwrapping itself. With these Easter party ideas, even us adults can remember what that was like, when we saw the world as new.
Bounce to social media and let us know about your favorite Easter party ideas. Tell us about them on our Facebook page, on Twitter @Elfster, or on Instagram @Elfster. And, for inspired gifting ideas, browse our gift guides.