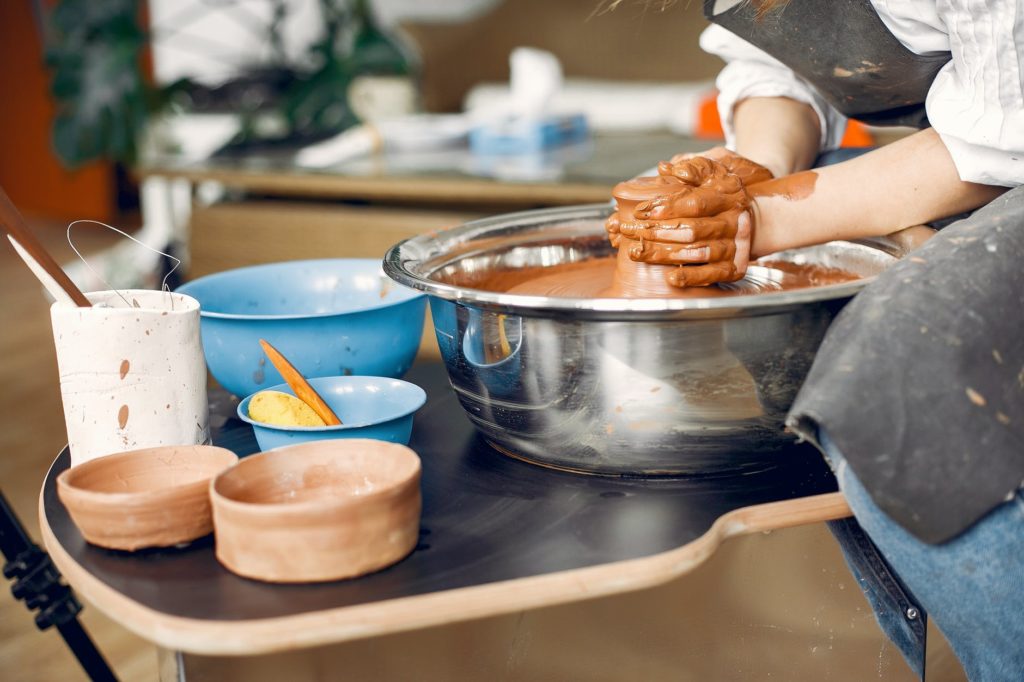 By its very definition, generosity is an act of unselfish giving—and offering one's own talent, time, and creativity to a new friend you've just met is a beautiful example of selflessness. Recently, a group of more than 50 potters from many corners of the globe got down and dirty for a Secret Santa gift exchange. They used the Elfster website to help them share amazing and unique ceramic art created with their own two hands.
Creative Hands Reach Out To One Another
The pottery exchange community, led by Elfster exchange organizer and professional potter Katie Zupan, first came together on the popular Reddit website. According to Reddit's site, it's a "place of community, conversation, and connection with millions of users worldwide." And within that vast universe lie many subgroups that serve to connect members with common interests, like pottery and ceramics.
"There are areas of Reddit called 'subreddits,'" explains Katie, "which are basically mini-forums for specific interests, fandoms, and almost anything under the sun. I have been a part of the r/Ceramics and r/Pottery subreddits for a while, where we post our wares, get feedback, and share interesting things like cool new tools and techniques. I saw someone ask about doing an exchange for a bit but no one initiated it, so I thought I'd give it a go!"
The online community of subreddit potters boasts over 6,400 members who discuss "anything and everything related to throwing, hand-building, sculpting, glazing, firing, and appreciating ceramic art," according to the site.
And the Elfster community is very grateful that Katie motivated the group to join us, and gave members the opportunity to share their creative talents in the spirit of spreading generosity by participating in a Secret Santa gift exchange.
Katie says, "I heard about Elfster from a group that I am a part of, Sign Makers, that I know in-person or from acquaintances! We held a Secret Santa during Easter and I really liked the ease of the site. I made a page for the exchange and posted it on the subreddits and we got almost 40 people participating from it!"
This was Katie's first time organizing an Elfster gift exchange and from the looks of the group's gallery wall on Elfster, participants thought the exchange was a great success. Katie received this hilarious mustachioed mug and sent a note showing her appreciation: "Thank you so much for the cup and the little bowl! It has a ton of awesome character, and will now be my cup at work! Thank you so so much! It's GREAT!"
A thank you note from participant Adam Dunn encourages his secret spinner. "I really like your pottery. Best of luck to you in finding what you need in your education and future. You are very talented. Keep spinning."
Participant Pam Kinnison also let her secret elf know she cares. "I love your work. Keep plugging along. Using the wheel is like using a bicycle. Once you learn and obtain the muscle memory, it gets easier :) " (Her awesome gift is pictured here.)
Katie encouraged her group to get to know each other better by exchanging personal messages, as well as by posting pictures and thank you notes to the group's photo gallery wall, which is a feature offered on Elfster to help communities share the exchange experience.
"I thought it would, overall, be a great way for people to share their craft," she explains.
And the elves at Elfster believe the incredibly talented artisans of this group certainly fit the definition of "generous." We look forward to what they have planned for the future.
Want a great way to let your creative juices flow? Spread a little generosity in your own community. Organize a free, online Secret Santa gift exchange between friends, family, or co-workers with Elfster. It just takes minutes! Want to connect with the elves at Elfster? You can reach us via Facebook here, Tweet us @elfster, or catch us on Instagram at @elfster.
Wish. Gift. Shop. Share.
Pottery gift photo credits: Katie Zupan, Pam Kinnison, Jess Baer