As summer gives way to fall, the world is magically transformed before our very eyes. All around us, the beauty of nature becomes touched by the amber hues of the season. The days grow shorter and nights grow colder. And the wardrobe, a bit cozier. Taking this cue from nature, a group of women from all over the world have turned this transitional season into a time of personal transformation with a focus on fitness.
The women first connected on the popular website Tone It Up (TIU), an online workout community led by Southern California trainers, Karena and Katrina with an inspirational philosophy — Share. Love. Inspire. Sweat. Elfster has helped connect over 200 women worldwide who were already participating in the TIU "Frisky Fall" 8-Week Fitness Challenge as they also exchange workout goodies inspired by the group's philosophy on Elfster for an extra boost of personal motivation (and lots of fun!).
"Currently we're in the midst of an eight-week workout challenge called #friskyfall, where Karena and Katrina post daily workouts & challenges," says exchange organizer and TIU enthusiast Shelley Cameron. "I thought it would be a fun idea to create a mass gift exchange, allowing TIU girls from all over the world to exchange motivational mail/care packages with one another."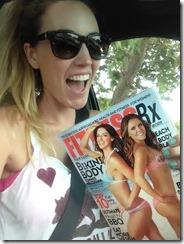 Shelley says this is the first time she has organized an exchange through Elfster for Tone It Up members, but she has participated in other exchanges with other groups, including her mom's group and her own cousins, and Elfster is glad to be a part of all those exchanges! "Motivational Mail" is how these "secret sisters" describe the care packages they give and receive full of fun goodies embodying the TIU tagline — share.love.inspire.sweat.
"During "Bikini Series," our TIU summer 8-week workout challenge, I saw a TIU sister wanted an accountability partner to be her pen pal, and thought the idea was so fun," Shelley says. "I hadn't heard about it until we started chatting, so wanted to open the idea to more girls, as it's a fun way to get involved in the TIU community, make friends, and connect with girls all over the US, and even the world. Because of high shipping costs, I created two Elfster exchanges for TIU gals — one for the United States and one for all girls abroad. I've seen other Motivational Mail exchanges going on within the TIU community, but none as large as what ours has reached." The group that started out with just a handful of participants has now grown to over 200!
"I absolutely love how Elfster has helped us all connect!" she adds. "I used my Instagram, @tiu_shelley to reach out to my TIU team and family of followers to spread the word and get sign ups."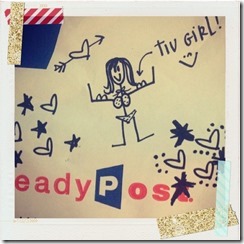 "I was so excited to see all the love within this already wonderful community!" Shelley explains. "As Karena and Katrina say: 'We all share these common goals, and that is to feel energized, confident, beautiful, and healthy, so let's do this together!' That's the exact philosophy behind wanting to create a Motivational Mail gift exchange with my Tone It Up sisters all over the world."
Shelley loves the fact that Elfster makes it easier for organizers to enjoy the exchange, too. "I don't have to deal with pairing anyone up — could you imagine doing that with 200 people?!" she says. "And this way it's totally anonymous, and allows me to get to participate without the headache of pairing and individually reaching out to every single person."
"Being able to ask secret questions has been so amazing to build a foundation of ideas for our exchange without anyone spoiling who they are!" she adds.
What's next for these sisters in fitness? "I plan to host a TIU Secret Sister exchange now every single 8-week TIU challenge! I love that Elfster saves our group and lets me add latecomers! I'll be using the same group next time, just adding more and more TIU sisters each time :) For our exchange, they have to be active in the 8-week fitness challenge hosted by K&K of TIU, so I wouldn't want anyone random to sign up. It's a very open and welcoming fitness community, but exclusive to TIU members only who follow my Instagram," Shelley explains.
If you want to find more information about Tone It Up, their website is toneitup.com and their Instagram accounts are @toneitup @karenakatrina. More information about future exchanges may be found on Shelley's Instagram @tiu_shelley and on her blog, seashellsandsitups.com, which she uses to spread the word about the Elfster exchanges she creates.
What are you doing to stay motivated this fall to reach your own fitness goals? Find some inspiration, check out the latest must-haves and share your own ideas in Elfster's "Trend – Workout Chic" gift guide. Check it out here: http://www.elfster.com/wish/guide/221/trend–workout-chic/ Or, visit us on Facebook or tweet us @elfster.

photo credit: Shelley Cameron, @tiu_shelley