Inspiring New Year's Eve Party Games for Adults
Inspiring New Year's Eve Party Games for Adults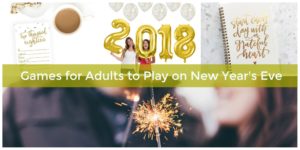 I'm not one for wild and crazy New Year's parties. Instead, I like to slip on a cozy pair of slippers and spend the night at home with my husband, a few close friends, and a a bunch of yummy snacks.
Every year, as the clock ticks closer and closer to midnight on December 31, we take some time to reflect on all the wonderful things the last year has brought. As we flip through photos of our adventures, our culinary experiments, and our time spent with friends and family, we relive the best parts of the year.
I love this tradition because it gives me gratitude for the past year and inspiration for the one ahead. Taking time to recognize all I accomplished motivates me to keep seeking new experiences, traveling to new places, and trying new challenges. When I wake up on January 1, I feel ready to make the new year the best one yet.
So in the spirit of spreading inspiration for the coming year, I'm going to share some ideas for New Year's Eve party games for adults to play as you wait for the ball to drop. These games are great whether you are spending an evening out with a group of friends or planning a quiet night in with a special someone.
Three Hilarious New Year's Eve Party Game for Adults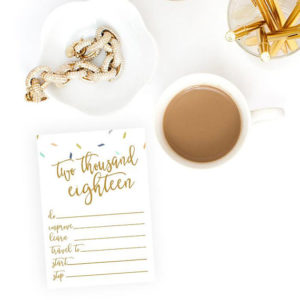 I don't know about you, but laughter is inspiring to me. There's nothing like a good chuckle to lift your spirits, improve your outlook on life, and help you focus on the positive. These three games are fun and silly, but they'll also allow you to reflect on the past year and look ahead to the new one with a fresh mindset and some stellar resolutions.
Here are my favorite New Year's party games that will have you laughing until midnight:
To complement these fun games, try organizing a fun New Year's resolution-themed gift exchange. Have everyone bring inspiring gifts that will help set their giftees up for success in the New Year. I like to use an online Secret Santa generator to assign gifters and send invites quickly and easily. Participants can also use a New Year's Eve gift guide to make online wish lists for their Secret Santa to make sure they end up with something they really want.
Inspiring Vision Board Activity for the New Year
This is more of an activity than a game, but I promise it is just as fun. After all, who doesn't love cutting pretty pictures out and getting creative with the clippings?
Vision boards are powerful visual tools that help you get clear about what you want in your life so you can make it happen. Essentially, vision boards are collages made up of your dreams, hopes, and goals. I like to make one around New Years because it inspires me for the year ahead. Once the board is complete, put it in a place where you will see it every day so you are constantly reminded of what you want to manifest in your life.
What you need:
Once you have your supplies, spread everything out on a big table (or my personal favorite—the floor), and let the clipping begin! Cut out images that inspire you, words or phrases that resonate with you—anything you want to see more of in your life in 2018. If you'd like to meet a special someone, for instance, clip out a picture of a happy couple or the word "love." If eating healthier is your plan for the new year, find pics of fresh fruits and veggies.
When everyone has enough clippings, they can start arranging them on their individual poster boards. Once every person is finished, have each guest hold their board up and talk about it with the group. Not only will you feel like a kid again, you'll have some serious focus and inspiration heading into the new year.
No matter what you end up doing on New Year's Eve, take a few moments at the end of the evening to be grateful for the last year and all the good things that will undoubtedly come next.  Even if you don't keep your New Year's resolutions (I'm usually guilty of this) or the year takes an unexpected turn, if you are grateful for all the good in your life, more good will come. Here's to an inspiring New Year filled with plenty of love, lots of laughter, and a whole lot of gratitude!
At Elfster, we've got more fun New Year's Eve ideas on our fantabulous blog, or check out our gift guides for gifting inspiration. You can also connect with Elfster on Facebook, on Twitter @Elfster, or on Instagram @Elfster.
Courtney has a B.A. in English Literature and a Diploma in Culinary Arts and Pastry Arts/Breadmaking. Holistic health and nutrition are her passions, natural and organic are her two favorite words, and farmers markets make her heart sing. She lives in beautiful Vancouver, BC with her husband where they hike, bike, and hit the beach—but jump at any chance to travel and explore the food and culture of other countries as well! When it comes to gift giving, she likes getting creative in the kitchen and baking yummy treats or going all out by cooking a fancy meal.
Latest posts by Courtney S (see all)
Please follow and like us: