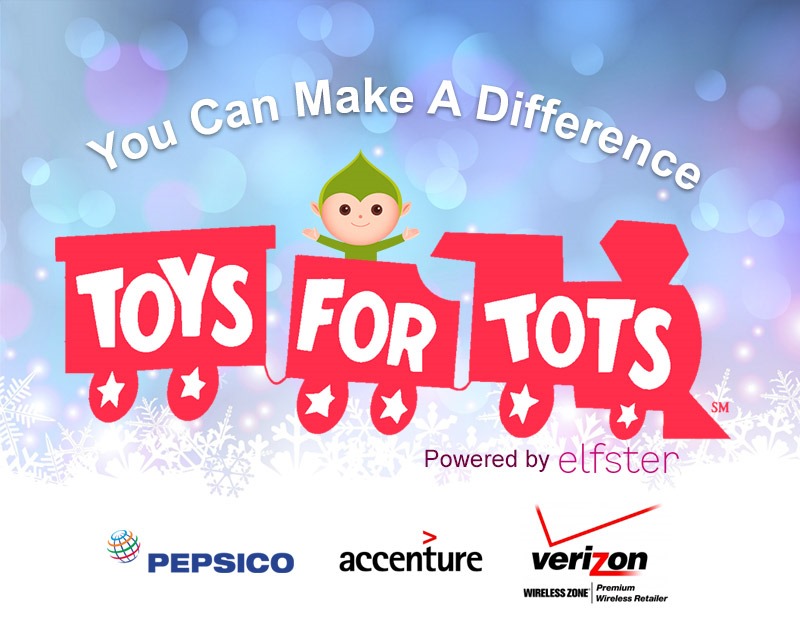 Elfster, Toys for Tots, and You: Conjuring up Christmas Magic on Giving Tuesday
Elfster, Toys for Tots, and You: Conjuring up Christmas Magic on Giving Tuesday
There's a special magic that wells up in children everywhere this time of year—their hearts are filled with hope at just the thought of twinkling lights, happy carols, and the possibility of snow flurries to turn the world into a dreamy greeting card. Every kid delights in Christmas morning surprises wrapped in colorful paper and tied with a bow, under the fragrant bough of an evergreen tree delicately laced with sparkling garlands.
Elfster and Toys for Tots make those childish dreams come true each holiday season by collecting gifts of toys, books, and games for kids in need. The spirit and the magic of the Christmas can spread like wildfire in the kids blessed by these gifts—and in our hearts when we shop with a purpose this Giving Tuesday!
The Story of Giving Tuesday
Established as an international generosity movement in 2012, Giving Tuesday kicks off the holiday season with the spirit of giving to counterbalance the rampant consumerism of Black Friday and Cyber Monday. While many charities take part in the #GivingTuesday movement on the Tuesday following Thanksgiving, few bless the hearts of children in quite the way that Toys for Tots does.
Photo credit Etsy seller piggyhatespanda
Back in 1947, Marine Corps Major Bill Hendricks was moved and inspired when his wife Diane tried to gift her handmade dolls to children during the holiday season, but found no easy way to bless a child in need with her gifts. Diane proposed that her husband, along with a group of local Marine reservists, find a solution—and they collected 5,000 toys from bins left out in front of movie theaters that year.
Their idea brought such a wave of support that the very next year, in 1948, Toys for Tots was born as a national campaign. Today, it continues in the spirit of the Hendrick's original efforts, and has grown to reach hundreds of millions of underprivileged kids with toys, and love, each Christmas. And that's why a partnership between Toys for Tots and Elfster on Giving Tuesday is a match made in heaven—granting gift wishes is our ultimate aim!
The Impact of Your Generosity
Years ago as a young, single mom, I found myself struggling to make ends meet, get through community college, and still show my little boy the beauty and wonder in the world despite our humble circumstances. The holidays became a particularly stressful time to maintain a happy balance—when there's no room in the budget for emergencies, there's really no room for holiday shopping. Were it not for the generosity of strangers giving through Toys for Tots that year, my son's Christmas would not have been the merry and bright day that we both still remember and hold dear.

Photo credit Pottery Barn Kids
I had managed to prepare a handful of dollar store treats in a small stocking, and together we accented the windows with carefully snipped coffee filter snowflakes and made a paper chain garland countdown to Christmas Day. My son eagerly wrote his wish list to Santa, and looked at our handmade Christmas trimmings with nothing but delight. Yet I couldn't help wishing there was more I could do to make my boy's Christmas morning special, and ensure that Santa paid him a visit. I knew he would hear of the fantastic presents his peers at school received, and I wanted nothing more than for him to bubble up with excitement at the chance to share about his gifts as well.
At a friend's suggestion, I signed up for Toys for Tots, but didn't think much would come of it, if anything. I had resolved to apologize to my boy later in life for letting him down, with no exciting gift to give him that Christmas morning.
But, with great thanks to Toys for Tots, partners like Elfster, and those that donate to the cause, I don't have to look back on that Christmas with a heavy heart. I look back with gratitude, remembering the dazzling wonder in my son's eyes when he woke up to find that Santa had used some kind of Christmas magic to answer his letter, despite our apartment not having a chimney. And I felt there must have been angels listening in as my own wish had been met with unexpected generosity.
Today, I am still so inspired by the love that reached out to us that year that I can't wait to make another child's Christmas wishes come true in the same way the generosity of others did for my son years ago. And Elfster is making it easier than ever to be a part of this wonderful cause with their online Giving Tuesday virtual donation bins that send your gifts directly to your local branch of Toys for Tots!
Shopping for a Cause in Your Community
This year, as you hit the stores for Black Friday deals or shop your favorite sites on Cyber Monday, remember your holiday shopping is not complete without spreading the cheer on Giving Tuesday. Elfster, partnering with Toys for Tots, brings you the convenience of online shopping, while still supporting your local community by sending your purchases straight to the donation center nearest to you with just a couple of clicks.
Photo credit Amazon seller Maisto
1. Visit our site to watch a quick video on just how easy it is to make an impact.
2. Click the "Get Started" button to be sent to Elfster's Toys for Tots charity drive wish lists of gifts.
3. Follow the checkout instructions for your purchases.
4. Smile, knowing you have just helped Elfster and Toys for Tots spread the magic of the holidays to some very deserving children in your local community.
5. Share the Elfster Toys for Tots donation link with your family and friends via social media so they can also experience the joy of giving!
It's really just that simple to bless a child over the holidays with Elfster's Toys for Tots online gift giving—they bring your local donation bin straight to your personal computer, tablet, or smartphone!
Photo credit Amazon seller Paw Patrol
And Elfster's Toys for Tots gift guides have a wide array of toys and games, from a cuddly Paw Patrol talking puppy to a rough-and-tumble RC off-road vehicle. But, just in case you need a bit more inspiration, you can browse our Just for Kids gift guides, then use the address provided on the Elfster Toys for Tots info page to make sure your generous donations go directly to your neighborhood donation center.
Quick and Easy Gifting
Maybe you're like me and want to grant a specific wish for a child, or want to help support the costs for spreading the cheer, i.e. distribution. Elfster has you covered. All you have to do is follow the link to donate on the Toys for Tots drive page, enter an amount to donate, and your support will assist Toys for Tots in their mission of spreading toys and joy. They've also included a shareable button for monetary donations that can be added to any Elfster wishlist, or shared on all your favorite social media sites.
Just imagine the excitement you—and Elfster's over 4 million users'—can spread throughout your own communities by shopping online for Toys for Tots this Giving Tuesday. The joy of giving always inspires me to light the spark of charitable holiday gifting in my family and friends—make your generosity go even further by sharing your experience on Facebook, Twitter, Instagram, or Snapchat. I'm positive that, together with Elfster, Toys for Tots, and you, we can ignite the spirit of giving to make more wonder-filled Christmas dreams come true than ever before.
Add Giving Tuesday to your holiday shopping calendar this year, and let the elves help you find inspiration with our Toys for Tots Wish Lists and Christmas Gifting Guides. Find more magic worth dreaming about on our Facebook page, Instagram @Elfstergram, and Twitter @Elfster this Holiday season!

Jeni is a music-loving, crafty boy mom of 2. When she's not crawling on the floor after her toddler, she can be found DIY-ing up a storm, coffee cup in hand—there's always a reason to party in her world.
Please follow and like us: