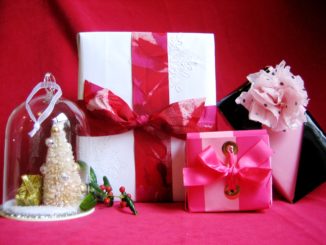 Is it just us, or does holiday gift wrap seem to be disappearing faster than a snowman in a sauna?
At many stores, all that's left of your wrapping paper options are birthday and baby shower themes, which, you have to admit, you momentarily considered buying in a pinch. Though there are several ways to rationalize this thinking, the truth of the matter is, adorning your gifts with the announcement "It's a Boy" will only cause confusion at the Christmas tree.
Don't let the seasonal shortage in wrapping paper be your unraveling! We're here to tell you, a simple, cost-effective solution is already in the bag…
Retailers are really stepping up their game when it comes to decorative shopping bags this season. Pretty ribbon drawstrings and glossy, eye-catching designs mean consumers look more chic than ever toting around their holiday purchases. So why not use these pre-made packages as your own wrapping material when you get home? With this solution, design and color scheme are already chosen for you, serving as a stylish, semi-subtle hint to the contents within.
A Few Tips:
• Keep the bag as flat and wrinkle-free as possible when transporting your goods.
• After emptying its contents, cut the bag vertically along one corner creases, stopping at the base.