Boo-yah! Spooky szn is coming soon, so we've concocted a list of ghoulishly great gifts for the Halloween-obsessed. Even better, these gifts have all the ghoul vibes for your own Halloween-Themed Gift Exchange with family and friends! No tricks, just treats!
👻 Spellbinding Halloween Gifts
Check out our Spooky Finds gift guide for spook-tacular picks that will have you howling with delight! Just add them to your Elfster Wishlist to drop a haunted hint.
GIFT: Stay Spooky Doormat
Q: What do you call a skeleton who rings the doorbell?
A: A dead ringer!
This doormat with all the spooky vibes greets ghostly guests and trick or treaters alike with glee!
GIFT: You Go Ghoul! Black Jelly Glitter Nail Polish
A must-have for Halloween, this bewitching black jelly nail polish is one that you'll want to wear year round. You Go Ghoul! sparkles with glitter in grape, berry and orange for a polished look even a witch would love.
GIFT: Witchy Planchette Earrings
Taking inspo from the classic mysterious and mystical world of Ouija, these handmade witchy earrings will connect you with the spirit world of your childhood.
GIFT: Chilling Skeleton Candle
Halloween mewd… This chill skeleton candle is a perfect combination of spooky, cute and relaxing. And the reusable ceramic cauldron can be used to dish out future Halloween fun.
GIFT: Skeleton Dance Party Sweatshirt
Have some skele-fun! You'll def feel the Halloween vibes as the bones brigade dances & shakes the night away! This uber cozy shirt will quickly become a fall fashion fave!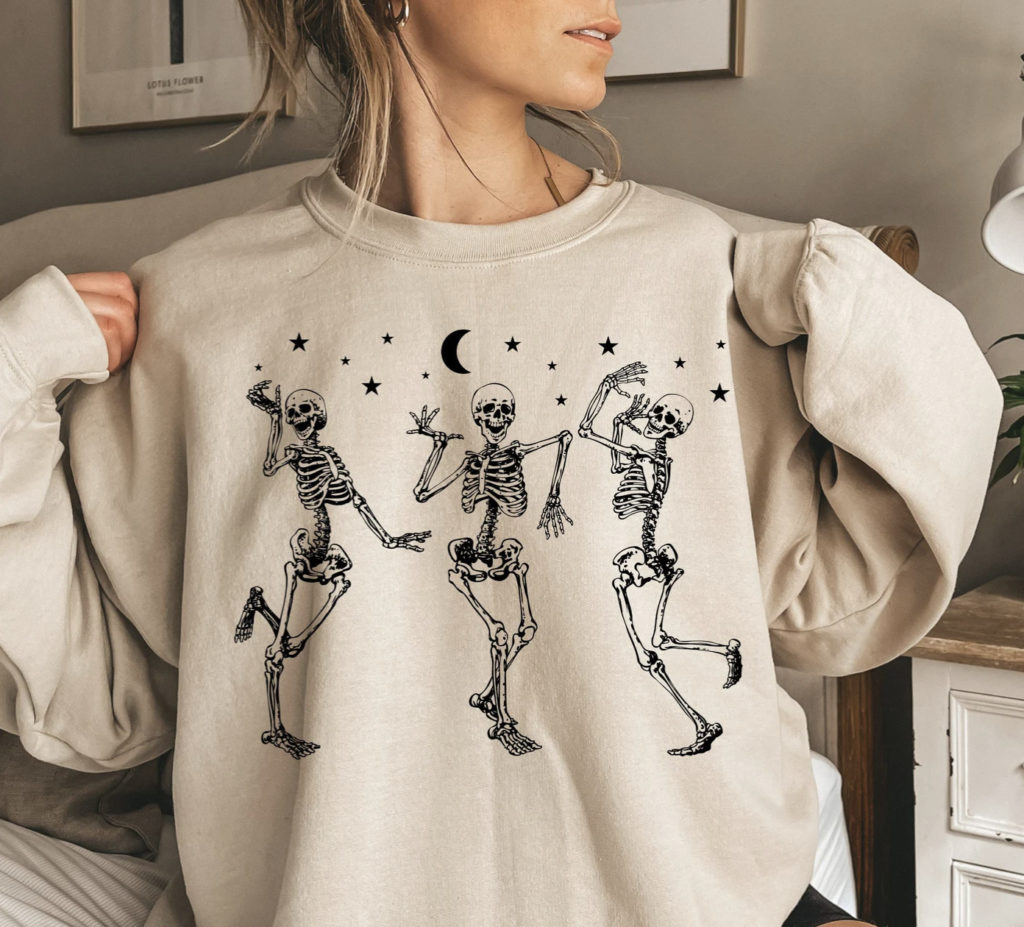 GIFT: Vampire Blood 3-Wick Candle
This is a gift you'll want to sink your teeth into! Vampire Blood, a Bath & Body Works fan-favorite scent of red berries, jasmine and plum, will set the seasons mood. Check out more brand new spooky scents from the brand in our gift guide.
GIFT: Boo-ho Halloween Wall Decor
Hey Boo! Skip the traditional pumpkin decor and go boo-ho chic!
GIFT: Starbucks-Inspired Spooky Season Cup
This spooky szn, keep your potions cool on the go with a Starbucks-inspired reusable cup. And since this cup may be personalized, it makes the perfect gift for anyone who loves Halloween!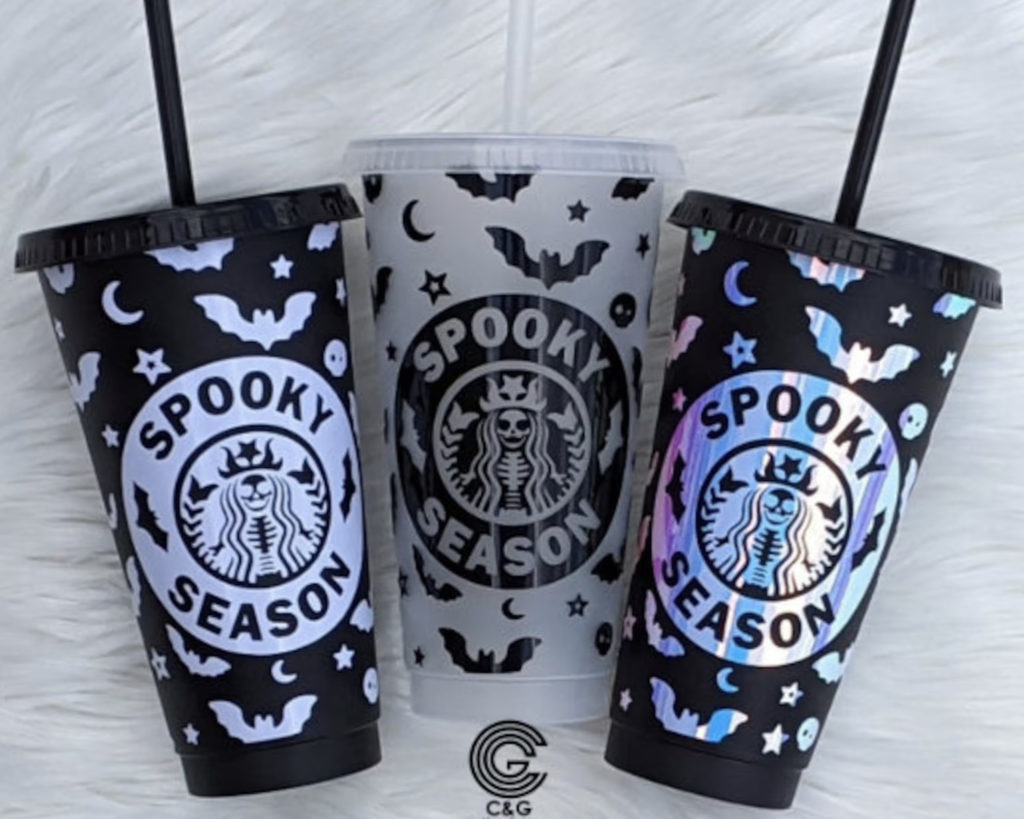 GIFT: Disney Villains: Devilishly Delicious Cookbook
Dish out devilish delights this Halloween with recipes inspired by Disney's beloved baddies like Cruella de Vil and Maleficent. Being bad has never tasted so good!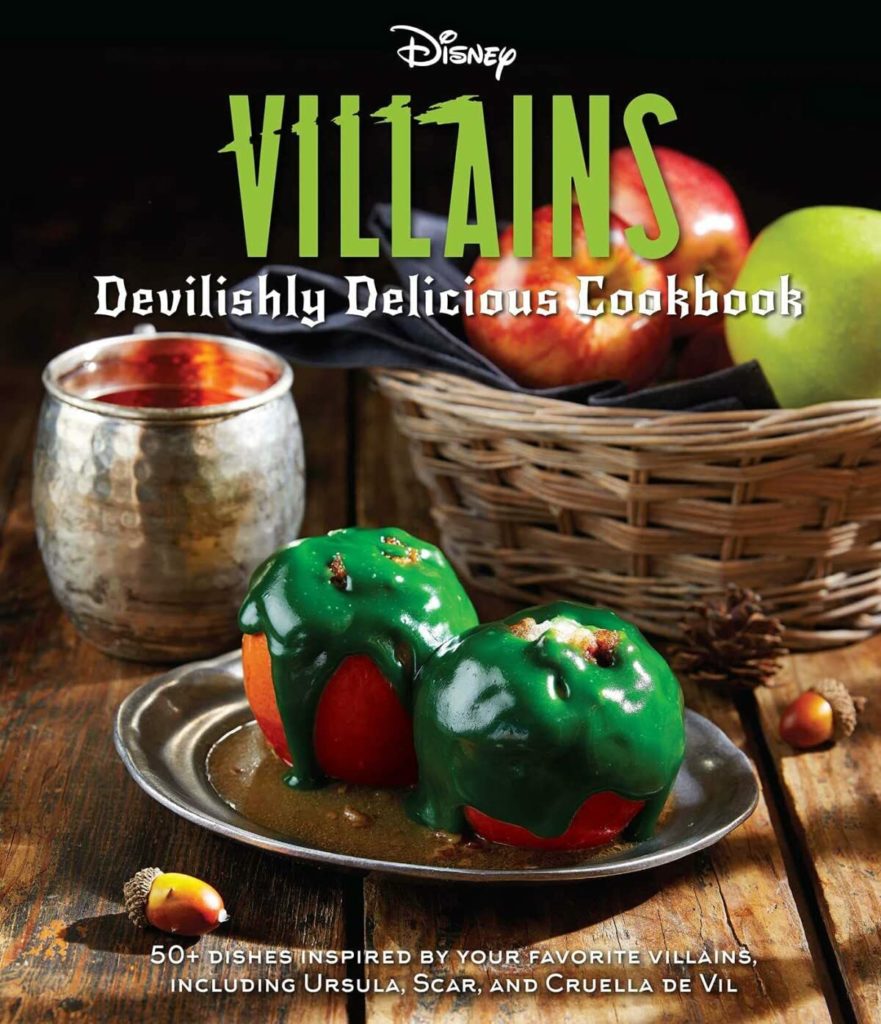 GIFT: Countdown to Halloween Calendar
How many sleeps til Halloween? This unique Halloween countdown calendar will keep you on track and features daily activities for the month of October, leading up to Halloween. Each page is filled with spooky delights, such as coloring pages, quizzes, trivia, movie lists & more!
GIFT: Skull Mini Waffle Maker
This Skull Shaped Mini Waffle Maker is perfect for Halloween or any type of otherworldly breakfast gathering! No bones about it, these cheerful skulls will bring a spooky touch to any meal.
GIFT: Farmhouse Halloween Book Stacks
These handmade and hand-painted wooden stacked "books" are the perfect addition to tiered trays, risers, shelves and other fangtastic Farmhouse Halloween displays.
GIFT: Bat Bottle Opener
We're going batty for this fangtastic find! Add a pop of Halloween humor to your party plans – the flexible wings will pry the corks while the fangs pop the bottle caps!
Looking for More Halloween Gifts?
Explore our curated Halloween Gift Guides with all the Ghoul Vibes! Plus, stay tuned to find new & exciting gift ideas all spooky season long.
Halloween Hint: Add these gifts to your own Elfster Wishlist – it's an easy and polite way to let everyone know what you really want! Wanna share your love of Halloween with your friends and family? Start a Halloween-Themed Secret Santa to give and get gifts that'll get you ready for spooky szn!!
Connect with Elfster for gifts, giveaways, and great news on Facebook and Instagram for more ideas that are sure to heat up your summer.
Elfster may receive a small commission for any clicks or purchases made on an affiliate website using links on our site.