Just as every book has its own story to tell, so too do the eyes that are cast upon their pages. Through the lens of an author of color, they share the diverse voices of Black culture from their perspective. As readers, this gives us the opportunity to learn from their life experiences and appreciate their story.
But some stories have been harder to tell, through no fault of the author. Writers of color — especially women — are often overlooked by the large publishing houses in their efforts to share their story. In fact, according to a recent opinion piece in the New York Times, progress has been made in recent years, but the disparity between black and white authors still exists:
Author diversity at major publishing houses has increased in recent years, but white writers still dominate. Non-Hispanic white people account for 60 percent of the U.S. population; in 2018, they wrote 89 percent of the books in our sample.
To celebrate literacy and give a voice to the Black authors who have been underrepresented for far too long, one community of readers has come together to ensure these stories are told.
Amplifying the Voices of Black Culture
Meet Christina Imohokpomoh, the Founder of Black Girls Read Books, Too (aka BGRBT), an online community she brought to life after she saw there was "a lack of black reading interest groups for womxN."
Through this social media trailblazer's extraordinary efforts, she is correcting the dated misperception within the publishing world that 'black people don't read.' Since its inception in 2016, her Facebook community has grown to over 35,000 followers and boasts nearly 17,000 on a public Facebook page. Both are focused on empowering one another and ensuring equality.
"The members of the group are very active," Christina explains. "We have hundreds of posts per day recommending books, movies, poetry, discussions on intersectional feminism, the black experience, pop and daily news."
Looking Through The Lens of Intersectional Feminism
To better understand the mission of the group, I thought it would be worth taking a closer look at 'intersectional feminism' and how that may affect its members.
As feminism advocates for women's rights and equality between the sexes, intersectional feminism also takes into account how a woman's overlapping identities, such as race, class, ethnicity and sexual orientation, may additionally affect how they experience oppression and discrimination.
According to Juliet Williams, professor of gender studies at UCLA, "Intersectional feminism is a form of feminism that stands for the rights and empowerment of all women, taking seriously the fact of differences among women, including different identities based on radicalization, sexuality, economic status, nationality, religion, and language. Intersectional feminism attends to the ways in which claims made in the name of women as a class can function to silence or marginalize some women by universalizing the claims of relatively privileged women."
But this motivated community will not be silenced.
"As an African-American focused book group, we were deeply affected by the Civil Unrest and the pandemic in 2020 ," says Christina. "Many members used the group as a place of respite and discussion for growth/change. We've had more discussions on race, being active in the black community, and using the group as a resource of information. Since the nationwide lockdown we've had more In depth discussions on Black Feminism, Spirituality, and the struggles Black Authors face to generate dialogue and hopefully change."
Several times a month, the BGRBT admin team hosts Facebook Live events to give the community the chance to meet with various authors. They've hosted talks with well-known authors like Tiffany D. Jackson, Farah Rochon, Nancy Johnson, Elizabeth Acevedo, Colleen Hoover and Sharon Flake who work with large publishing houses, but they also spotlight indie authors like C.C. Solomon and Tanzania Glover.
"Many authors and their publicists contact our group to seek out opportunities with BGRBT on social media," she explains. "Members have said to us the FB Lives with authors are motivating: it lets them know that they can write their own novels, learn about the book writing process, and meet a lifelong goal of being a published author."
Gift Exchange to Celebrate Literacy & Black Culture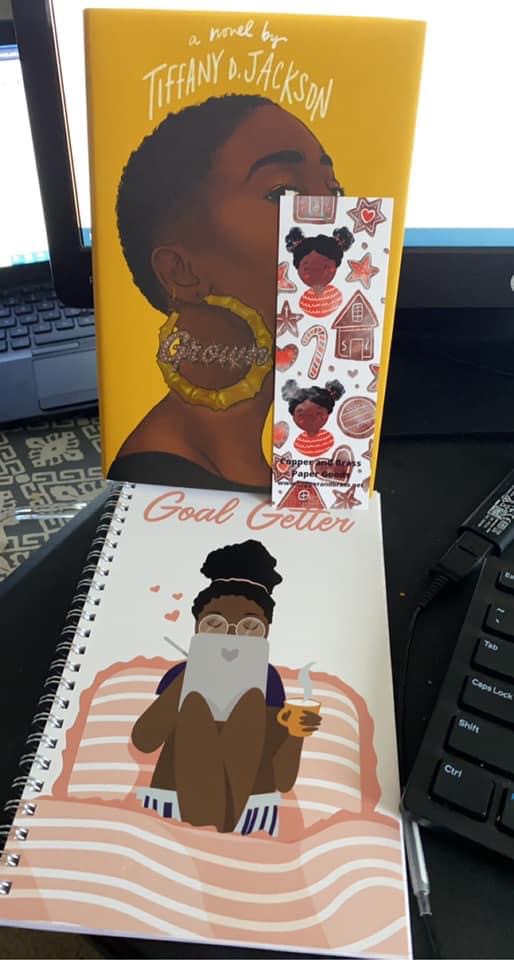 As another way to connect and bring some fun into the mix, Christina has hosted several Elfster Gift Exchanges for her community.
"Members expressed interest in doing a book exchange for some time and I love to do exchanges in general with friends, so I sprang into action," she says. "People really enjoy the exchanges and one time we had over 300 people participate in an exchange." So far, Christina has hosted 6 exchanges at different times of the year with more fun in the works!
"People have become friends after the exchange, they continue to keep up the exchanges amongst themselves — even becoming pen pals. They call each other "Book Besties," "Book Baes," "Book friends" lol.
What are the expectations for those who participate?
"Members that participate must provide proof of sending packages via screenshot of orders, USPS/Fedex receipts, and picture of the mailing packages," Christina explains. "Members typically have a minimum budget of $20-25 and the packages must include books. Participants are welcome to go above and beyond the spending limit. Exchanges also must include a wishlist or Amazon list, to ensure their gifter gets things they like."
And what are a few of her favorite things? "I enjoyed receiving the Concrete Rose by Angie Thomas and nursing school supplies," Christina reflects.
With another Book Exchange in the works for this summer, we can't wait to see what's in store for this inspirational group!
Black Authors Matter
Want to connect to get to know Black authors who are making a difference? Join the BGRBT Facebook Live discussions for March 2021 which can be found on the group's Facebook page: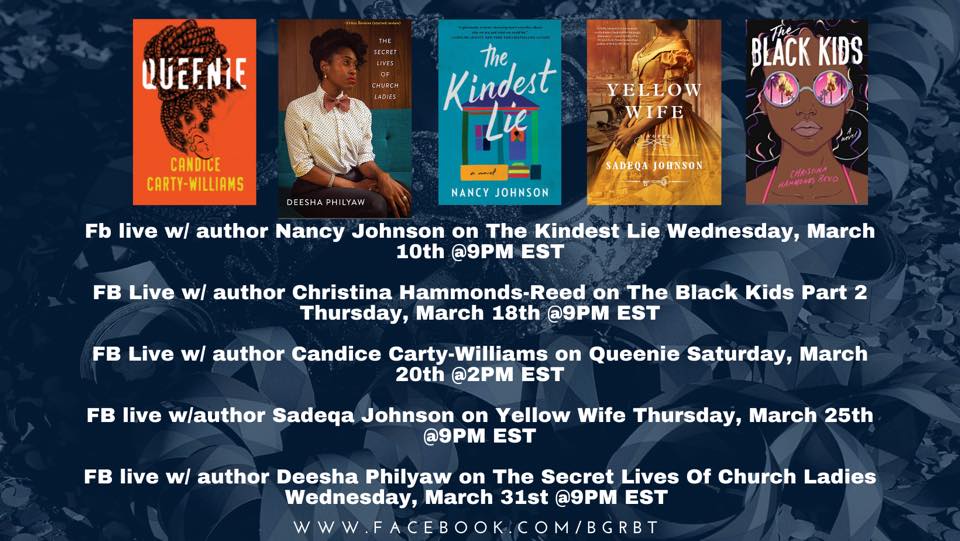 A big thanks to Christina for allowing Elfster to help bring her community together on a more personal level to spread generosity, which is what it's all about! The elves are looking forward to helping the BGRBT connect again soon for their next exchange.
Set up a Secret Santa gift exchange today to connect your online community! Looking for some great gift ideas or something perfect to add to your Elfster wishlist? Browse Elfster's gift guides for inspiration! Share your favorite ideas with us on our Facebook page, on Twitter @Elfster, and on Instagram @Elfster.