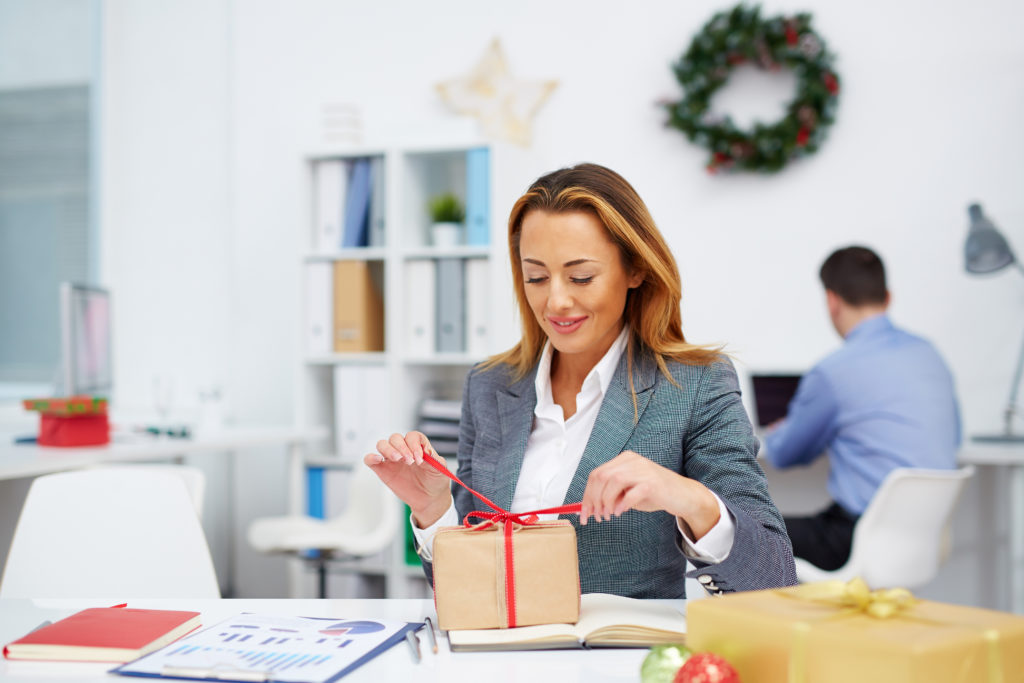 All right—Secret Santa time at the office! You've entered your name in the Secret Santa generator and are ready to see who you're paired with this year. Will it be your friend in accounting? Your favorite lunch buddy? Or the new woman, who you'd love to get to know better? Oh, the endless exciting possibilities!
Oh, wait—you got your boss. Well, might as well quit and find a new job.
Okay, so you don't have to be that dramatic, but drawing your boss's name can seem nerve-wracking. You want to get them what they want but don't want to be obsequious about it. You don't want to disappoint. And by gosh, you certainly don't want to offend. I have vicarious shiver-cringes at the thought of my boss opening a present and saying, "Why did you think I'd find this funny?"
Luckily, you can avoid that. Here are some great Secret Santa gifts for the boss, as well as advice on how to make the gift exchange fun for all.
Tips for an Office-Safe Gift Exchange
There are a lot of ways to make sure Secret Santa is fun for everyone. You don't want anyone to feel like they either have to participate in something they don't enjoy or risk being a "wet blanket" if they decline. So, think about what will be fun and comfortable for the whole group.
Follow these tips for an office-safe Secret Santa:
If doing a theme, make it work for everyone. Office-safe themes make for office-safe gift ideas, like books or coffee or fandom.
Include an option for a virtual office gift exchange. That way, no remote workers are left out, and if you all suddenly have to work from home, the gift exchange can easily go home with you.
Consider setting a price limit. This is usually good advice anyway, and that way, you won't have to worry about breaking the bank to please the boss. ("Oh, I'm sure she'd like this fully-intact dinosaur skull!")
Use a Secret Santa generator that lets people make wish lists. The best ones let you make wish lists from multiple stores. That way, no one has to worry about guessing what gift someone would like, a strategy that can lead one down a short path to Cringe City.
Encourage people to make multiple wish lists. After all, what your boss has on their friends' gift exchange list might not be right for you to get them. Separate lists, happy employees.
Make sure people play by the rules. Stay within price limits. Nobody likes the person who adds a homemade scrimshaw carving or whatever. "It's free, but also priceless, boss!" Blech.
Use a Secret Santa generator that lets you browse gift guides. This makes it easier for the boss to find exactly what they want, so you don't have to worry about getting the wrong thing.
So, what are some great Secret Santa gifts for the boss? Here are seven that should work nicely.
7 Great Secret Santa Gifts for the Boss
We're not saying that these gifts guarantee a promotion, but…okay, we're absolutely not saying that. Legally, even as elves, that would be ridiculous. But these gifts for the office definitely de-stress the opening experience.
Needless to say, these are pretty generalized. Not every boss will like these things. You have to know the person. But, these are the kind of gifts that are the least harmless—they are actively helpful and thoughtful while remaining 100% appropriate.
Be the Boss of Secret Santa
Honestly, getting a gift for the boss shouldn't be stressful. They're a human being too. They're someone you know. And, they likely have the same stresses, aches, and pains that you do. When considering their Secret Santa gift, think of them as a person, and not just the boss, and go from there.
If you use a Secret Santa generator that lets you create wish lists, and if you just remember that you're all just people trying to make each other happy, everything will be fine. It's a time to be happy. Let yourself be happy, and happiness will flow in all directions…even up the hierarchy chart.
Looking for an easy gift-buying experience, for the boss or anyone else? Use the Secret Santa generator that makes everything easy for everyone, whether in-person or remote. Thanks to Elfster, you can easily shop for gifts and start a Wish List. Plus, you can access it all from an iPhone app or Android app.