Relax. Take a deep breath. In. Out. Ahhh. Now think of your happy place and the people you'd love to be with in that place. I'm sure it is a moment filled with laughter, joy and a little sunshine. And these days, we could all use a little sunshine in our world.
No doubt, the past few months have been a challenge. As we all faced the uncertainty of an unprecedented global pandemic and the challenges that come with that, days turned into weeks, weeks into months and before you know it, here we are. And believe me, as a self-described social butterfly, social distancing and staying home have not been easy.
But we are strong. We've adapted. We've adjusted. And we've all found new ways to connect, and for new reasons.
"Disney's Closed… Now What?"
When Disney Theme Parks all over the world closed their doors to the mouse-loving public in mid-March, the hearts of many sank. Understandably, the indefinite closure of the iconic "happy places" for the masses — Magic Kingdom Resort, Disneyland Resort and all other Disney resorts — left park lovers reeling.
One community certainly hit hard by the news was the "WDW Radio Box People" group, an online community led by Disney guru Lou Mongello of Orlando, Florida. Lou is founder and host of WDW Radio, an award-winning family-friendly Disney information podcast, who has built an empire based on his love for Disney.
"I am the founder of the site and community," he explains. "A little bit of backstory: I am a former attorney who pursued my passion for Disney. I am the author of multiple books and audio tours about the parks, and am the host of WDWRadio.com, an award-winning podcast about the Disney Parks, brand, and Studios, including Marvel and Star Wars. I am also a speaker and coach who helps others pursue their passions and build their businesses and brands by sharing lessons learned from Disney."
But above all, Lou is passionate about the social bonds created within his community. Now that the Disney Parks could no longer be that place to connect, Lou got creative in his approach to reaching his loyal audience.
"Community is at the heart of WDW Radio," he proclaims. "Since starting my first online discussion forum in January of 2004, I have always endeavored to create a friendly, welcoming place and space where anyone and everyone can come and share their passion for Disney. But it also goes far beyond that. It is something that exists beyond the confines of a Facebook group, online conversation, or even in-person events. It's the people, individually and collectively, who make up the community."
"I believe in caring at scale, about every single person. But to be clear… I just built the 'clubhouse'… it is the community that populates it, and helps it grow. I care more about the people who are already there, than worrying about trying to just grow numbers. If you care for and nurture people authentically, they will become your community's most loyal evangelists, and help bring others into it," Lou adds.
How has the current global climate affected this community?
"Since 2008, I have held free, monthly meetups in Walt Disney World with our community. When Covid hit, I immediately went beyond my weekly Facebook LIVE shows (which I have been doing since 2007), and held our first 'Virtual Meet of the Month' via Zoom. There is no topic… no agenda. It's just a way and place for people to be able to come together, know they are not alone, and be amongst friends in a very safe, judgment-free, and welcoming environment," he says.
To reinforce the connections within the community, the group decided to take a bad situation and turn it into something positive — with a dash of Disney Magic. Just as we all tried to find our "new normal," a member of the community had a brilliant idea and a way to brighten the day of someone who may need a little sunshine.
"You are not alone"
"When the Disney Parks closed and the stay at home orders began, I thought this would be a time where we could all use a little magic," explains full-time teacher and part-time Elfster Gift Exchange organizer Shannon King (aka Shannon the Elf) of Santa Clarita, California.
"This community is so giving and kind — seriously, you won't find a nicer group of people on Facebook! The WDW Radio Box People Group (check us out!) is filled with such positivity! The idea of doing a simple magic mail — sending another member a letter or card — was really what we needed to help us feel connected and not so alone," she says. "The response was wonderful. Many posted pictures on our Facebook group of the cards they got. Many enjoyed seeing the cards even if they weren't able to join the exchange. This community is amazing. Many people sent more than just a card, too."
As an experienced elf when it comes to the planning of fun Secret Santa Gift Exchanges, it took just a few clicks on the Elfster website and Shannon's "Magic Mail" exchange came to life. Each participant was paired randomly with another person and Elfster gave them the tools to connect, not only virtually on the website, but by sending an uplifting card by mail.
The expectations for participants were simple:
Let's stay connected and spread some Disney Magic during these difficult days! All you need to do is mail a letter or card to your person. Introduce yourself and send magic! Please do not exchange letters in person – make sure to mail your letter.
"I listened to Lou's podcast for years," she explains. "There had been an ornament exchange for several years and when the person organizing it stepped down, I offered to take over. (A little extra on how we came to Elfster: When I took over in 2017 I was doing everything by hand (!!) for our ornament exchange. In 2017 we had around 140 people and in 2018 we grew to around 220. It really was becoming too much for me to handle matching that many people and sending out so many emails. I didn't want to set a limit because this has become an event the community looks forward to — and then we found Elfster. Now I don't have to set limits to participation! It has been so much better!)" The group's 2019 WDW Ornament Exchange drew a crowd of 390!
Spreading Disney Magic
Lou gives credit where it is due for spreading some Disney Magic this time around. "The Gift Exchange was ALL Shannon's idea! All credit goes to her for concept, planning, and execution. But that illustrates my point — everyone in the community truly 'belongs,' has a say, and can choose to be as active as they would like, and even take initiative to help foster meaningful engagement. I am privileged to participate and watch how her idea has sparked such passion, joy, and even new friendships among the WDW Radio family!"
And if you can't be together in person, connecting virtually with like-minded folks has its benefits these days.
"I am a teacher and am now teaching from home," Shannon relates. "This is unlike anything I have ever experienced. I miss my students daily and I miss being able to connect with friends. I live on the West Coast so I am lucky enough to get to go to Disneyland which is truly my happy place. With the park being closed, I don't get to connect with the people and joy that come with visiting the park. So, the online community that Lou started was a way for me to still feel connected."
"So many of the nearly 175 people that participated shared photos, comments, and posts in our Facebook community," Lou explains. "This simple exchange did so much to lift spirits, brighten days, and remind people that even while isolated, they were (and are) never alone.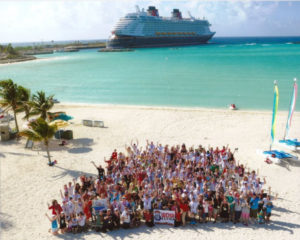 "I talk (and present) about creating community quite a bit, so I could easily go on for a while about the importance of community. If I had to keep it short and simple, I'll go back to what I said before: you need to CARE. AT. SCALE. Forget about the numbers… but remember that every like, heart, follow, share, comment, member, etc. represents a real person on the other side, who is giving you their most valuable commodity, which is their time. Treat everyone like a friend, because that is how they look at you. Remember that people just want to belong, be noticed, and feel appreciated… those feelings are powerful… and cost nothing to give.
"Always keep in mind that positivity is contagious. You have the power, ability, and even responsibility as a community leader to care for everyone in your community."
A Disney Community Making a Difference
Not only is the WDW Radio community making a difference for its members, but for the world.
According to its website, the "Dream Team Project," through its founder, Lou Mongello, and countless volunteers, is working to help make a child's wish come true. With your help, we can send a seriously ill child and their family to Walt Disney World with the help of the Make-A-Wish Foundation.
"I couldn't do any of this without people like Shannon, and everyone else in the community. I would also like to give them HUGE credit for positively impacting the lives of others as well," says Lou. "Together, the WDW Radio community has raised more than $300,000 for the Make-A-Wish Foundation of America to send children with life-threatening illnesses and their families to Walt Disney World. THAT is the power of real community!"
"Just a fun tidbit on how things like this help us connect," Shannon adds. "For the 2015 ornament exchange I received a letter and an ornament from Wisconsin. I wrote a thank you and then we started mailing Christmas cards. In 2017, we were on the same cruise (our WDW Radio Double Dip Cruise) and got seated at the same table! Since then, we have been meeting up everytime they travel to California for a Disneyland trip. It is these types of friendships that have developed out of our community that are invaluable." How awesome!
As parks reopen and we emerge from our social isolation, we may just find our world has grown thanks to a new friend made along the way. We may feel more connected than ever thanks to a little magic. And always remember, you, too, can be the sunshine to brighten someone's day!
Our thanks to Lou and Shannon for sharing the story of how they helped to strengthen the bonds of friendship in their community, just when they needed it most. Your unselfish deeds do not go unnoticed!
Looking for an easy way to spread joy in your community? Try a Secret Santa generator that simplifies the process. Elfster makes it easy to pair people up, shop for gifts, and start a Wish List. Plus, you can access it all from an iPhone app or Android app.