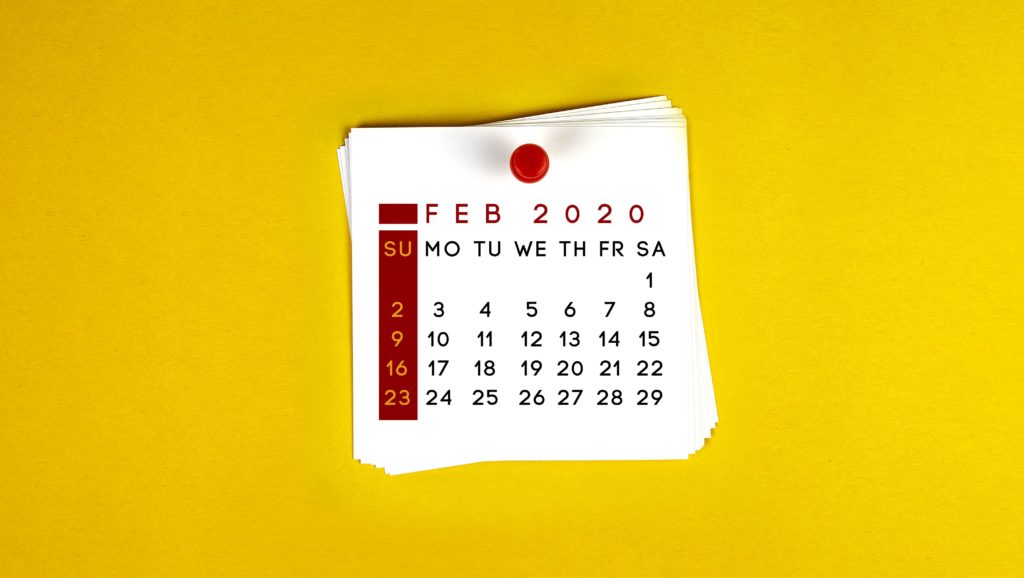 Sigh… the excitement of the holidays is now a distant vision like Santa's sleigh flashing across the starry sky. I'm sure we can all agree that winter may have lost its luster. These days, dashing through the snow may feel more like slogging through the slush.
As the fresh vibes of the new year drift into February we feel the love. Lucky for us, we have something special coming our way. An extra day to bring back the sparkle!
The calendar's most elusive day has arrived! February 29 (aka Leap Day) is making an appearance for the first time since our last leap year in 2016.
So why do we even have Leap Year? Well, here's how the folks at History.com explain it: Nearly every four years, we add an extra day to the calendar in the form of February 29, also known as Leap Day. Put simply, these additional 24 hours are built into the calendar to ensure that it stays in line with the Earth's movement around the Sun. While the modern calendar contains 365 days, the actual time it takes for Earth to orbit its star is slightly longer—roughly 365.2421 days. The difference might seem negligible, but over decades and centuries that missing quarter of a day per year can add up. To ensure consistency with the true astronomical year, it is necessary to periodically add in an extra day to make up the lost time and get the calendar back in synch with the heavens.
And what to do with this "bonus" day? The possibilities are as endless as the stars in the sky. But why not use that extra time to be kind and consider this seasonally-appropriate Secret Santa theme?
A Secret Santa Theme That Will Have Friends Jumping for Joy
Starting with last Leap Day in 2016, Harriet Evans of Seattle, WA is leading a movement of kindness and reaches out to friends from all over the world to join in an annual tradition — a Leap Day Gift Exchange using Elfster's Secret Santa Generator.
"February is a hard time of year. The winter holidays and the excitement of the new year have passed, but it's not yet spring. This Gift Exchange is conceived as a way to inject some fun into this difficult period," explains Harriet. "Leap Day (or, when it's not a Leap Year, we say Leap Day (Observed) on Feb 28th) seems like a good day to celebrate as part of this gift exchange."
"We met at least fifteen years ago (maybe longer. . . it's been a very long time!) on an online feminist forum, where we connected over discussions of feminist theory and our experiences as women living in a patriarchal system," she explains. "In time, the forum disbanded, but a group of us who had become friends formed a new Facebook group to continue to support and uplift each other through good times and bad. There are about twenty of us, but not everyone necessarily participates in the exchange. This year, there are 11 of us participating."
A Secret Santa Theme That's All About Kindness
And no time like the present to do something kind for one another to lift their spirits. "It's easy to get caught up in the day-to-day stresses and events of life, but the Gift Exchange provides an opportunity to take a little time to send something nice to someone that, though we've known each other a long time, have most likely not met in person. It's a great way to show that we care about each other," she adds.
As Harriet points out, "it's always cool when someone gives a homemade gift, like hand knitted yoga socks or a stained glass window decoration. My favorite thing that I've ever received was one of those kitchen timers shaped like a chicken, you know the ones that turn as they tick around? I once sent a friend a custom-designed and framed cross-stitch, which I was very proud of, both as an art piece and that I got it completed and sent in time."
"We have a hashtag #noshame2020 (or whatever year it is) regarding gift expectations," Harriet explains. "Sometimes, we don't have a lot of time to make an elaborate homemade gift or money to give something expensive. Sometimes, all we can manage is a card. But that's okay, because it's really the thought that counts."
5 Fun Facts About Leap Year
A person born on February 29 is called a "leapling" & there are 4 million worldwide
Astrologers believe people born on February 29 have unusual talents, such as the ability to burp the alphabet or paint like Picasso
Notable leaplings who will surely be celebrating on February 29:

1960 – Tony Robbins, American motivational speaker
1972 – Antonio Sabàto Jr, Italian-born actor
1976 – Ja Rule, American rapper/actor
1980 – Chris Conley, American musician and songwriter/composer

There is a one in 1,461 chance of being a leap day baby
Historically, women often choose this day to propose marriage to men (Queen Margaret of Scotland was apparently five years old when she came up with the notorious February 29 proposal trap in 1288)
Organizers all over the world are busy not only connecting like-minded gifters, but building community through these acts of generosity using our platform. We love to highlight their work and dedication, so we hope putting a focus on individuals in our Community Spotlight posts inspire you! The Elves would love to share your own community's Elfster success stories too! Just drop me a line at meghanl@elfster.com or find us on Facebook, Instagram and Twitter.