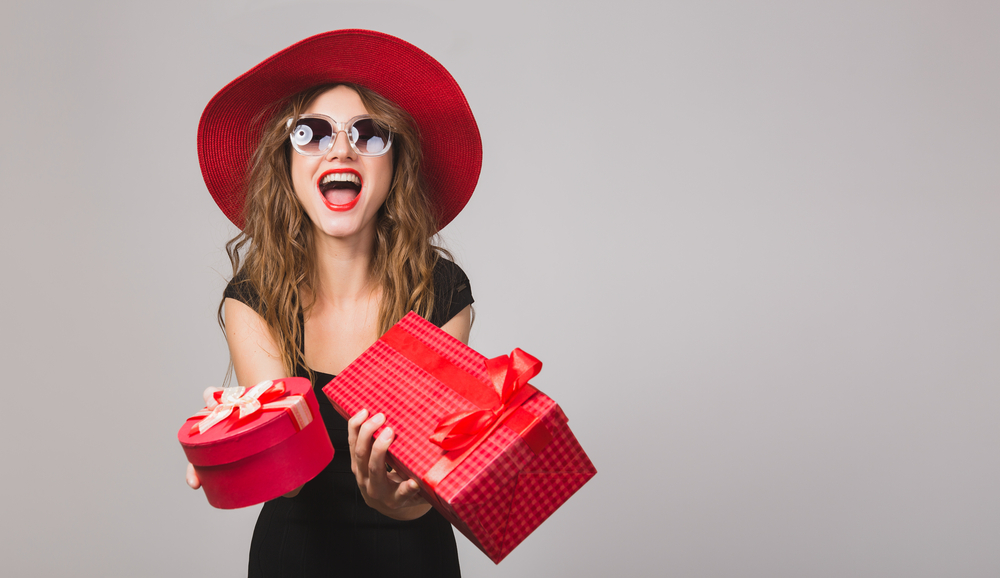 My wife and I were discussing whether she and her friends were going to do something this year for Galentine's Day on February 13th, and we started talking about what they'd done in the past. Of course, we could only go back so far. After all, the holiday was invented by a TV show in 2010. 
But it doesn't seem that way, does it? When Leslie Knope first told us about "Galentine's Day" in Parks and Recreation, it was so perfect that it felt like it had always been around. Valentine's Day is about you and your significant other, but this holiday is just for the girls. 
Galentine's Day is a day to celebrate female friendship. It's a day to honor the people with whom you share secrets, advice, sadness, and joy. It's a day for being stronger, and happier, together. 
And if you're following in the footsteps of Leslie Knope, it's a day to exchange gifts. A Galentine's day gift exchange celebrates all the themes of your friendship and can be a great way to celebrate all the wonderful women in your life.
Where to Have a Galentine's Day Gift Exchange
The "traditional" place to have a Galentine's Day gathering is at a breakfast/brunch spot where you can load up on whipped cream and toast with some mimosas. Of course, this day is about freedom, choice, and you. So, pick a place that works for everyone. 
Some Galentine's Day ideas include:
Spa day
Ski trip
Beach (if it's warm where you are)
Dancing
Sporting event
Playing your favorite sport
Someone's house
All of the above!
The point is, there's no wrong way to celebrate your sisterhood. Do something that has meaning to you and that you'll all enjoy.
The Easiest Way to Get Galentine's Day Gifts
Let's talk about gifts. 
Now, Leslie was a pretty big gift-giver. In the first Galentine's Day, she gave all her friends "a gift bag with a bouquet of hand-crocheted flower pens, a mosaic portrait of each of them made from the crushed bottles of their favorite diet soda, and a personalized 5,000-word essay of why they're all so awesome." 
That's… well, that's quite a lot. You don't have to do this. What you can do is organize a gift exchange so that everyone gets something, but no one has to break the bank finding gifts for everyone. 
The easiest way to do this is to set up an online gift exchange. An online platform can assign people their gift recipient so you don't have to draw names or partner up. But the really great thing is that you can all make wish lists.
Making a wish list online allows you to choose what you want from the top retailers on the internet. You can add items to your list with a single click. You can even take pictures of what you want and upload them to the mobile app. What's more, you can easily buy online directly from your person's list. 
So, what's the perfect Galentine's Day gift? Well, it depends on your theme.
Top Gift Themes to Celebrate Galentine's Day
You don't have to do a theme. It can just be "let's get each other cool gifts." But some people find that gift exchange themes bring more focus. 
Here are some of our favorite themes for Galentine's Day: 
Galentine's Day itself. I mean, this is a pretty fitting one. More companies have recognized the awesomeness of the holiday, which means there's a wealth of Galentine's themed gifts. You can celebrate the day by celebrating the idea of the day. 
Girl power. Girl power themed gifts include shirts, games, books, necklaces, and more, all celebrating the same thing: it's pretty powerful to be a woman, so watch out. 
Gadgets. Everyone loves the little devices that make life easier and more fun. Do you and your friends geek out about tech? Then gadget girl theme gifts might be the perfect choice. 
Yoga. My wife and her friends have been practicing yoga for years. One year, they had a yoga-themed gift exchange filled with mats, rollers, pants, and books. A little inner peace goes a long way. 
Health and Wellness. Health and wellness isn't about pleasing people; it's about being yourself and knowing your power. That's why health and wellness theme gifts are always great on Galentine's Day. 
Treat yourself! Okay, we're using another Parks and Rec idea. Treat yo self! Or in this case, treat someone else… and be treated by them. For this, luxury-themed gifts are great. Maybe even a "treat yo self" spa set? Why not? It's your holiday. 
There aren't any wrong themes. When you know who you're giving a gift to, find the right gift guide for her and figure out the perfect way to celebrate. 
A Galentine's Day to Remember
It's pretty amazing that a fake holiday from TV has become a real thing. But why not? Galentine's Day celebrates everything about strong female friendships, and those should be celebrated. We're still doing a Valentine's Day gift exchange, but I'm way more excited to hear stories about my wife's Galentine's party the day before. If there are any for my ears, of course. 
Theme or no theme, breakfast or no breakfast, even gifts or no gifts, the spirit is always going to be there. When you're surrounded by the women you love and you're breathing in the joy of sisterhood, you know you're celebrating Galentine's Day right. Miss Knope would raise a bowl of whipped cream to you. 

If you're doing a gift exchange for Galentine's Day, you want a Secret Santa generator that makes everything go smoothly. With Elfster, it's easy to pair people up, shop for gifts, and start a Wish List. Plus, you can access it all from an iPhone app or Android app.