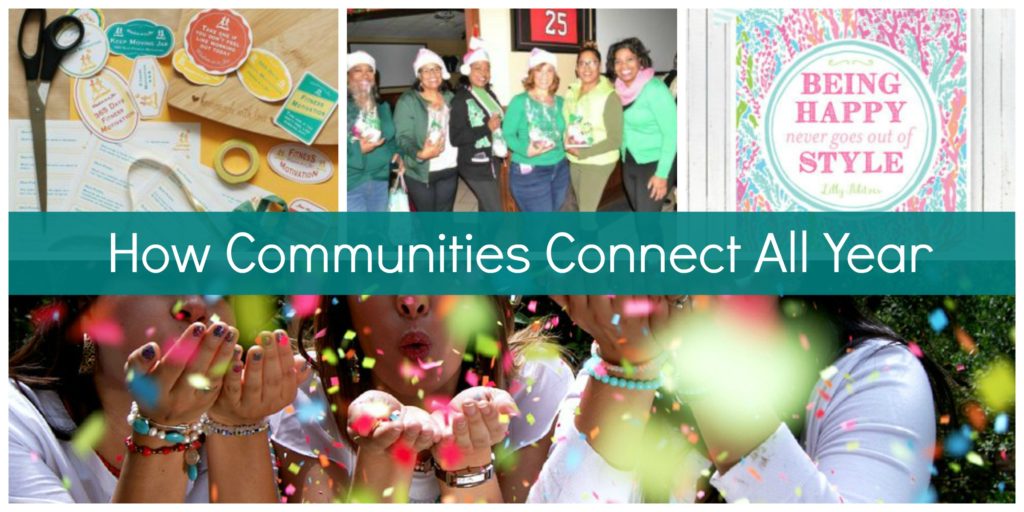 At Elfster, we think every day should be a celebration!  It goes without saying: " 'Tis always the season of giving!" And since we're in the business of bringing people together through acts of generosity all year long, we're sharing the stories of some of the many ways people of shared interests are using Elfster to stay connected.
Here's our list — we checked it twice — of how 50 Amazing groups are staying connected and the ways you too can use Elfster to have a little fun as you strengthen the bonds with your family & friends:
Creative Gifters
DIY & Handmade gift exchanges hosted by our many artistically talented communities allow groups to take pride in their craft and focus on their particular area of creative expertise as they bring their art to life. We love how the knitters in the Everyday Knitter group (#1) swap their precious supplies to inspire one another for their next project, while hand-crafted masterpieces from the heart are a favorite for creators of everything from unique pottery gifts (#2) to decorative wreaths (#3).
Photographers who are part of the monthly Postcards from Afar (#4) exchanges have spent the past few years sending their original photography on postcards all over the world, and members of the worldwide Emulsive Film Photography (#5) community inspire one another to keep their art alive in the digital age by exchanging what they cherish most — weird and hard-to-find rolls of film.
Authors & Bloggers
Connecting readers through a meaningful gift exchange is a great way to strengthen a community with a shared passion.
Chantelle Ellem, creator of the Fat Mum Slim blog (#6) has inspired her readers to take action and give back through their annual Elfster gift exchange while Dad Bloggers (#7) get together to swap "guy stuff" for Father's Day and share their own tales of modern fatherhood.
And speaking of passion, several indie authors (#8) of "sexy fiction" host frequent exchanges with their devoted readers and join in the fun, too!
Book Clubs
All year long, Book Clubs and Reading Groups (#9), are using Elfster to share their passion for reading, as well as the authors they love. From ebooks to paperbacks, new or used — with an endless variety of genres — the possibilities for a great book exchange are endless! And don't forget about a birthday exchange for those Book Babies (#10)! It's never too early to love a great book!
Health & Wellness Motivators
Embracing a healthy lifestyle sounds so simple. Eat less. Move More. Easier said than done. All it takes is a little motivation, so members of the Weight Watchers world are using Elfster to help them offer that extra boost of encouragement.
Through "accountability buddy" gift exchanges, they share fitness-focused gifts as they Send the Love (#11), and even spread words of wisdom for the over 50 crowd (#12). Taking advantage of modern technology, the Peloton Partners (#13) are matched with another elf to schedule a virtual bike ride and get to know one another, no matter where they are — no excuses.
On Campus and Beyond
Social gatherings on any university campus are bound to happen, so the possibilities for sharing school spirit are endless. University sports teams are using Secret Psych (#14) exchanges to get pumped for their next big tournament, Secret Sorority Sisters (#15) are happy to welcome new members with Greek goodies and personalized paddles, but there's nothing better than a little boost (as simple as a cup of coffee) from a Study Buddy (#16) to offer a shoulder to lean on when exam time comes. Students who share an interest in their own major (#17), like one group of design students at University of California, Berkeley, have plenty in common when they swap tools of their trade.
And here's a great idea for an new student icebreaker: to get to know one another when they first arrived on campus, the Columbia University Class of 2020 cleverly used Elfster to connect with each other as they attended new student orientation (#18), making the transition to campus life a little easier from day one.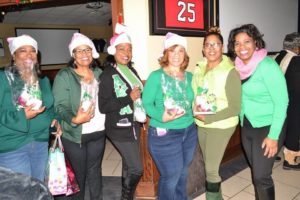 Alumni groups (#19) are keeping those college connections, but one amazing group of 14 ladies in particular is the tight-knit Life After College: 14C Style (#20) group, who hosted their first Elfster exchange as freshmen dorm neighbors at Boston University over a decade ago and have not missed a year since, no matter where their adult lives have taken them! Celebrating the bonds of sisterhood is important to many groups, especially the women of Alpha Kappa Alpha (#21) who honor their sorority's history with their year-long exchange.
In The Classroom
From kicking off a brand new school year with motivational gifts for their classroom (#22), to wrapping up the year with an End of Year Teacher Survival Exchange (#23), and even those sharing the gift of knowledge (#24) as they use Elfster to pick partners for "Peer Visits" to prep for annual testing, we appreciate the teachers and staff who inspire, motivate and guide students on their pathway to success. Deserving educators everywhere, whether virtually or in the teacher's lounge down the hall, encourage one another and celebrate their commitment to education.
"You never need a reason to plan a fun secret santa gift exchange to bring happiness to your own social circle or online community…"
Parents Supporting Parents
Gifting never goes out of season for the thousands of groups of expecting parents, stay-at-home moms & dads, moms of only boys, burned out parents of twins & triplets (#25) (yikes!), parents celebrating birthdays for the kiddos, or mom squads pampering each other who use Elfster to connect for any occasion! From Punky Moms (#26) in the UK who are raising "rad kids" to West Point moms (#27) who honor their children who serve, a gift from the heart is well-deserved.
Fandoms & Collectors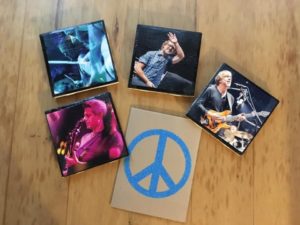 So what are YOU really into. When it comes to pop culture, we all have that one thing — our favorite band, an awesome television series, the coolest comic book — that we just can't live without!
Fan groups love to celebrate with themed exchanges — like the musically-inspired Phish Chicks (#28) who really dig their favorite band, the tight-knit Zamily (#29) who can't get enough of the Zac Brown Band, the costume-obsessed Outlander (#30) fans who adore the wardrobes of their favorite TV series and the Harry Potter-loving Hogwarts Running Club (#31), who always put their best foot forward.
As crowds of Disney Fanatics (#32) are celebrating their favorite princesses, Star Wars fans (#33) are hosting exchanges focused on their collections of figures, models and memorabilia, while Fiestaware lovers (#34) recently hosted a dish towel exchange related to their shared love of the colorful and timeless tableware.
Sports Lovers
There is no sitting on the sidelines when it comes to an Elfster gift exchange! Whatever team you are rooting for, swapping your favorite gear is a sure way to cheer your team on to victory! After a long season of managing a fun sports league with generosity as its core value, leaders of the ZogSports league (#35) took their fun seriously with gift exchanges all over the country.
Style & Fashion Makers
"Style is a way to say who you are without having to speak."
— Rachel Zoe
From the bright, bold statement embraced by lovers of Lilly Pulitzer's (#36) timeless look, to the comfortable, laid back look of LuLaRoe (#37), communities with a passion for fashion love to share their style with others with similar taste.
Makeup lovers who are part of the Glam Gift Exchange (#38) are helping each other to feel pretty as they share gifts to put their best face forward.
Foodies
As they say, the way to a person's heart is through their stomach! So what better way to make a friend than sharing your hometown favorites (#39). Local goodies are being shared this spring in the "You Enjoy My Food" (#40) exchange of delicacies and Ireland's most popular snack foods are making their way from the Emerald Isle to places all over the world in the "Sisterhood of the Traveling Taytos," (#41) an exchange for expatriates who miss their hometown yummies! As summer nears, BBQ lovers (#42) will be celebrating the season with gifts to make your mouth water and beer lovers (#43) will be brewing up some fun! And don't forget dessert for the sweet-tooth in all of us — cookie exchanges (#44) aren't just for the holidays!
Just to Say Hello
"There is something gentle and authentic about a handwritten letter." — Emma Mitchell, Elfster exchange organizer and creator of The Handwritten Letter Project (#45).
Through her year-long exchange, participants from all over the world took the time to hop offline and put pen to paper to send meaningful messages to one another. The idea caught on big time in the UK, as hundreds of members of the uber popular Happy Mail (#46) and Mail A Smile (#47) communities continue to send cheery greetings by snail mail every month to spread joy.
Celebrating Our Heroes
Elfster is particularly pleased to help connect members of the military members, first responders, as well as those who support them on the homefront. Since 2012, as wildland firefighters  are bravely battling blazes, their loved ones (#48) continue to use Elfster to lend a supportive hand. And First Responders (#49) who are fans of the Drinkin' Bros. podcast developed more personal connections with another hero.
Pet Lovers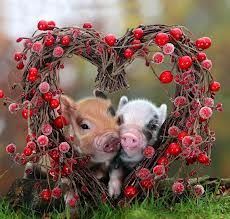 They're loyal, faithful and love unconditionally, so it's no wonder pet lovers are so passionate about their pride and joy!
Dog lovers in the Doodle Family group (#50) has been celebrating their canine companions for the past several years, with gifts sure to please even the finickiest pup.
And last but certainly not least — As they say, beauty is in the eye of the beholder, so mini pig owners all over the place are squealing with delight as they swap treats and toys for their Secret Piggies (#51) every few months!
You never need a reason to plan a fun secret santa gift exchange to bring happiness to your own social circle or online community. It takes just a few clicks, doesn't cost you a penny and is the perfect way for folks to get to know one another even better… beyond the social media comments.
Are you a part of a community connecting on Elfster? We'd love to hear your story too! And if you are looking for inspiration for gift giving ideas perfect for your community– no matter what the occasion — be sure to Shop Elfster. Elfster's Facebook page is also sure to offer some any time ideas. You can also follow Elfster on Twitter @Elfster and on Instagram @Elfster.