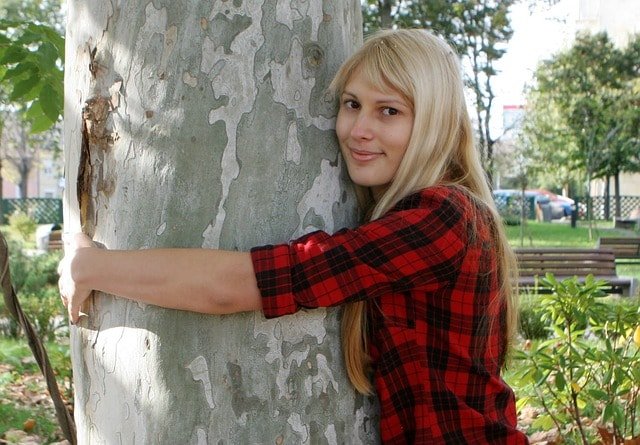 Walking through the halls of my office building one day, I discovered something magnificent. While wandering down a rarely used hallway, I saw a door with a crack of light coming from underneath. I didn't think there were any offices in that part of the building and, curiosity getting the best of me, I put my hand on the doorknob and opened it.
To my surprise, the door opened not into a room but into a small outdoor courtyard. It clearly hadn't been used in a while; the potted plants were brown and bedraggled and the grass was yellow and dry, but it was still a bit of green in the middle of the city. I excitedly told my co-workers about it, and we made it our mission over the next few months to rehabilitate the space.
We pruned, pulled weeds, and replaced some of the plants that had sadly gone to the great greenhouse in the sky. In the end, we had a vibrant green space that everyone in the building could visit when they wanted to get away from the fluorescent lights for a while. Even in the middle of the city, it was apparent how much we valued these living green things, and their effect on our moods was palpable.
These days, we often get disconnected from the planet around us. We're inside so often that it's hard to feel close to the brilliance of Earth. That's why celebrating Earth Day is so important. Bringing some appreciation for nature to your office with an Earth Day party will brighten everyone's spirit while calling attention to the world around us. It doesn't have to be a lecture about conservation or recycling, either—these Earth Day office party ideas will get everyone thinking a bit more about the planet we live on while also having a blast.
Host a Plant Exchange
The first plant on my desk was a money tree. "Who knows!" I thought. But instead of bringing me more money, I found myself spending more and more until my desk had more succulents, cacti, and ferns on it than it did pencils and scratch paper. Oops! Still, my desk was brighter and I found myself feeling more content at my desk.
Once you realize how much nicer your workspace is with a little greenery, it's hard to look back. That's why a plant exchange is the perfect office activity for Earth Day. Everyone's individual desk or work area will become a little prettier, and the whole office will seem more inviting as a result.
Set it up like a Yankee gift swap. Each person will bring in a plant (set a price limit—you can get some remarkable specimens for $10 and under). Then, everyone draws a number. Have the group sit in a circle. The person who draws #1 goes first. They can choose to swap plants with anyone in the group. #2 then does the same, choosing whether to keep the plant they brought or to swap with someone else in the group. Once everyone has played once, the person who drew #1 gets to go again, deciding which plant they want for the final time. At the end of the game, everybody will have a little pop of green to brighten up their workspace and keep them company at their desk.
Plant a Tree
I was walking through an enchanted forest. Each tree was magical, holding memories and emotions and thoughts of happy times—because my family and I had planted them. Growing up, my family got a live tree for Christmas every year. When the holidays were over, we'd remove the ornaments and lights, then keep the tree outside with its root ball bundled up until the ground thawed enough for the tree to be planted in the spring. By the time I left for college, the first trees soared high in the sky, a mini forest at the edge of our property.
It felt so magical and satisfying to look at the trees and realize that my family and I had planted them, nourishing them to their current flourishing state. It was a great bonding experience, not just the tree planting itself but actually watching how each one changed and grew over the years.
This Earth Day, why not celebrate by planting a new tree outside your office building? Throw a fun party with snacks and sweets, then crown off the day with a ceremonial planting. Just be sure you check with the building owner before planting anything. If you don't get it approved, you can always plant something in an ornamental pot inside.
Every day, you and your co-workers will see the tree you planted together. As you watch it grow, you'll be reminded of the fun you all had planting it together, and if the sight of something alive and green isn't enough to make you smile, those fun memories definitely will.
Hold a Cake Decorating Contest
Over the past couple of years, everyone at my office has become obsessed with the show The Great British Bake Off. That means that for special occasions when we want to have a bit of fun, we've been hosting our own version of the bake off—a cake decorating contest!
The theme changes depending on the celebration at hand, and it would be a super fun way to celebrate Earth Day at the office.
You could come up with a specific theme—like conservation, recycling, or the polar ice caps—or keep it just a general Earth Day theme. Then, challenge everyone to come in with a cake they've decorated according to that theme. People can work on teams, too, if you have a large office.
The cakes will all be tasted and everyone participating can vote for their favorite at the end of the party. The winner should get something related to the holiday, too—perhaps a pretty houseplant for their desk or a DIY eco-friendly gift?
Making the Most of Earth Day Office Party Ideas
Even if you work inside all year, Earth Day is an opportunity to think about what's going on outside your building. Bringing a bit of the glory nature has on offer into your workspace will keep morale high, and throwing an Earth Day celebration is a great way to get everyone to think a little more about how they impact the world around them.
Whether you're hosting a gift swap with lovely potted plants, planting something new and beautiful outside together, or eating cake (because what celebration is complete without something sweet?), your Earth Day office party is bound to be memorable.
Need more Earth Day gifting ideas? Check out Elfster's gardening gift guide. Share your green thumb gift ideas with us on Elfster's Facebook page, on Twitter @Elfster, and on Instagram @Elfster.