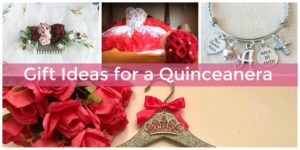 "Do you take a gift to a Quinceanera?" I asked nervously.
I was on the phone with my friend, Liz. She had invited me to the 15th birthday celebration for her daughter. I'd never attended a Quinceanera before, so I wasn't sure what was expected of me.
While Liz told me I didn't need to bring anything, I wound up getting her daughter a small trinket, a charm bracelet with her birthstone colors. I was glad I did, too. If I hadn't, I would have been the only one who didn't bring a gift to the party! So, while you're not required to bring a gift to a Quinceanera, it's probably a good idea.
Buying a gift for a teenage girl might seem challenging, though. Kids these days have a lot of options available to them and a wide range of hobbies and interests. It might help to ask that the birthday girl set up an online gift registry so you can easily pick a gift that is sure to make her day. Also, looking at the purpose behind the Quinceanera can give you some valuable insight into what kind of gift might work well for the event.
Do You Take a Gift to a Quinceanera? Gift Ideas
The first thing you need to remember is that the Quinceanera is more than just a birthday party, so you don't want to go with just any birthday present idea. Rather, it's a day designed to mark the transition from childhood to womanhood. As such, it tends to be a bit more formal than a traditional birthday, and there's usually a Catholic mass before the party. Traditional ceremonies and dances may be performed, and the gift opening usually happens closer to the end of the event.
As such, you want to keep the purpose of the day in mind when selecting a gift. This isn't the time for crazy gag gifts or over-the-top extravagance!
Here are a few gift suggestions that are sure to please:
Jewelry: Jewelry is a great gift idea for a teenage girl, but remember that a Quinceanera is a family event. As such, you don't want to get flashy, extravagant jewelry. Instead, you could get her a charm bracelet or simple necklace to commemorate the big day.
A Bath Basket: Consider getting the young lady a basket filled with scented soaps and lotions. This offers a sophisticated twist on the traditional gift basket that makes it more appropriate for the transition from childhood to womanhood.

Makeup is a good gift—but ask her parents first! | Image courtesy Unsplash user Jamie Street.

Makeup: As the 15th birthday is often when a girl is permitted to begin wearing makeup, a basic makeup starter kit is a great way to lay the groundwork. For this one, you might want to ask her parents first, just to make sure it's okay with them. Again, go for makeup or accessories that are simple and elegant, as opposed to the flashier stuff.

Hair Combs or Clips: A good traditional gift is one of hair combs or clips that the recipient can use to hold back her hair. Get quality ones rather than the cheap plastic throwaway kind you get at the store. There are many ornate hair combs and clips you can buy that act as a great accessory to any outfit.
A Journal: Considering the guest of honor is a girl entering womanhood, chances are she has more than a few private thoughts she'd like to record. Buy a journal for her to record those thoughts and feelings. Consider having it personalized, which can be surprisingly inexpensive, to give the gift a more personal feel.
Keep in mind that your gift should reflect your relationship with the young lady and it should never upstage the gifts she will get from her parents. As such, try to keep it inexpensive and age appropriate.
Using an Online Gift Registry for a Quinceanera
If you're still struggling with gift ideas for a Quinceanera, another option is to have the birthday girl fill out an online wish list. This will give you a better idea of what might make the perfect gift and creates an easy way for family members to provide specific gifting guidelines.
In addition, because the event is designed to announce the young lady becoming a woman, many guests are going to have similar ideas when it comes to gifts. To avoid the risk of duplicate presents, ask the guest of honor to create an online wish list with a site like Elfster. This way, you can mark items as purchased and avoid the awkwardness of arriving with identical presents!
A good gift registry website will allow you to easily create a free account, browse items and add them to a wish list, and then share that wish list with friends and family. Look for a comprehensive site that allows you to add items from all over the web, instead of creating different wish lists for different stores. As an added bonus, sites like Elfster include a secret Q&A feature where users can talk about the party anonymously and even pose questions to the birthday girl. This way, it's easy to share details about the event and toss around ideas for the big day.
Since a Quinceanera is often a very large, elaborate party, using an online gift registry is a good way to keep everything organized and ensure you select an appropriate gift.
Quinceanera Gifting
While you don't have to bring a gift to a Quinceanera, you probably should if you don't want to be the only one who doesn't! But don't stress; Quinceanera gifts do not need to be expensive or ornate (and, in fact, they probably shouldn't be). The most important thing is that you put some thought into the occasion and give from the heart.
A Quinceanera is all about honoring a young girl becoming a woman, so it's a major life milestone for the guest of honor. Choose a gift that celebrates that important moment and preferably one that will allow the birthday girl to remember her big day every time she uses it. If you select a gift that is thoughtful and personal, it will make her think of the love and support she received at her Quinceanera for years to come.
If you want more insight on Quinceanera traditions and gift ideas, browse our gift ideas. Or, start a gift exchange for even more festive fun. Find us on Facebook, Instagram @Elfster, or Twitter @Elfster for regular gift giving inspiration.