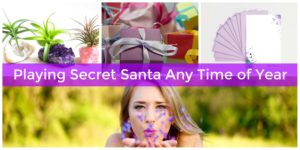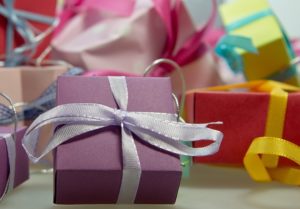 Gifts aren't just for Christmas, so there's no reason why you can't have Secret Santa gift exchanges year-round. In my family and in my workplace, we celebrate a lot of milestones every year, from anniversaries to Yom Kippur. A lot of those parties involve gifts, so knowing how to play Secret Santa is often the key to making sure everyone walks away happy.
After all, we've all had those awkward exchanges where one of our coworkers didn't get anything while someone else got double gifts. No one wants to be that guy! Using an online registry to keep track of your gift swaps is a good way to prevent those problems.
Of course, you don't just want to call every celebration with a gift swap "Christmas in July." You should use the holiday scheduled to create a gift exchange that works for every season and every celebration. Then, get gifts around that theme and you've got a whole new tradition! Secret Santa is fun year-round as long as it gets everyone involved and celebrating.
Picking an Event for a Secret Santa Gift Exchange
There are plenty of events year-round that you can use as an opportunity for a gift swap. These exchanges don't have to be expensive. Instead, the gifts given should be inspired by the event you're celebrating.
Here are some events you can use as an excuse to play Secret Santa:
Valentine's Day: Have a Valentine's Day party for all your unattached friends so they can get some extra love on Valentine's day too.  Let everyone select a platonic Valentine and give each other holiday-inspired gifts such as candy or chocolates.
Saint Patrick's Day: Saint Patrick's Day is great for celebrating Irish heritage and spreading a little luck around. This is a fun day for giving charm bracelets or four-leaf clover seeds. Pretty much anything green can be used to celebrate the holiday.
Easter: Easter is a celebration of spring. That's why things like eggs, bunnies, and chickadees are so popular for the holiday. Give someone flowers or a plant to mark the birth of a new season.
Cinco de Mayo: Cinco de Mayo is named for the 5th of May, the date when the Mexican Army defeated the French Empire at the Battle of Puebla. Today, it's a celebration of Mexican heritage, so party favors like fiesta maracas and ribbons in Mexico's flag colors of red white and green are a fun addition to the holiday.
Labor Day: Labor Day is a traditional end of summer party and usually marks the beginning of the school year. For this day, consider school-themed gifts like stationary or souvenir pens to commemorate the beginning of another school year and the end of summer slacking.
Halloween: Who can forget about the spookiest of holidays, Halloween? A gift exchange for this day is easy to pull off by giving someone candy, vampire fangs, or a small decoration to put on their desk.
Just for Fun: It doesn't even need to be a holiday to organize a gift exchange! You can have one any time of year to celebrate anything you want. Get creative and make your own holiday if you want to bring some excitement to a humdrum month.
Just about any holiday can be turned into an event with a Secret Santa gift swap. Simple novelty gifts and a willing group of participants are all that is needed to throw a fun event. Well, that, and a well-organized person to lead the gifting.
How to Play Secret Santa Year-Round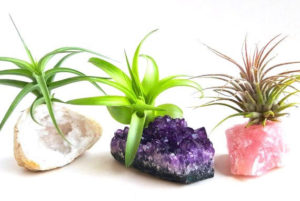 Traditionally, you'd play Secret Santa by getting a list of participants and then having everyone pick a name out of a hat. While it sounds simple, this can lead to problems.
First, the whole purpose of Secret Santa is that it's secret. It can be pretty hard to keep a secret with little slips of paper evidence floating around! Second, it's possible to make a mistake and wind up with some people getting many gifts while others get none at all. However, you can take all the error out of Secret Santa by using an online generator.
Elfster offers a great Secret Santa Generator that's easy to use if you follow these steps:
Sign up for a free account.
Click on "Start a Gift Exchange."
Fill out the information about your gift exchange like the date of the exchange, the sign-up deadline, the spending limit, and a description.
Start inviting people via email.
When you're ready, click on "Draw Names Now."
You'll receive a private notification letting you know who you are paired with. Get your giftee a present and either send it to them in the mail or set up a time for everyone to get together to exchange gifts as a group.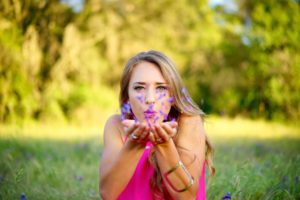 Elfster's exchange lets you organize the entire event, send messages, and even offer gift suggestions without giving away your identity. There are tons of ways to add gifts to a wish list and get ideas, regardless of the event. It even draws the names for you, so each person only receives a notice of who they're giving a gift to. This limits the risk of the secret getting spilled while making sure everyone gets to enjoy the gift swap.
Setting your gift exchange up online takes the guesswork out of playing Secret Santa so you can celebrate any event with a fun, exciting gift swap. You don't have to limit yourself to just Christmas when it comes to gift exchanges! Whether you're celebrating Valentine's day or saying farewell to a coworker, Secret Santa is a game that can be played year-round.
If you're seeking gift swap ideas, check out Elfster's useful gift guides or simply start a gift exchange today. For year-round gifting inspiration, follow us on Facebook, Instagram @Elfster or Twitter @Elfster.