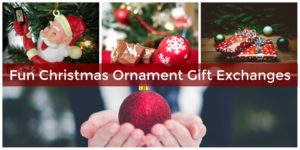 "Every one of these has a story," I explained to my husband as I pulled the gigantic box of holiday decor down from my closet shelf. Itty bitty snowmen, glittery snowflakes, and strands of tinsel spilled out the sides as I plopped it on the living room floor. We'd just bought our very first Christmas tree as a couple, and I wanted to impress him with my extensive collection of festive ornaments.
Much to my delight, he seemed amused with my Christmas decorations. He chuckled when he came across my cheeseburger ornament, oohed and awed at my antique Santa Claus bulb, and fell in love with the handmade jeweled angel that topped the tree.
Of course, whether he wanted to or not, he heard the story behind every single ornament. As I explained where I'd gotten each one, I realized all my favorites had come from an annual Christmas ornament gift exchange game party that I throw for my friends.
This party is hands down my favorite holiday tradition, not only because I get sweet ornaments to add to my collection, but because it's a chance to connect with my friends, eat Christmas cookies, and drink hot cocoa. If you are looking for a great reason to gather your pals together this holiday season, here are my best tips and ideas for throwing a fun and festive Christmas ornament exchange game party.
Setting a Theme for Your Christmas Ornament Gift Exchange Game Party
I love Secret Santa gift exchanges, but they are always extra fun when there is a theme. Not only is it easier for everyone to know what to buy, it's fun to compare gifts and see how creative each person can be within the parameters of the theme.
Even though Christmas ornaments is a great theme for a Secret Santa gift exchange, it can be fun to get even more specific. One year, my friend Nadine decided everyone should buy vegetable-themed decorations. Not only was it a unique idea, everyone loved how silly and adorable the ornaments were!
Here are a few specific ornament theme ideas to consider for your exchange:
Sparkles: Guests can only bring ornaments that are intensely and aggressively glittery. After all, who doesn't love sparkles?
Snowmen: Snowmen ornaments in any shape or size are a hoot! Have fun seeing who finds the cutest one.
Funny Ornaments: This is my personal favorite category. Have everyone buy the silliest ornament they can find, and get ready for a night of belly laughs!
Christmas Bulbs: Bulbs are a beautiful addition to any tree and can become precious keepsakes for years to come. Plus, there is so much variety to choose from!
Handmade Ornaments: Have everyone get crafty and make their own decorations for a fun and thrifty twist!
Once you've set the theme, don't forget to include it in your invitations! I find the easiest way to send invites is via an online gift exchange program. This way, all you have to do is enter everyone's email addresses along with the details of the event, and you're ready to go. Online programs like Elfster even randomly and anonymously assign Secret Santas to everyone, making planning any gift exchange a breeze. Don't forget to include a spending limit so no one goes overboard!
Gift Exchange Games for a Fun and Festive Time
Once your theme is set and your invites are sent, it's time to start thinking about what kind of gift exchange game you want to play! While a traditional Secret Santa exchange is always a good time, you may want to consider spicing things up a bit with a fun variation. Consider having each guest guess who their Secret Santa is or have everyone vote for the best ornament and give the winner a special prize.
White elephant gift exchanges add an extra layer of intrigue and a bit of healthy competition to a gift exchange party. Have everyone draw a number and sit in a circle with the pile of gifts in the center. Working in order of the numbers they draw, have each person either choose and unwrap a gift or steal one from someone else. When everyone has taken a turn, the person who went first gets one final steal. Make sure things don't get too heated—you don't want any broken ornaments!
If these ideas don't tickle your fancy, feel free to make up your own! Tweak the White Elephant rules to your liking or add an interesting element to a traditional Secret Santa exchange. Just be sure to make the rules super clear before you start so everyone is on the same page!
Creating a Festive Christmas Atmosphere
You've set the theme, you've made the rules, and now it's time to settle all the little details to create a Christmas atmosphere! For me, this is one of the best parts of party planning.
When it comes to food for your ornament gift exchange game party, I like to prepare an assortment of sweet and savory festive foods for my friends to enjoy while we unwrap our gifts and admire our ornaments.
Here's a list of some of my go-to goodies:
Baked brie cheese with cranberries
Spiced mixed nuts
Spicy mixed olives
Gingerbread men
Lavender shortbread
Chocolate thumbprint cookies with spiced plum jam
Hot cocoa
Spiced eggnog lattes
In addition to having festive food, I also like to create a super cozy atmosphere. I pop on a playlist of my favorite Christmas tunes, make sure my tree is trimmed, and string Christmas lights everywhere. Then, a few hours before my guests arrive, I combine a few cinnamon sticks and a couple pieces of orange peel in a pot with two or three cups of water and let it simmer. It'll make your house smell like you've been baking all day!
No matter what theme, rules, or details you settle on for your Christmas ornament gift exchange game party, the most important thing is that you have fun and enjoy the precious moments with those who are nearest and dearest to you. I guess that's why my ornaments are so important to me. Each year when I take them out of the box, I'm reminded of all the wonderful moments my friends and I have shared during our gift exchange parties. And it's these memories that actually make the best gift of all.
Start an online gift exchange with Elfster and have a blast with your pals this holiday season. Don't forget to browse our holiday gift guides for some gifting inspiration, or share your favorite party stories with Elfster on Facebook, on Twitter @Elfster, or on Instagram @Elfster.